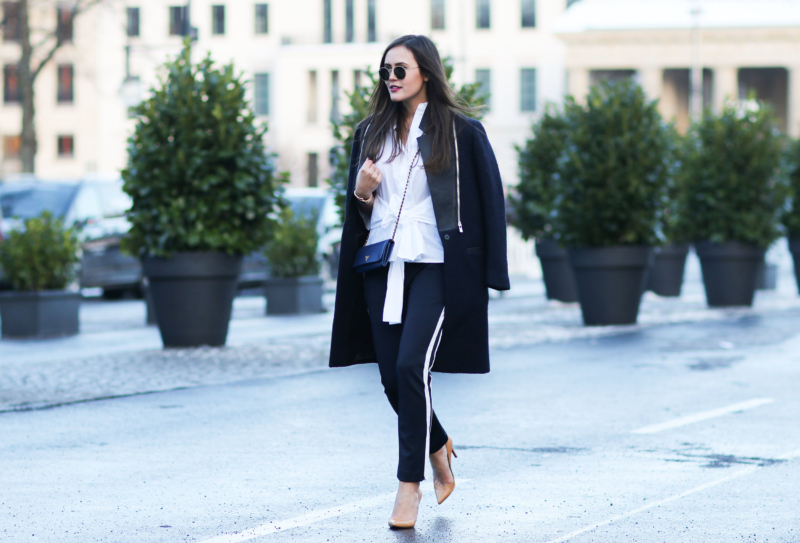 EN| So here it is: My second Fashion Week Outfit. I wore this outfit the day, when VOX Prominent went with Palina and me for interviews. It definitely is one of my favorite outfits so far, because lately, I really love dark blue in general, and even more, when it is combined with white. So for this outfit, I combined my Christian Louboutin pumps in beige with dark blue "sweatpants" from Sandro Paris, which have two white stripes on the sides. I really don´t know, if you can call them sweatpants. I mean they are really comfortable, but they are more than just comfy pants. Together with that, I am wearing a long wool coat with black leather applications, which also is from Sandro Paris.
My Prada bag is just the best thing I bought in a long time, because I can combine it with almost everything, it is perfect for the day, and perfect for the night. I found all three items at the Outlet in Roermond. I love combining special items with a couple of inexpensive ones. So I combined my H&M Trend blouse together with that outfit. I hope you like the combination? xx L.
DE| Hier ist es also: Mein zweiter Look der Fashion Week in Berlin, bei der ich letzte Woche war. Dieses Outfit trug ich, als VOX Prominent Palina und mich einen Tag lang begleitet hat. Eins kann ich euch sagen: Dieses Outfit ist definitiv eins meiner Lieblingslooks, da ich momentan einfach ein absoluter Dunkelblau Fan bin. Noch mehr gefällt mir diese Farbe in Kombination mit Weiß oder Beige. Also habe ich für dieses Outfit meine beigen Christian Louboutin Pumps zusammen mit einer dunkelblauen Hose im "Jogginghose Stil" von Sandro Paris kombiniert. Dazu trage ich einen dunkelblauen Wollmantel mit schwarzen Lederapplikationen, welcher ebenso von Sandro Paris ist.
Die blaue Prada Crossbody Bag ist eins der besten Dinge, die ich seit lange gekauft habe, weil man sie einfach zu allem kombinieren kann. Sie geht genauso gut tagsüber, wie abends, schick oder lässig. Diese Tasche ist ein wahrer Allrounder. Alle drei Teile habe ich im Übrigen im Outlet Roermond gefunden, dem ich vor ein paar Wochen einen Besuch abgestattet habe.
Ich liebe es, etwas teurere Teile mit günstigeren zu kombinieren. Deshalb trage ich zusammen mit den oben genannten Sachen eine weiße Hemdbluse mit Knoten von H&M Trend. Ich hoffe, euch gefällt die Kombination? xx Eure Laura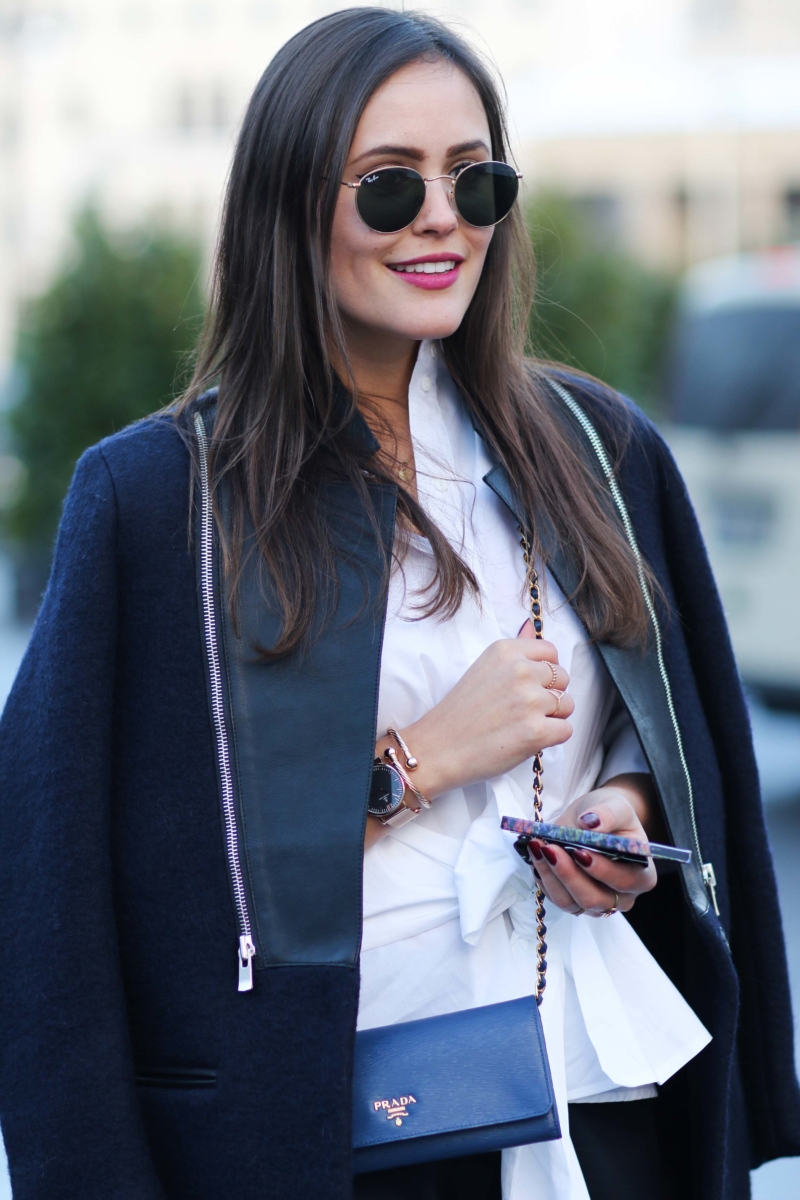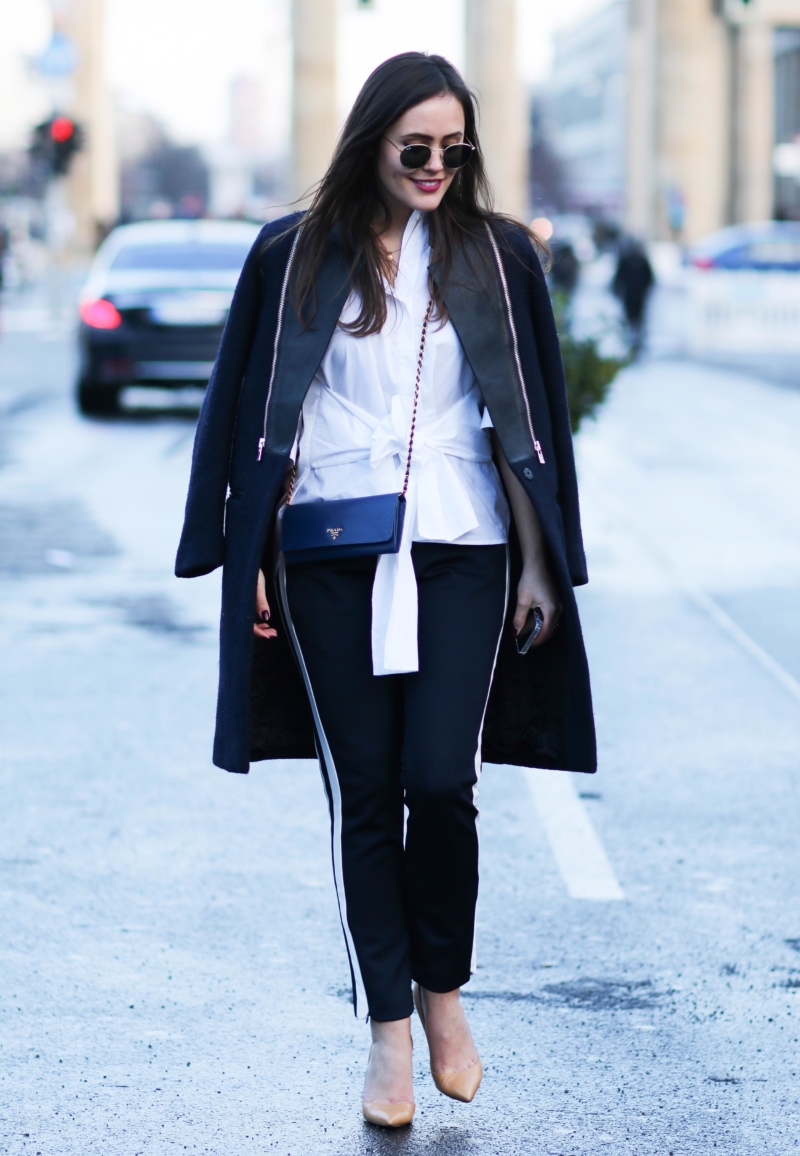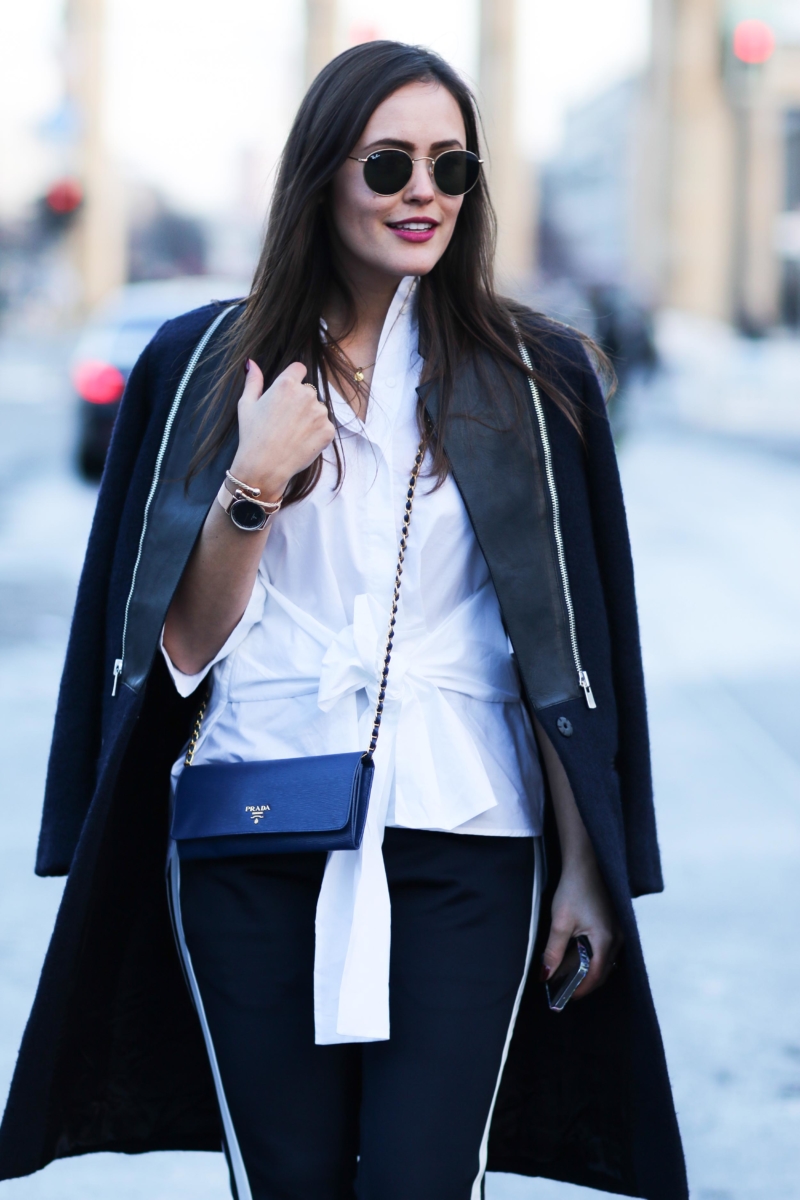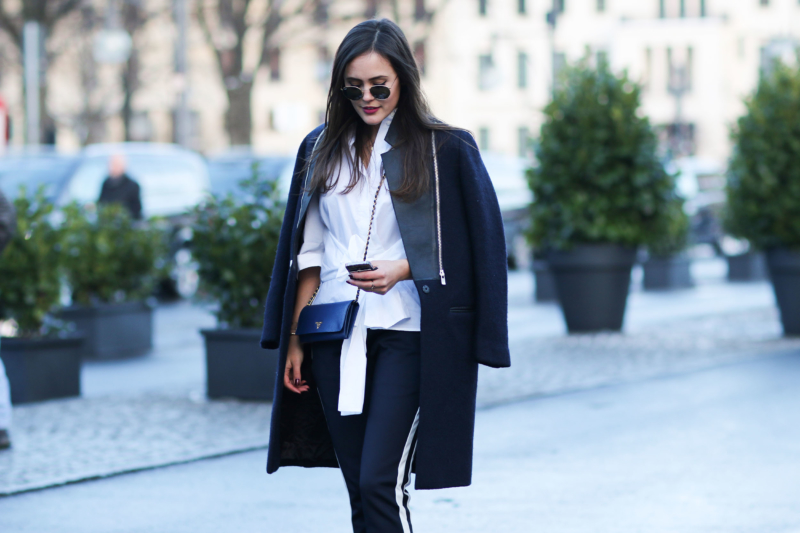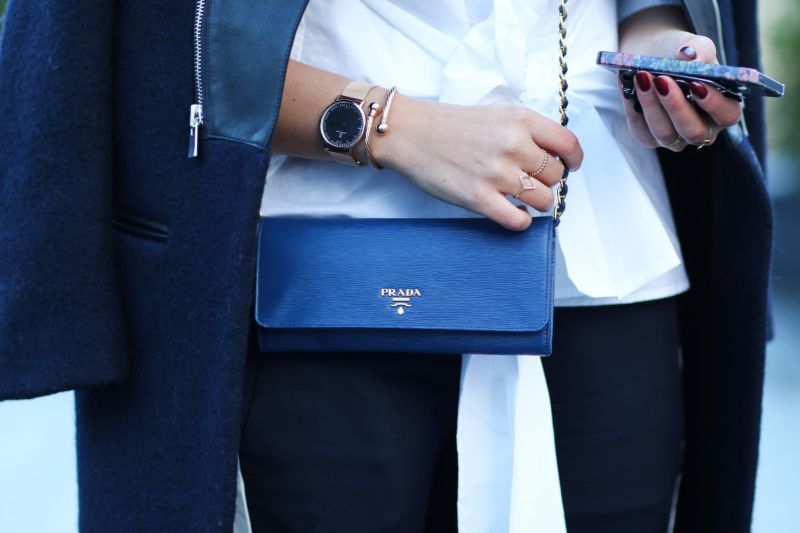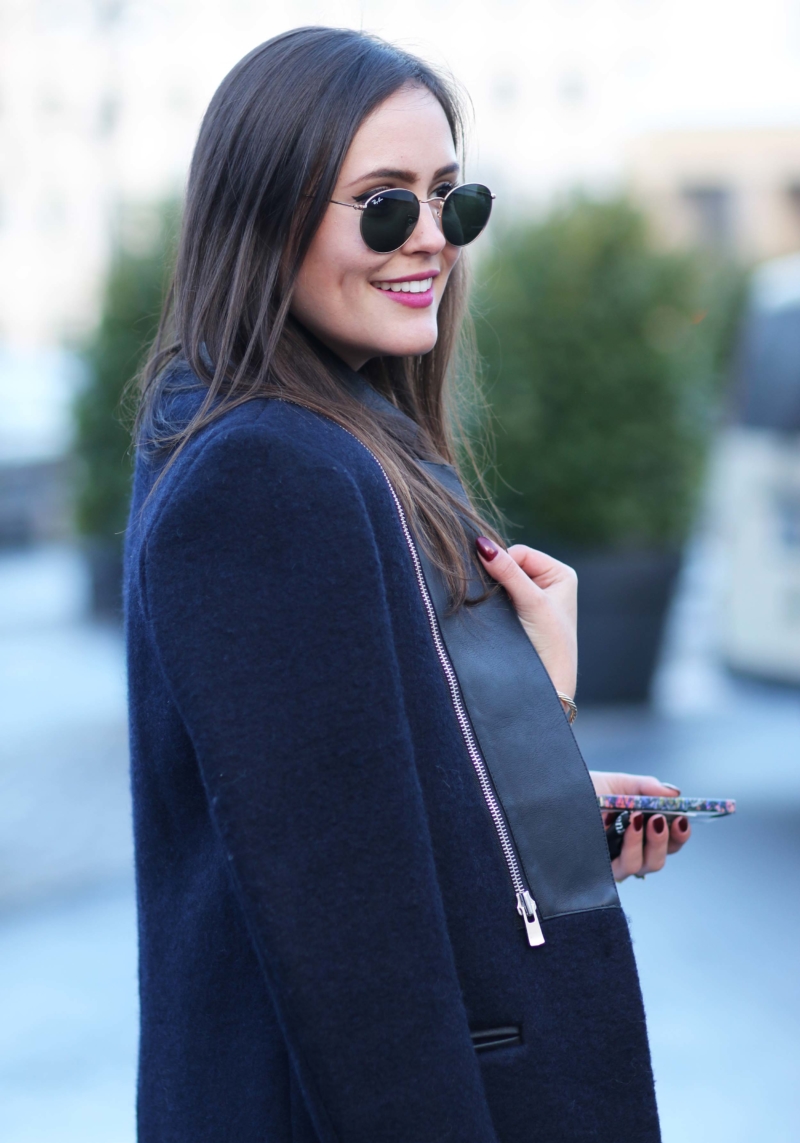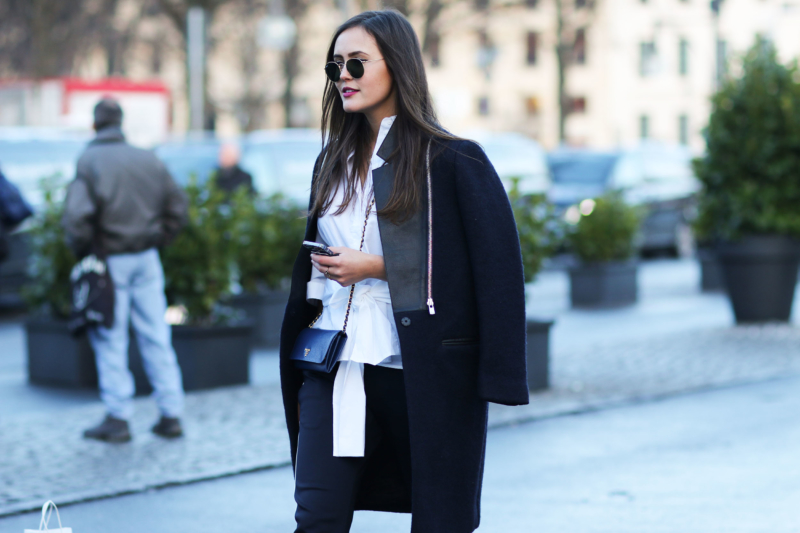 Shop my Look
Pants: Sandro Paris (via Outlet Roermond)
Coat: Sandro Paris (via Outlet Roermond)
Shoes: Christian Louboutin
Bag: Prada (via Outlet Roermond)
Sunglasses: Ray Ban
Blouse: H&M Trend*
Rings: Fromnola
Lipstick: Artdeco
(*similar | Photocredit: Jeremy Möller)
In Kooperation mit: Outlet Roermond
Toller Look! Die Bluse ist toll <33

designdschungel

Dankeschön! Ich liebe die Bluse auch so sehr 🙂 xx Deine Laura

Ein wirklich super tolles Outfit und die Bilder sehen einfach klasse aus.
Ganz liebe Grüße Lisa <3
http://hellobeautifulstyle.blogspot.de/
https://www.youtube.com/channel/UCPoU_ebFxQsjhAwy8bjlPiA

designdschungel

Vielen Dank liebe Lisa! <3
xx Deine Laura

Sehr sehr schönes Outfit liebe Laura <3
Liebe Grüße
Jessi | http://www.whoisjessi.wordpress.com

designdschungel

Liebe Jessi,

vielen Dank für das liebe Kompliment!
Liebe Grüße
Laura

Toller Look! Die Bluse steht dir unbeschreiblich gut.

Liebe Grüße
Jessy

designdschungel

Vielen, vielen Dank! <3 Das ist super lieb! xx Deine Laura

Tolles Outfit! Ich liebe diese Hose, steht dir richtig gut 🙂

Liebste Grüße

Jessy ♥

P.S. schaut doch mal auf unseren Blog vorbei! http://www.jesseniz.blogspot.de

Wow, toll siehst du aus! 🙂 Diese süße, kleine Pradatasche ist ja echt ein Traum! <3

Liebe Grüße
Ina • http://www.ina-nuvo.com

Der Look seht dir unfassbar gut!
Die Pradatasche ist echt cool (-:

designdschungel

Vielen, vielen Dank! Das freut mich sehr:) lg Laura

Tolles Oufit 🙂
http://www.loularoon.com

designdschungel

Vielen Dank! xx Deine Laura