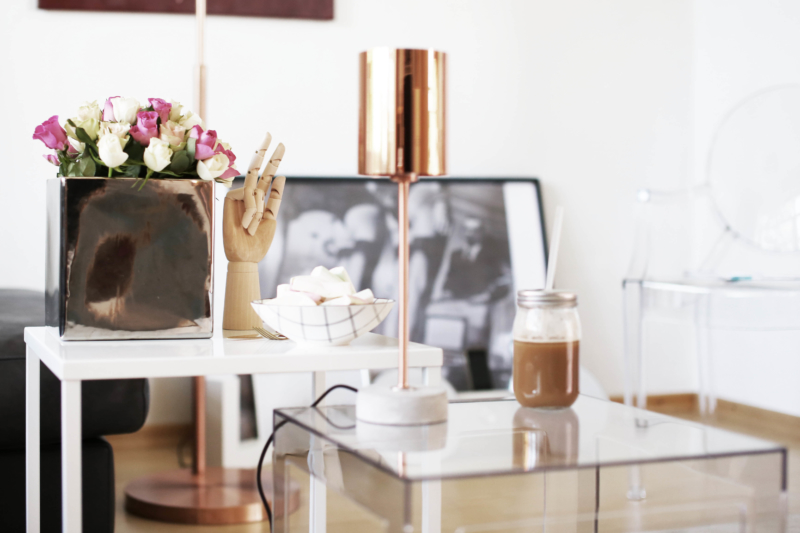 EN| Everything new in May? I totally love getting new interior things for our apartment or even buy new items for my mom or some friends. Now and then, your living room needs a little fresh up, so which time should be better than spring?
My latest obsession: Mixing some lovely interior pieces in plain white or copper from Impressionen living with crystal clear transparent items from Kartell. It makes your apartment look super minimalistic and modern, but yet still comfy and cozy.
Today, I want to show you some major interior inspirations for your living room. What about two smaller side tables instead of one bigger one? It gives the room the little twist and it is perfect, because you can switch tables, positions and so on very quickly. For todays living room situation, I used one transparent table from Kartell and a white squared one from Impressionen Living. For me, they both look just great with each other. Together with that, I am combining the transparent Kartell chair called "Louis Ghost Chair", to make the trio complete. I am leaving the chair plain without a pillow or a fur, just because I love the shape and idea of "Louis Ghost".
For some copper details, I am combining a huge arc lamp and a smaller one for the side table with a concrete base. As you probably already know, I love geometric things and squares, so I was beyond happy, that I found black and white squared tableware, which I could set in contrast with my marshmallows:)  What do you think about those living room details? The "Shop my Look" is like always at the very bottom. xx L.
DE| Alles neu macht der Mai! Ich liebe es und habe es schon immer geliebt, meine Wohnung, mein Zimmer oder sonst irgendetwas neu einzurichten und neue Wohnaccessoires zu kaufen. Sei es für mich, für meine Freunde oder meine Mutter. Jeder Raum braucht ab und zu ein kleines Fresh Up, also wieso nicht direkt jetzt damit anfangen?
Meine neueste Obsession: Ich mixe ein paar wunderschöne Wohnaccessoires in schlicht Weiß oder Kupfer von Impressionen living mit kristallklaren, transparenten Teilen von Kartell. Genau diese Kombination schafft es, einen Raum super minimalistisch und modern, aber dennoch gemütlich aussehen zu lassen.
Heute möchte ich euch ein paar tolle Interior Inspirationen für das Wohnzimmer zeigen. Was haltet ihr von zwei kleineren Couchtischen, anstelle eines großen?  Meiner Meinung nach geben die beiden unterschiedlichen Tische dem Raum das gewisse Etwas. Die Tische können im Handumdrehen verstellt werden, da sie super leicht und handlich sind. Für die heutige Wohnzimmer Situation zeige ich euch einen transparenten, schlichten Tisch von Kartell neben einem weißen quadratischen Tisch aus Metall von Impressionen Living. Meiner Meinung nach sehen beide Tische in Kontrast zueinander einfach super und sehr modern aus. Zusammen damit kombiniere ich einen transparenten "Louis Ghost" Stuhl von Kartell, um das Trio perfekt zu machen. Den Stuhl lasse ich ganz bewusst ohne jegliches Kissen oder Fell, da ich die Idee und die Gestalt des "Ghost Chairs" einfach toll und pur finde.
Da Kupfer schon seit längerem immer noch sehr modern ist, kombiniere ich ein paar solcher Details mit den schlicht weißen und transparenten Teilen. Hierfür habe ich eine große Bogenlampe in Kupfer neben den Tisch gestellt. Auf dem Tisch steht eine kleine roségoldene Tischlampe mit einem Betonfuß. Wie ihr sicherlich wisst, liebe ich geometrische Formen und ganz besonders Quadrate, da sie den Raum oder bzw. den Bereich immer aufgeräumt aussehen lassen. Deswegen war ich mehr als glücklich, als ich das schwarz-weiß karierte Geschirrset fand. Passt es nicht wunderbar als Kontrast zu den leckeren Marshmallows?:) Von dem goldenen Besteck (welches es auch noch in Edelstahl schwarz emailliert und Roségold) ganz zu schweigen! Wie gefallen euch die Details für ein Wohnzimmer? Den "Shop the Look" gibt es wie immer mit allen Details und Links ganz unten am Ende des Posts. xx Eure Laura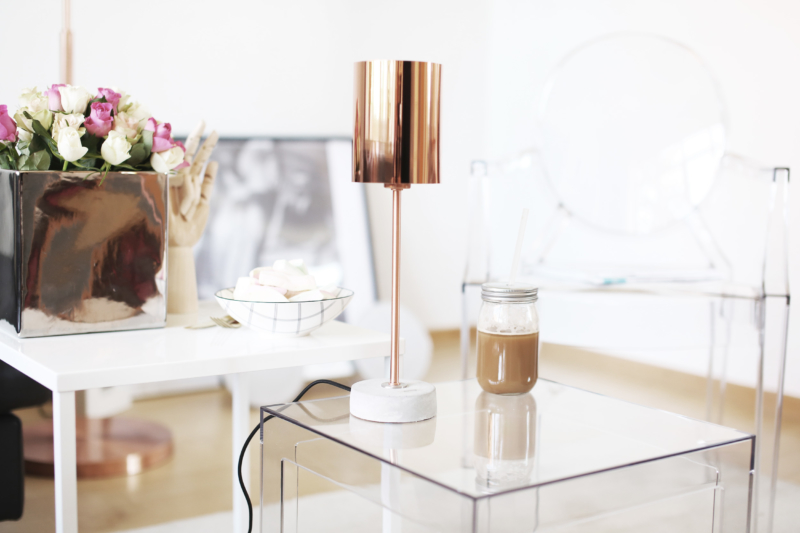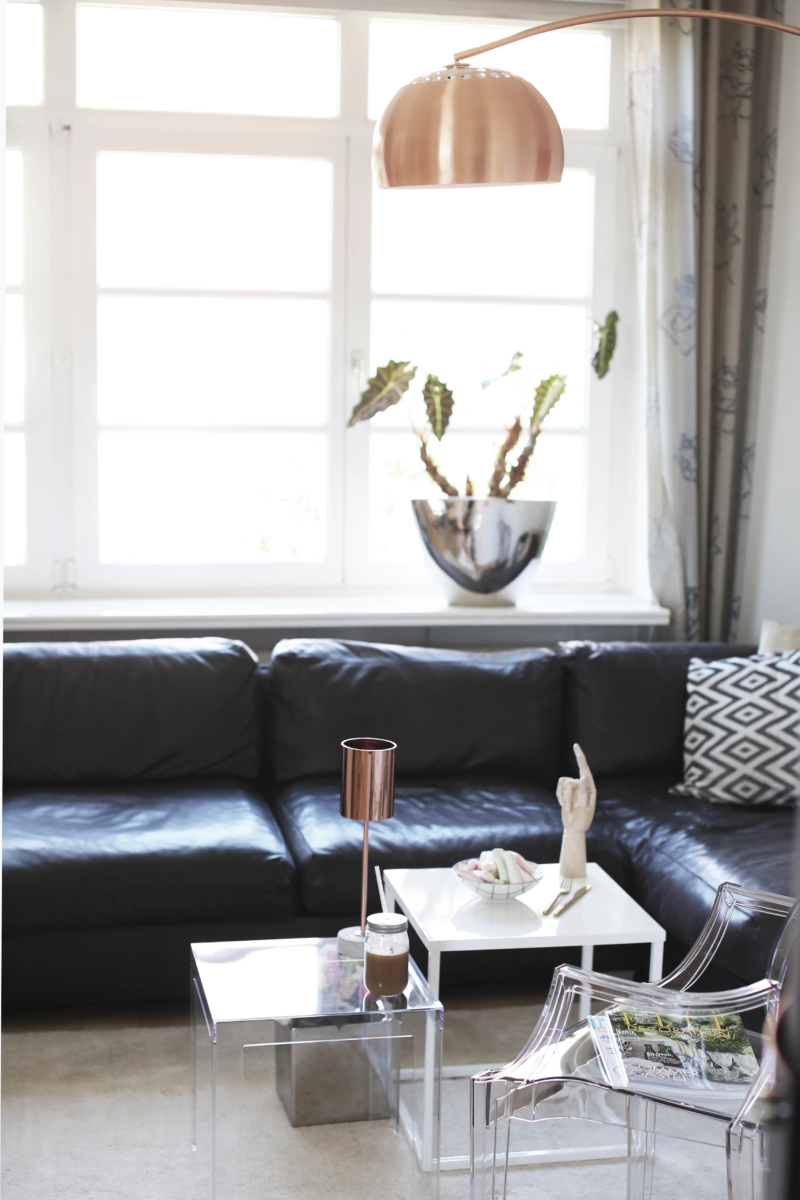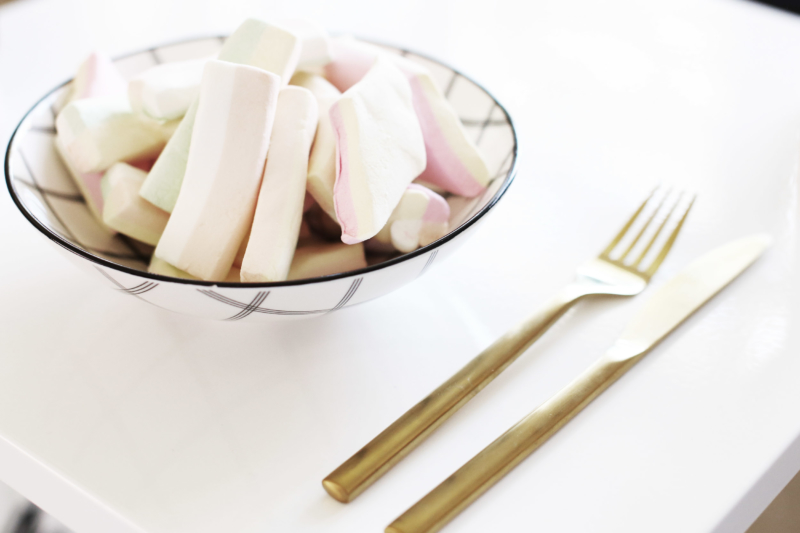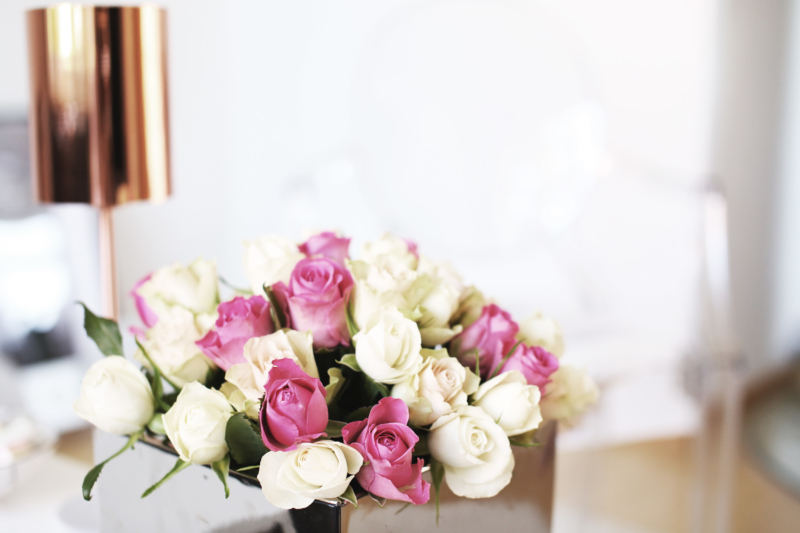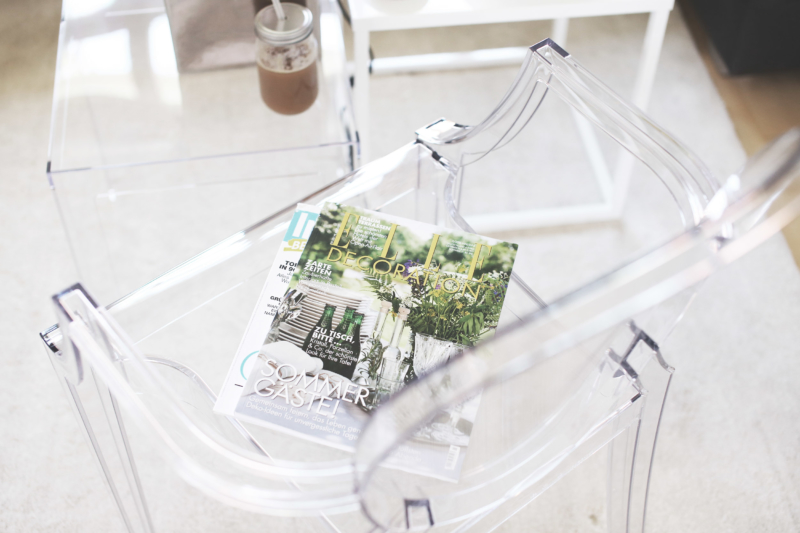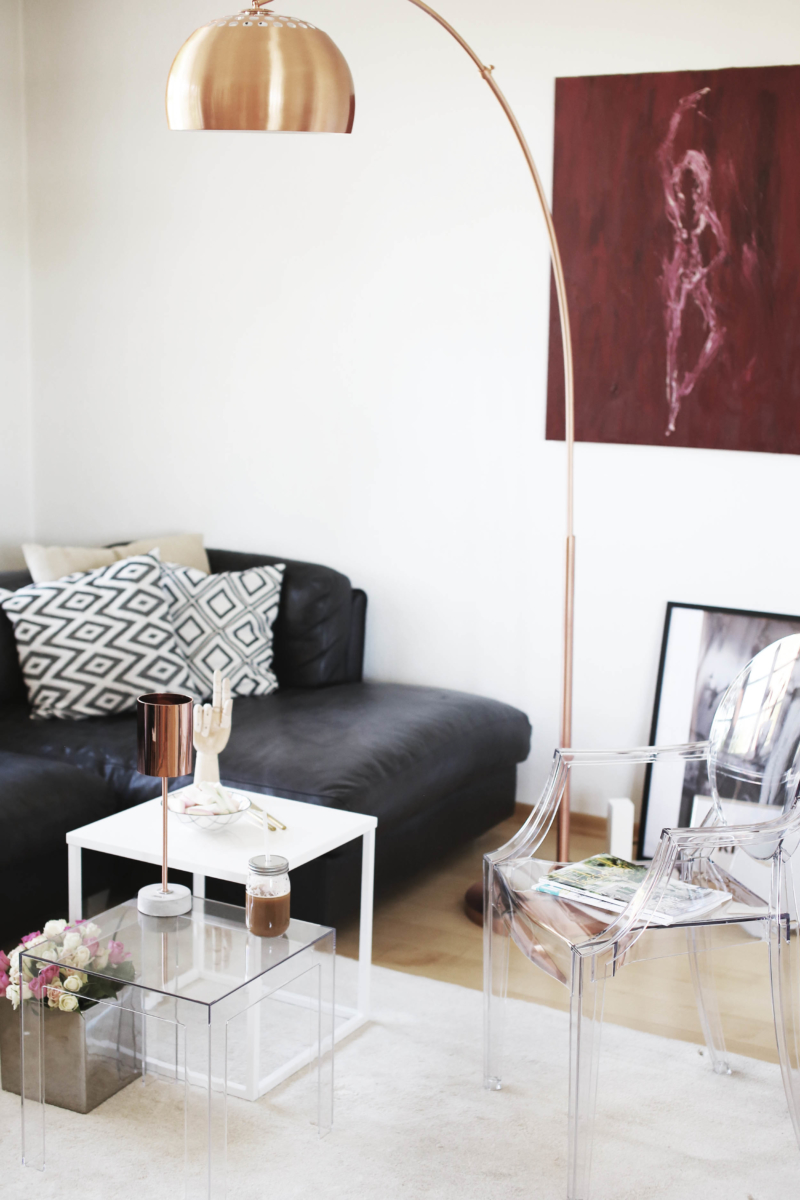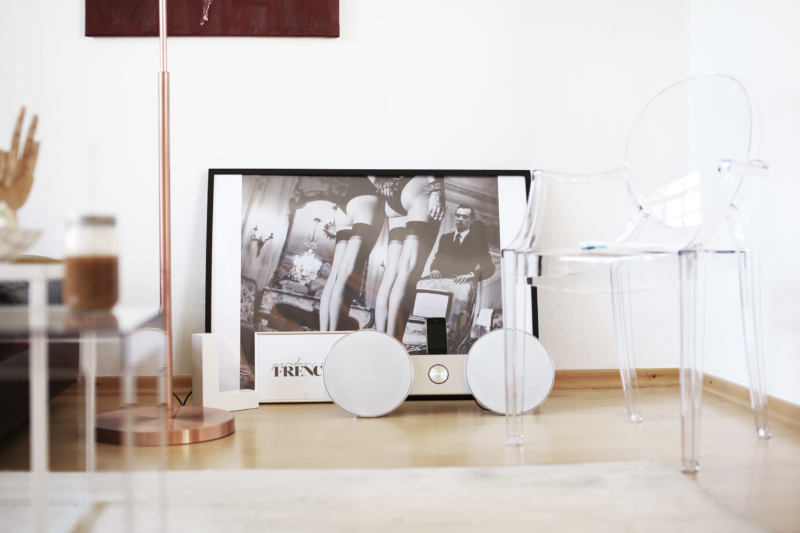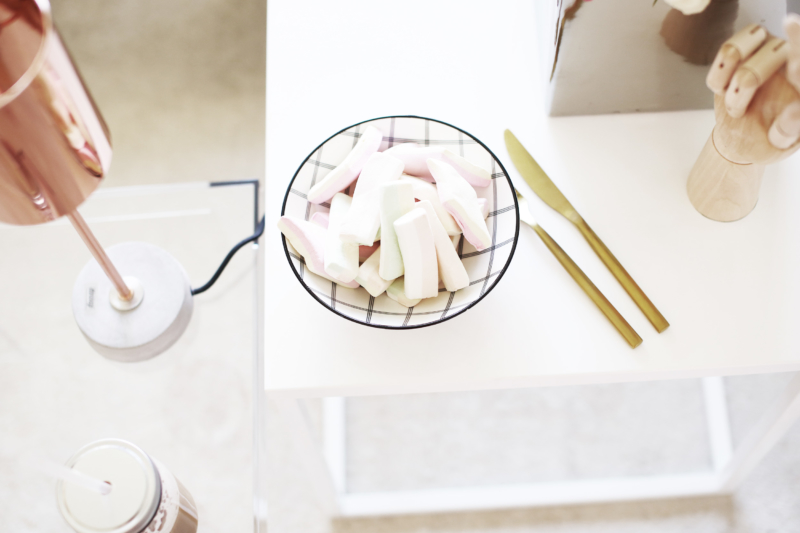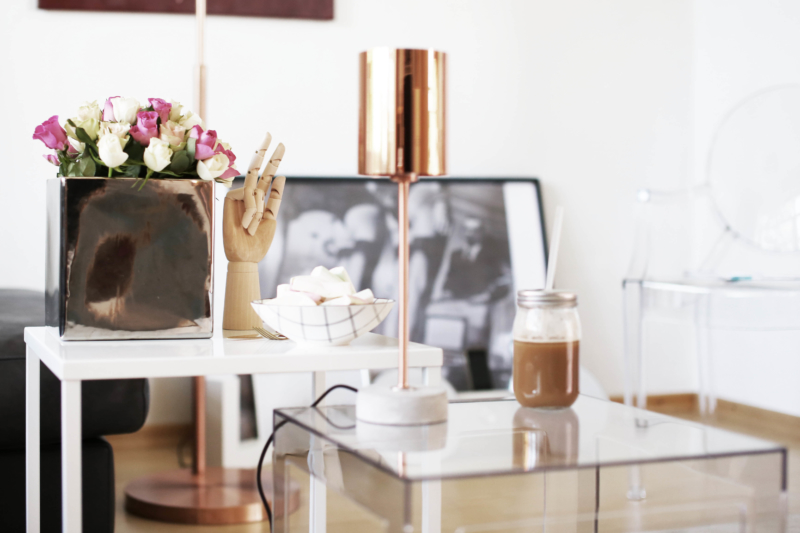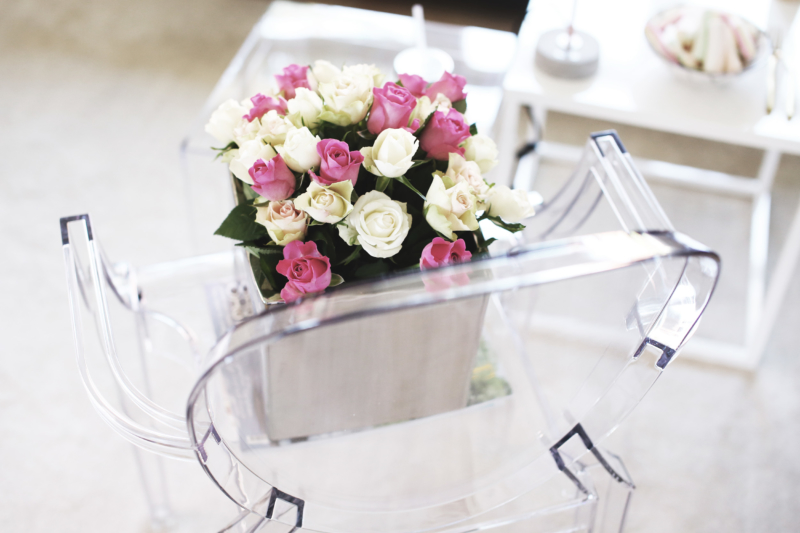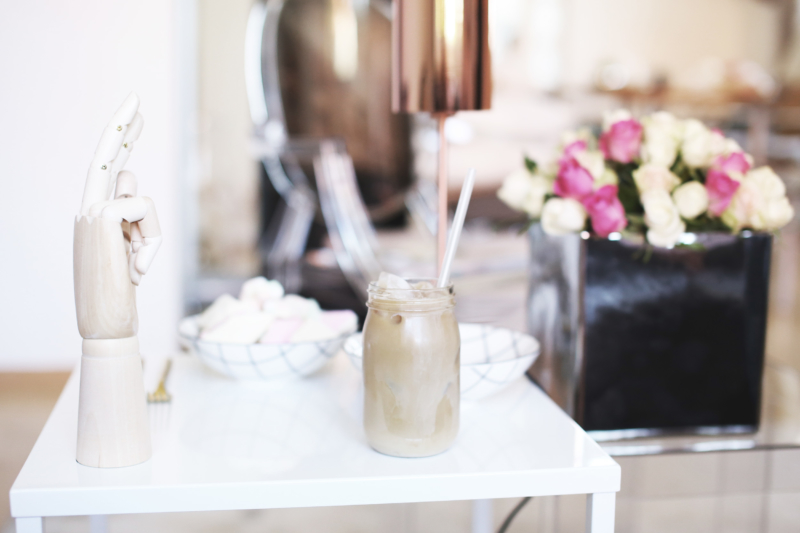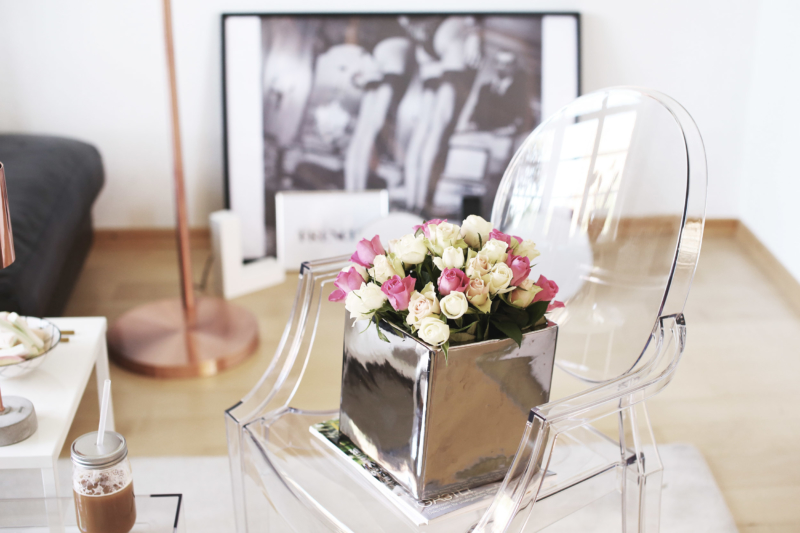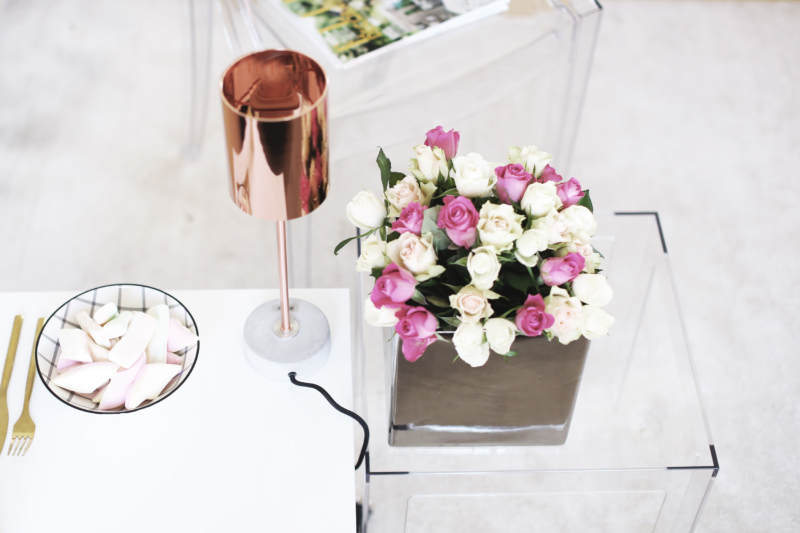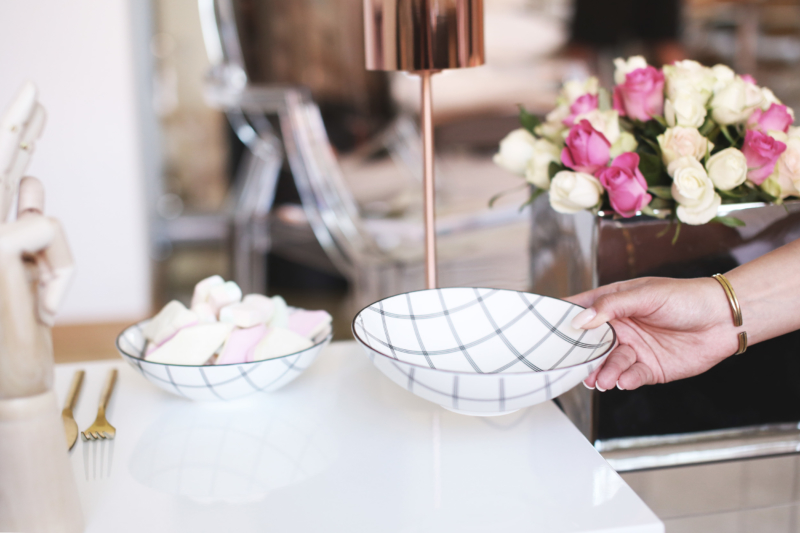 Shop the Look
Table (white): Impressionen living
Table (transparent): Kartell
Chair: Kartell
Arc Lamp: Impressionen living
Tablewear (black&white): Impressionen living
Silverware: Impressionen living
Jar Set: Impressionen living
Table lamp: Impressionen Living
Wooden hand: Hay
Picture: Juniqe
Docking Station: Bang&Olufsen
(In Cooperation with Impressionen)
Oh die Sachen sind ALLE ein Traum!!!Würde ich alles genauso bestellen. Ich finde es auch häufig schwierig die Balance zwischen gemütlich und clean zu finden. Das ist gar nicht so einfach. Dir gelingt es aber ganz hervorragend. Ganz liebe Grüße, Neele von http://justafewthings.de/

Wow das sind einfach alles so super tolle Sachen. Würde alles perfekt passen.
Liebe Grüße Lisa <3
http://hellobeautifulstyle.blogspot.de/

Tolle Einrichtungsideen ! Die Inspirationen sehen mega schön und sehr modern aus. <3
Liebste Grüße
Marie