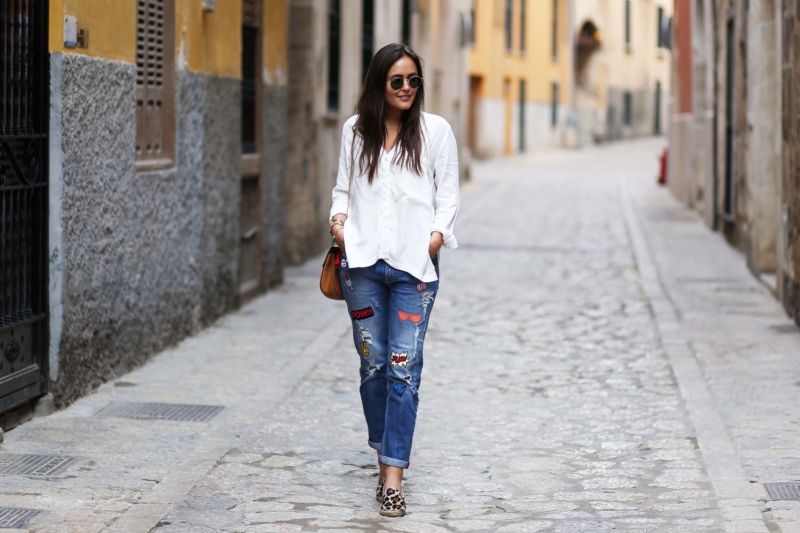 EN| Hello from Mallorca! As some of you probably have already seen, I am here in Palma de Mallorca till Thursday with Aylin Koenig. We are here for a collaboration and have the time to shoot some streetstyle pics inbetween. This look was shot directly in the center of Palma de Mallorca, in one of the gorgeous little alleys. They have so many wonderful and tiny streets here in Palma and also in the other places, that I almost can´t decide, where to take pictures. Everything is beyond gorgeous.
For this look, I combine destroyed boyfriend jeans with many colorful patches with a simple white blouse. Patches in general are the topic right now. Everyone wants pants, shirts or coats with patches. I, for myself love combining those patches with simple things like this white blouse. You can never go wrong with a white blouse. Together with that, I am wearing espadrilles and my cognac colored Chloé Drew bag. What do you think about this casual streetstyle look? xx L.
DE| Hallo aus Mallorca! Wie ihr sicherlich bereits mitbekommen habt, bin ich momentan zusammen mit Aylin und noch bis Donnerstag in Palma de Mallorca für eine Kooperation. Die Zeit zwischendurch nutzen wir, um tolle Streetstyle Bilder zu machen. Der Look, den ich euch heute zeige, wurde direkt im Zentrum von Palma, in einer kleinen Gasse geshootet. Hier gibt es wirklich so unglaublich viele wunderschöne kleine Gassen und Straßen, dass es einem schwer fällt, für welche Gasse man sich entscheiden soll.
Für den heutigen Look kombiniere ich eine destroyed Boyfriend Jeans mit vielen kleinen Stickern mit einer sehr schlichten, weißen Bluse. Sticker sind generell momentan ein sehr großes Thema. Sei es auf Hose, Blusen, Pullovern oder Jacken. Sie sind gefühlt überall. Ich persönlich liebe es, solche doch sehr auffälligen Teile mit schlichten Basics, wie zum Beispiel dieser weißen Bluse zu kombinieren. Damit kann man einfach nichts falsch machen. Zusammen damit trage ich Espadrilles und meine cognac farbige Chloé Drew Bag. Was haltet ihr von diesen lässigen Streetstyle Look? xx Eure Laura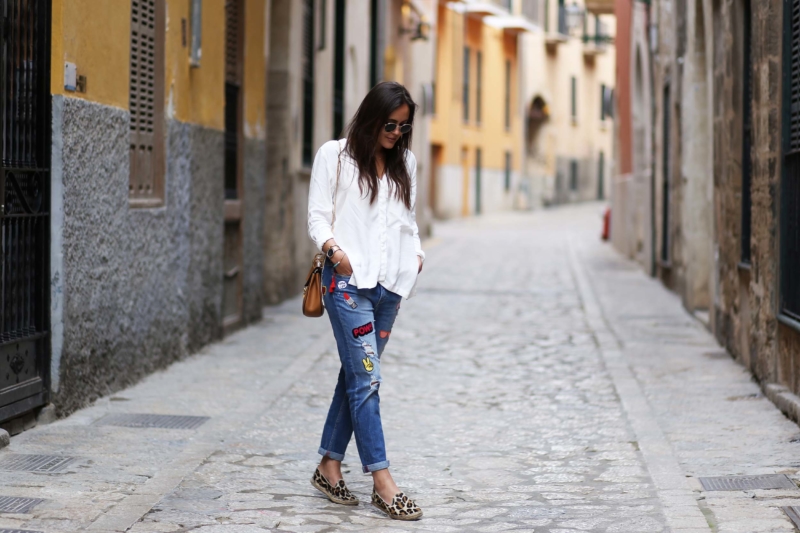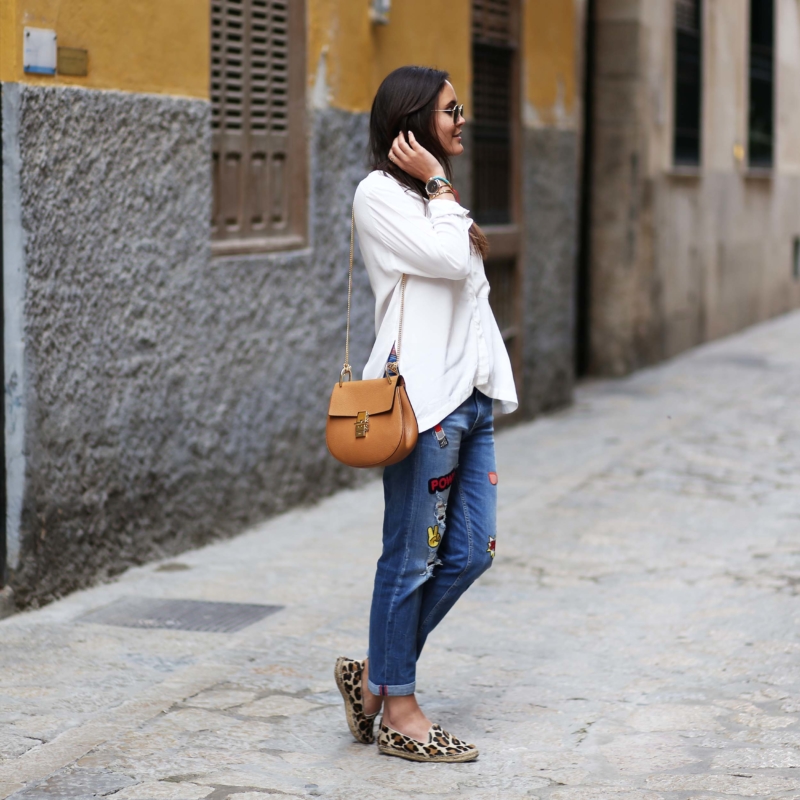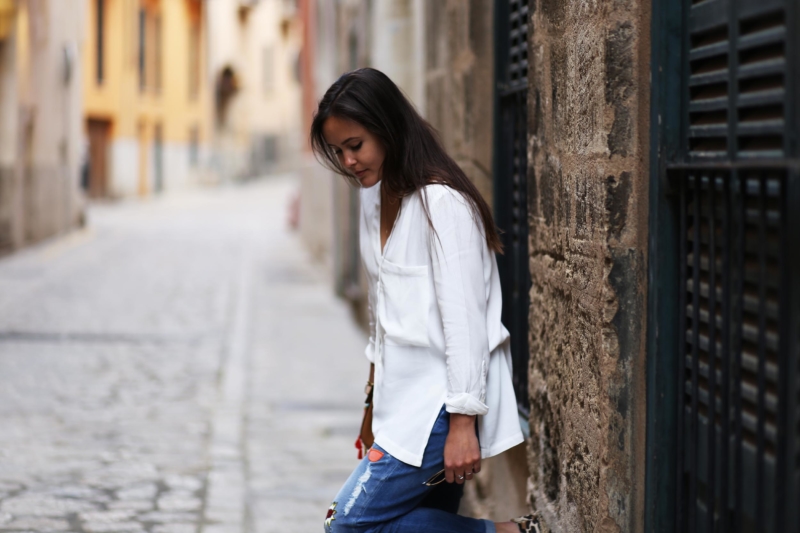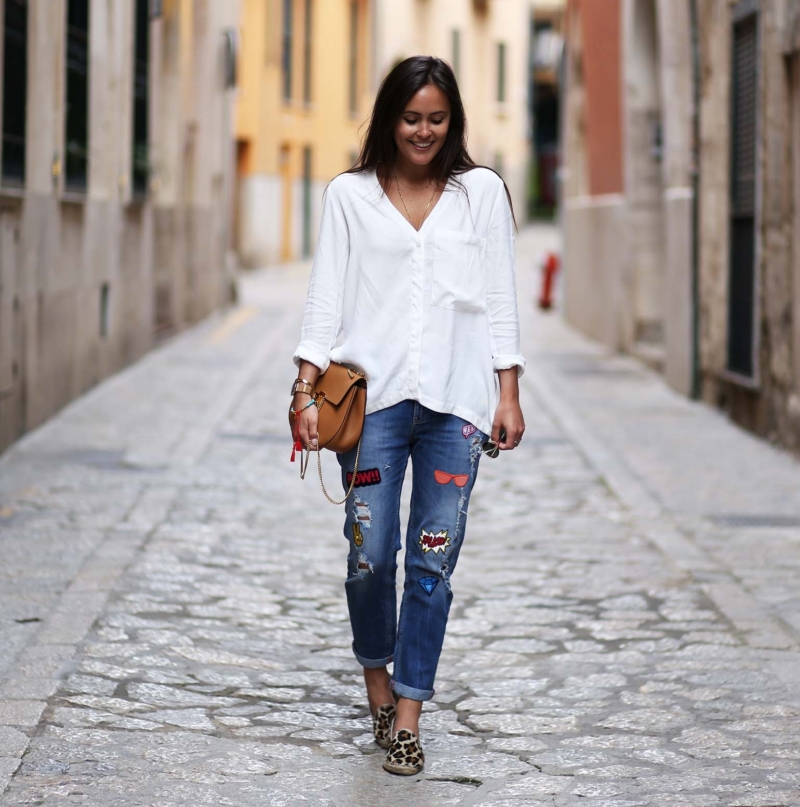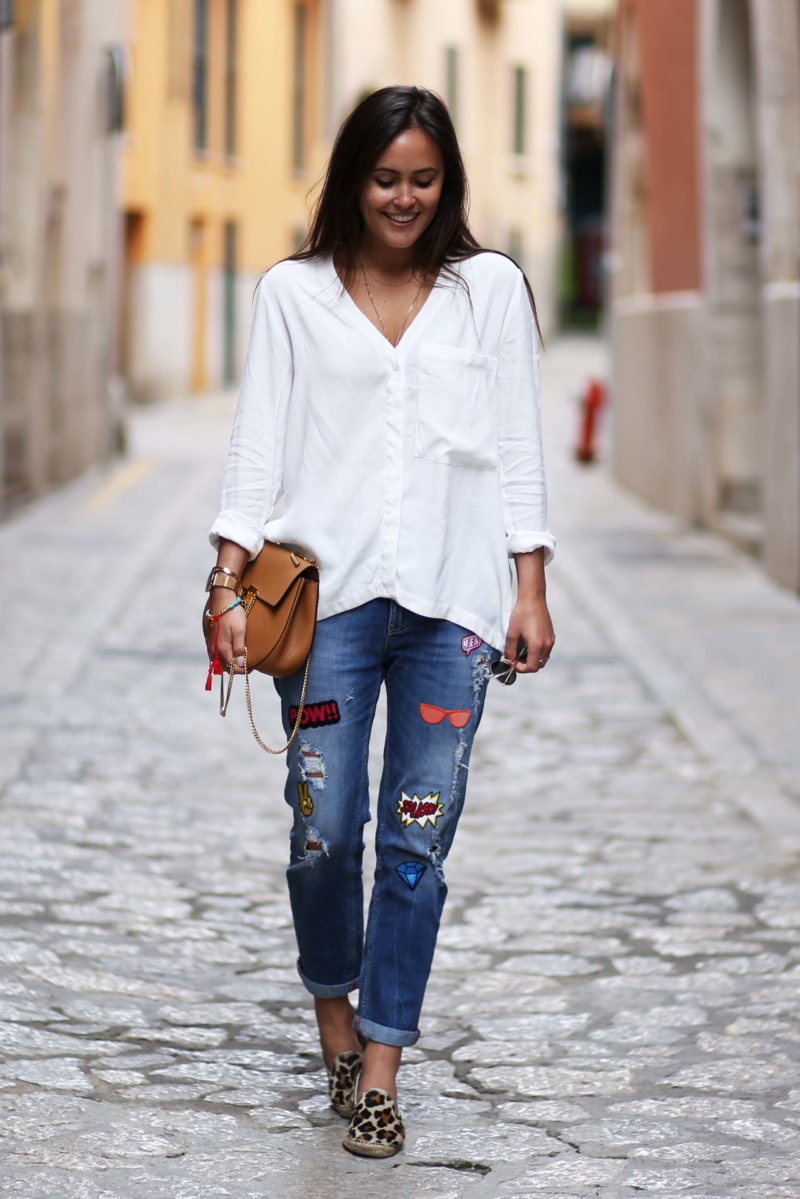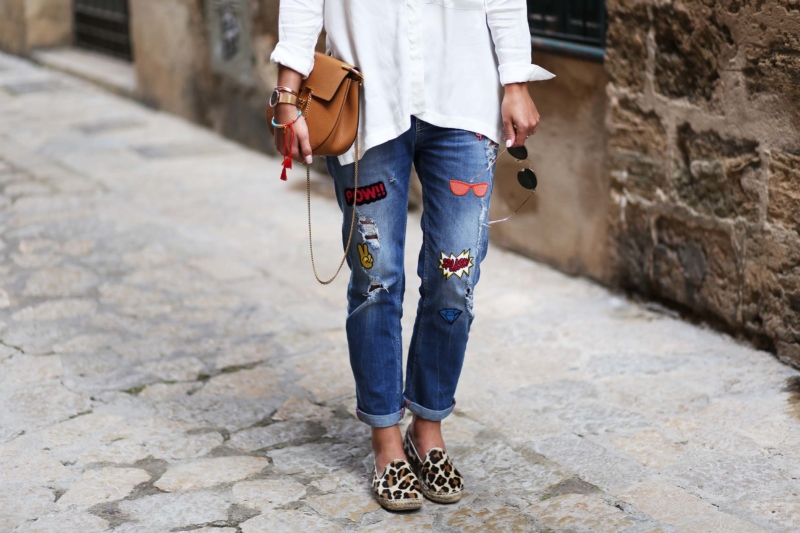 Shop my Look
Pants: Kocca
Blouse: Topshop*
Sunglasses: Ray Ban
Bag: Chloé
Shoes: Alsen*
(*similar | Photocredit: Aylin König)