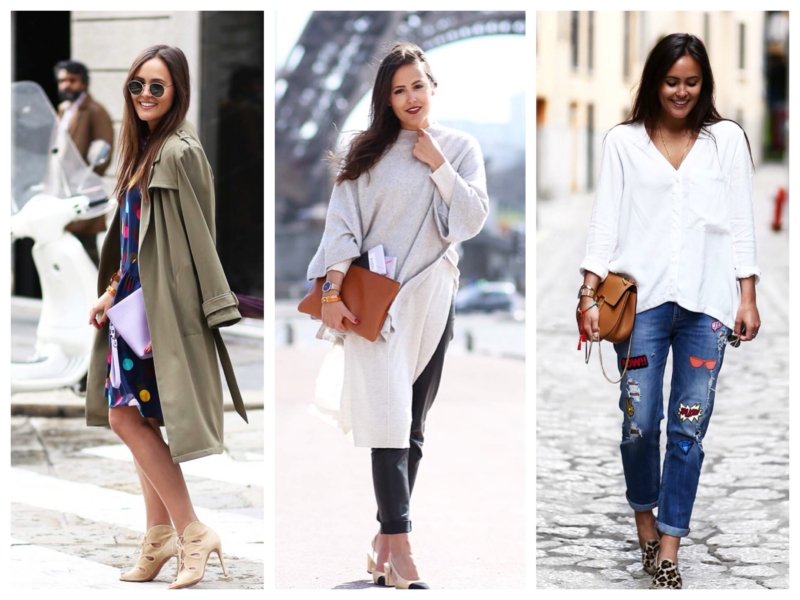 EN| It is always nice to see, when you guys like one look and give me feedback to it. You are writing comments and I know, that you were not bored nor annoyed by this look. For todays article, I put together your Top 3 streetstyle looks of March:
DE| Es ist immer schön zu sehen, wenn euch ein Look gefällt und ihr mir Feedback gebt. Ihr schreibt Kommentare und ich weiß genau, dass ihr nicht gelangweilt oder sogar genervt von etwas seid. Ich stehe in einem Austausch mit euch und bekomme Feedback. Für den heutigen Artikel habe ich eure meist gemochten Top 3 Streetstyles im März zusammengesucht:
1. MILAN STREETSTYLE – DO YOU LIKE POLKA DOTS?
EN| Today, I am showing you another streetstyle look from Milan Fashion Week. This one a little more colorful than most of the others. I saw this dress in the Max&Co Lookbook and directly and totally fell in love with it. The dress is beautifully polka dotted and super colorful. I combined it with light beige suede heels, a khaki colored trenchcoat and this violet rocket clutch which you probably see in my latest "Milan Streetstyle – Casual Khaki&Beige" blogpost. I just love combining casual things with items, they are eyecatchers like the clutch or the dress.
DE| Heute möchte ich euch einen weiteren Streetstyle von der Mailänder Fashion Week zeigen. Dieser Look ist ein wenig bunter, als alle anderen Looks, die ich euch sonst zeige. Das Kleid habe ich im aktuellen Max&Co Lookbook gesehen und mich direkt verliebt. Es ist irgendwie schlicht, aber dennoch ein absoluter Hingucker und es ist einfach so bunt und fröhlich. Ich kombiniere es in diesem Outfit mit meinen hell beigen Wildleder Stilettos, einem Trenchcoat in Khaki und der violetten Raketen Clutch, die ich schon im "Milan Streetstyle – Casual Khaki&Beige" Blogpost getragen habe. Mir macht es einfach Spaß, schlichte Sachen mit ausgefallenen Teilen, wie der Clutch oder dem Kleid, zu kombinieren.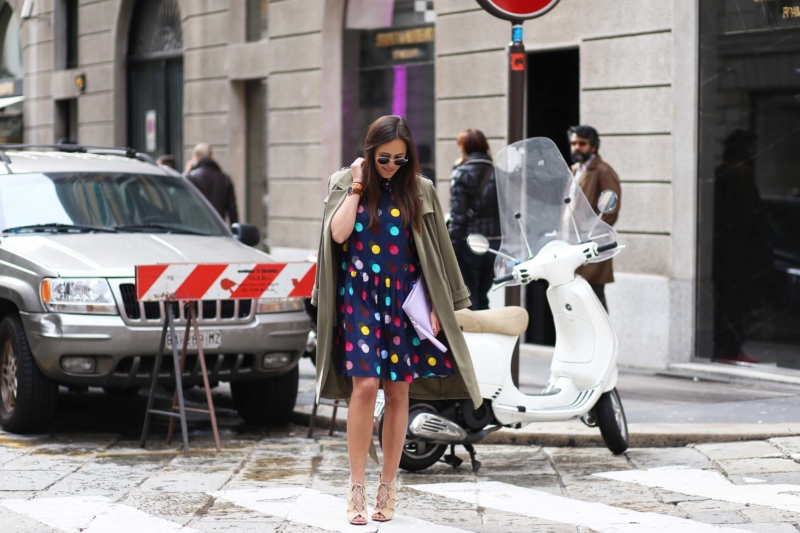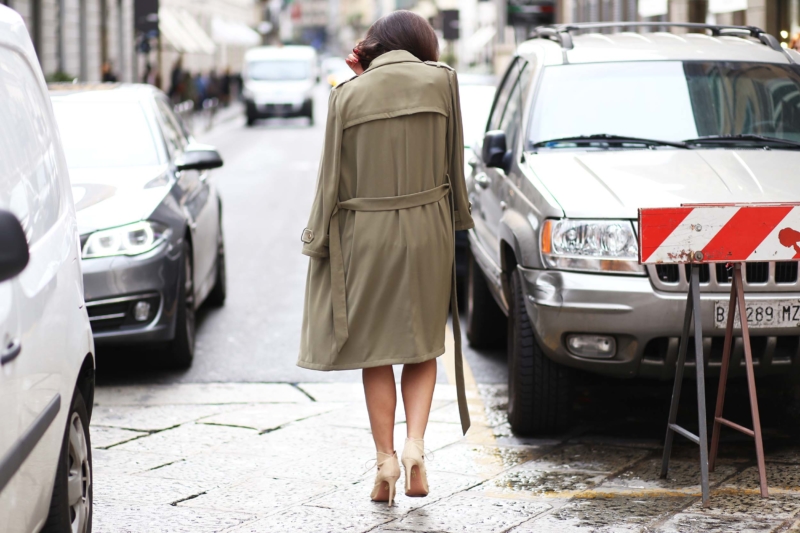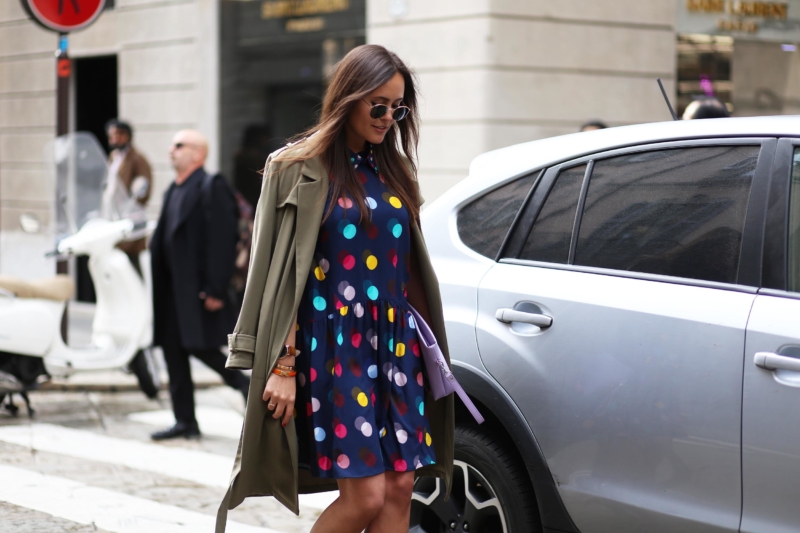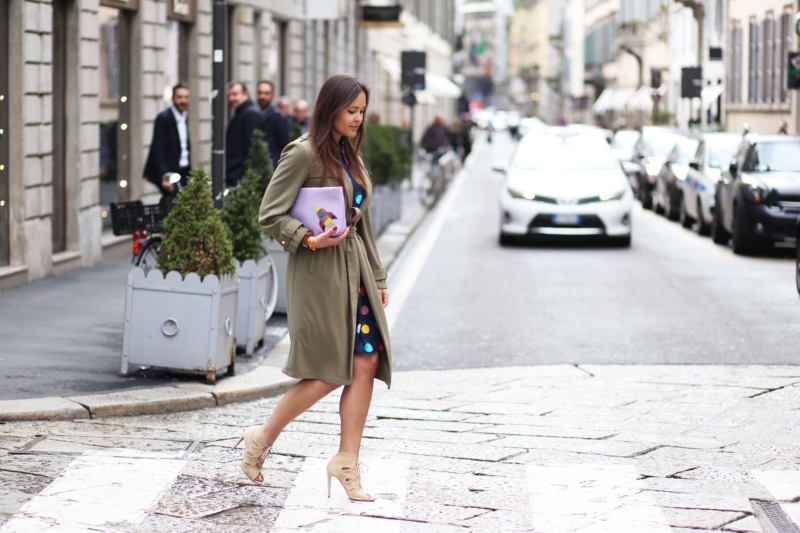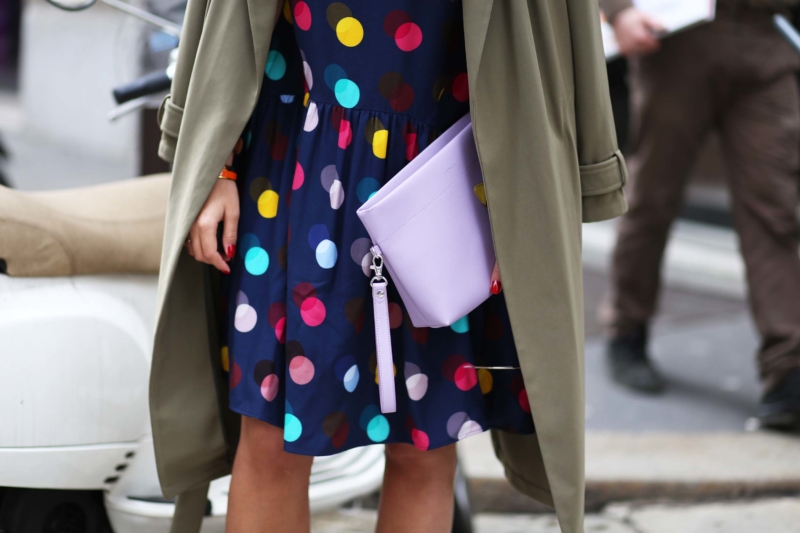 Shop my Look
Dress: Max&Co*
Trenchcoat: Miss Selfridge
Shoes: Aquazzura
Clutch: Max&Co
Sunglasses: Ray Ban
(*similar | Photocredit: Aylin König)
2. PARIS STREETSTYLE – FRENCH VOGUE AND EIFFELTOWER VIEW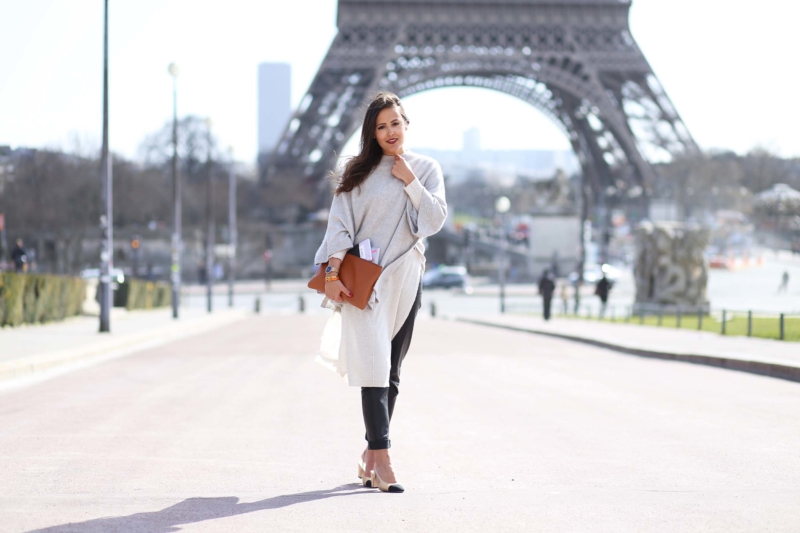 EN| For this look I combined my black leather pants with the Chanel Slingback Pumps (already told you in this article, why I am wearing them 24/7), a super long knitted shirt in beige and over that Aylins Cashmere Pullover for the second time, because I really did not pack well enough for those cold parisien days. To buy the Vogue in Paris is a no brainer, so I directly used it and "wore" Gigi as an accessoire next to my cognac colored Gucci clutch.
DE| Für diesen Look kombiniere ich meine schwarze Lederhose mit den Chanel Slingback Pumps. Ich habe euch bereits in diesem Artikel erzählt, wieso sie in Paris quasi an meinen Fuß gewachsen sind und ich sie 24/7 trage. Darüber kombiniere ich einen sehr langen, leichten Strickpullover in beige und Aylins Cashmere Pullover zum zweiten mal, weil ich einfach nicht richtig und viel, viel, viel zu kalt gepackt habe für die kalten Pariser Tage.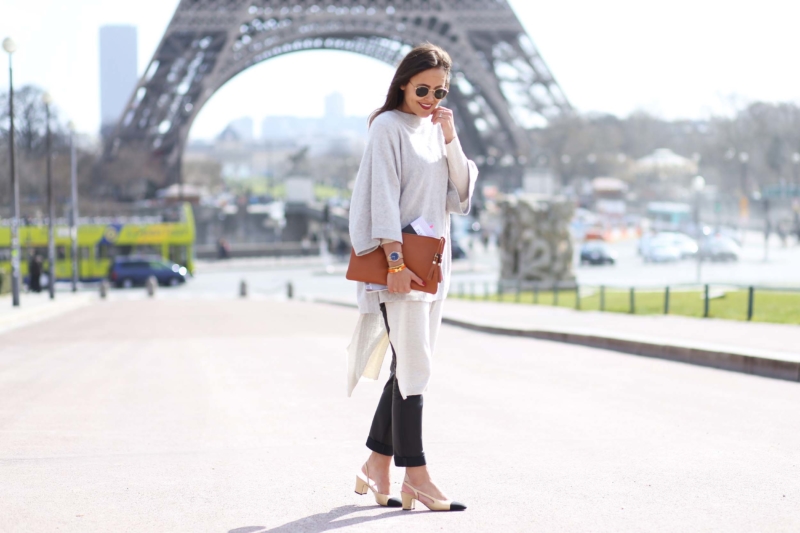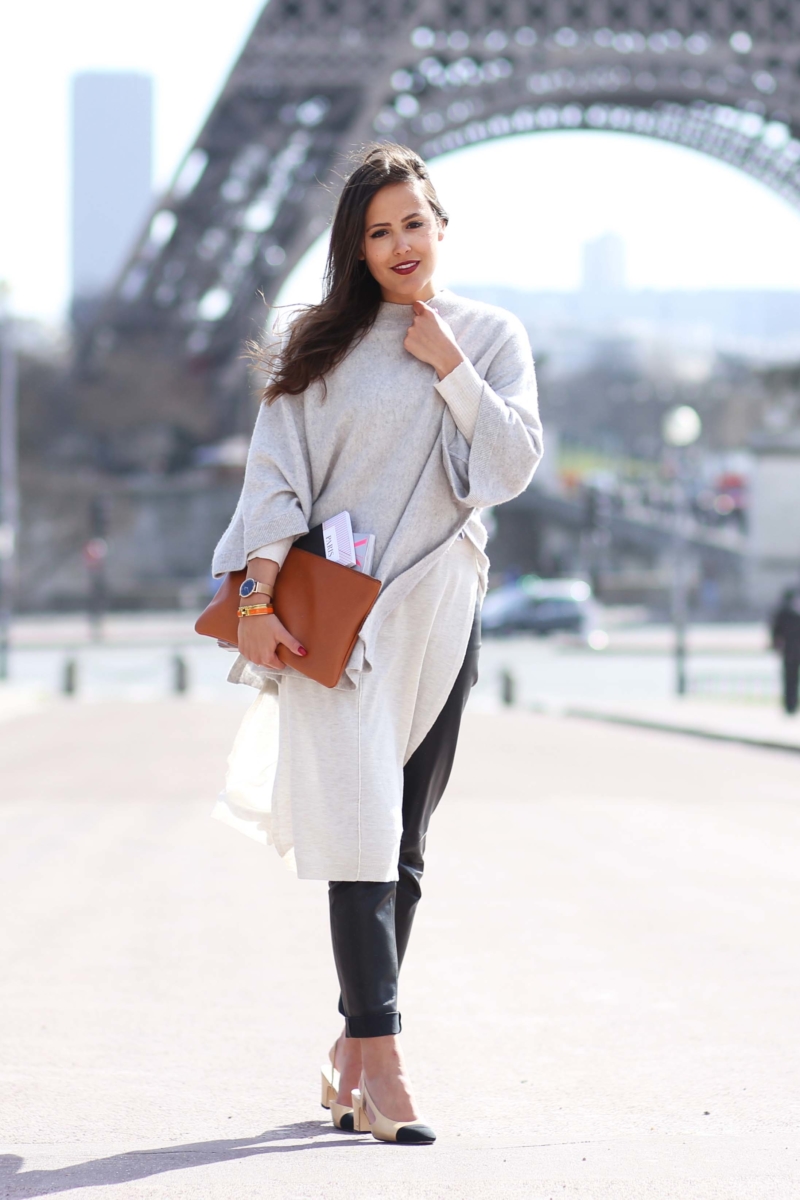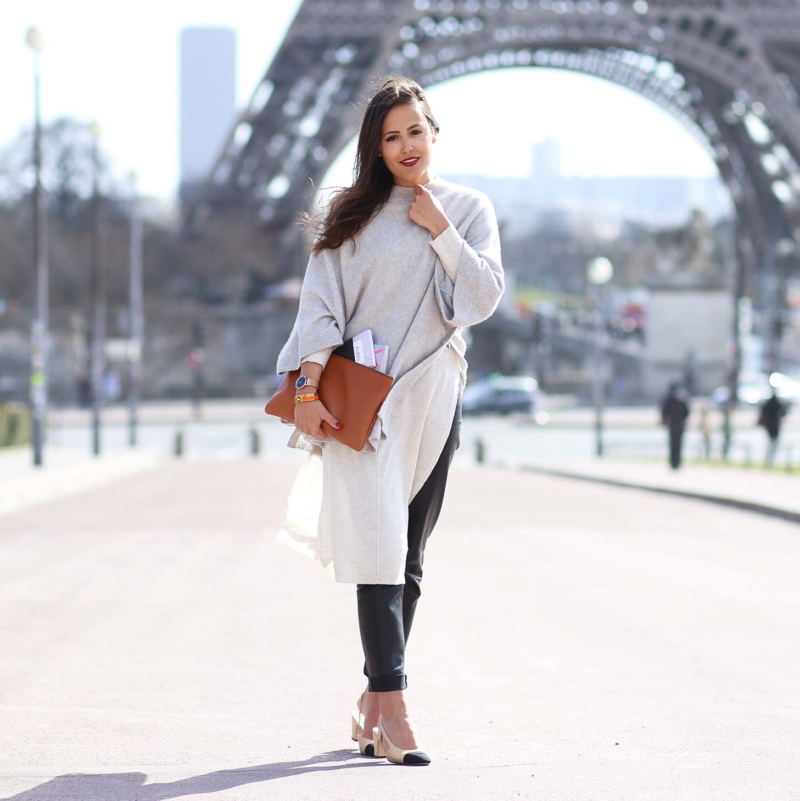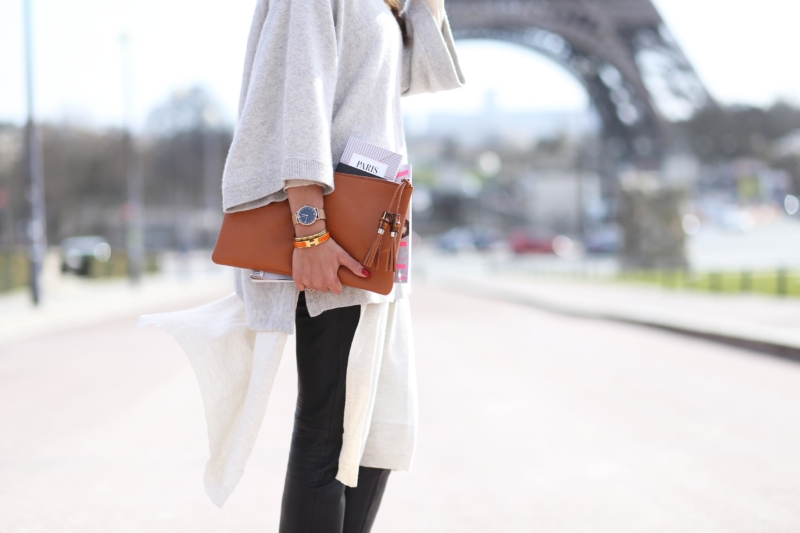 Shop my Look
Shoes: Chanel*
Knitted Longshirt: Zara*
Cashmere Shirt: Zara*
Clutch: Gucci*
Sunglasses: Ray Ban
Lipstick: Zoeva
(*similar | Photocredit: Aylin König)
3. MALLORCA STREETSTYLE | JEANS AND WHITE SHIRT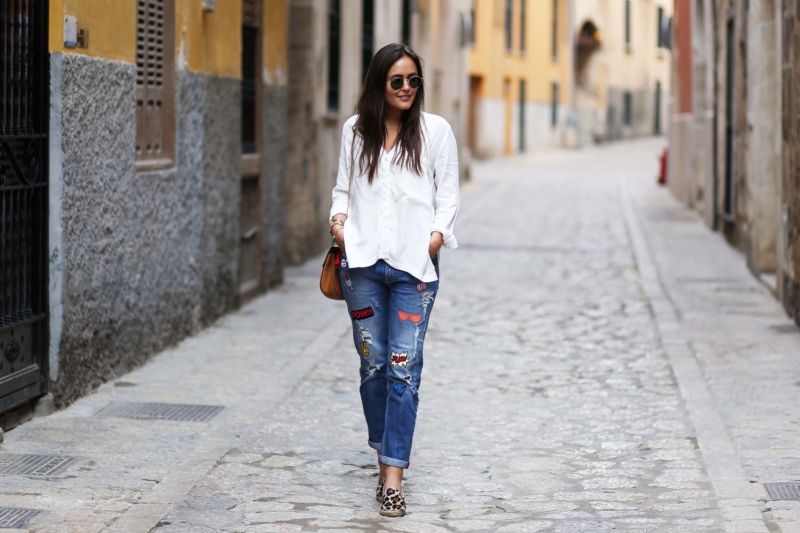 EN| For this look, I combine destroyed boyfriend jeans with many colorful patches with a simple white blouse. Patches in general are the topic right now. Everyone wants pants, shirts or coats with patches. I, for myself love combining those patches with simple things like this white blouse. You can never go wrong with a white blouse. Together with that, I am wearing espadrilles and my cognac colored Chloé Drew bag.
DE| Für den heutigen Look kombiniere ich eine destroyed Boyfriend Jeans mit vielen kleinen Stickern mit einer sehr schlichten, weißen Bluse. Sticker sind generell momentan ein sehr großes Thema. Sei es auf Hose, Blusen, Pullovern oder Jacken. Sie sind gefühlt überall. Ich persönlich liebe es, solche doch sehr auffälligen Teile mit schlichten Basics, wie zum Beispiel dieser weißen Bluse zu kombinieren. Damit kann man einfach nichts falsch machen. Zusammen damit trage ich Espadrilles und meine cognac farbige Chloé Drew Bag.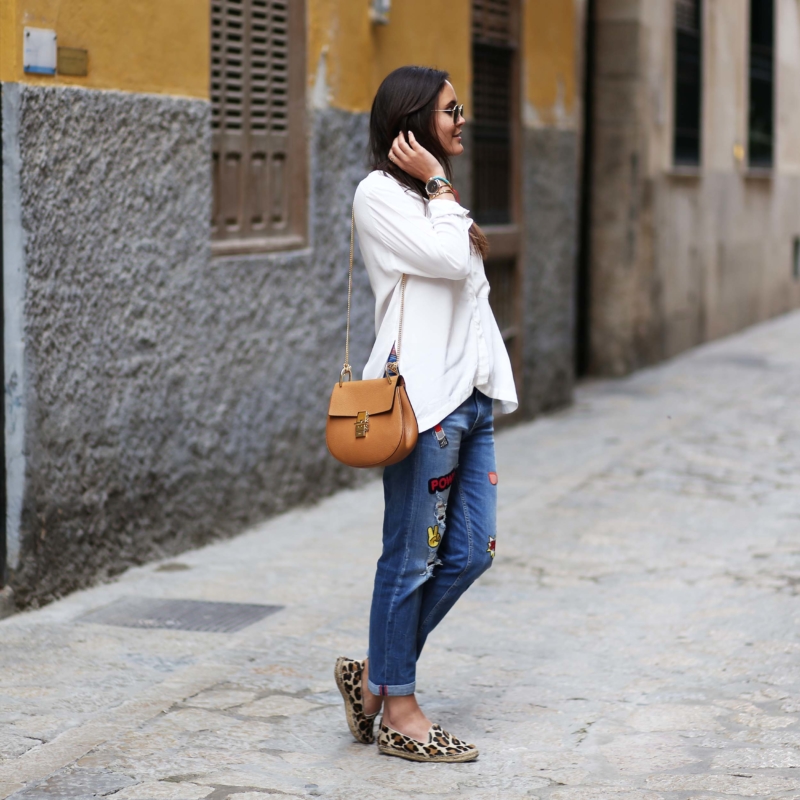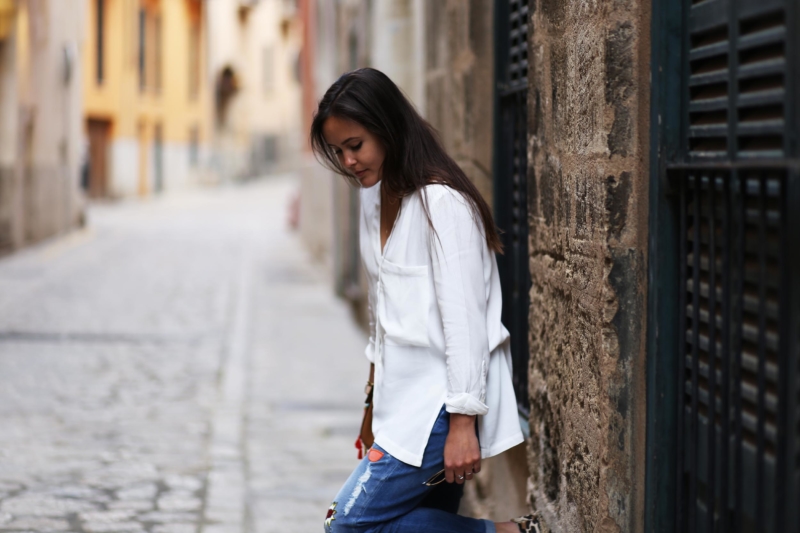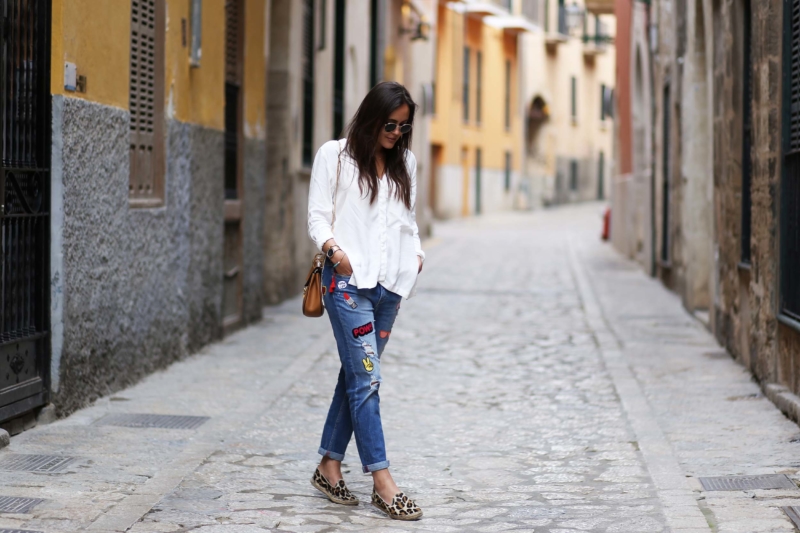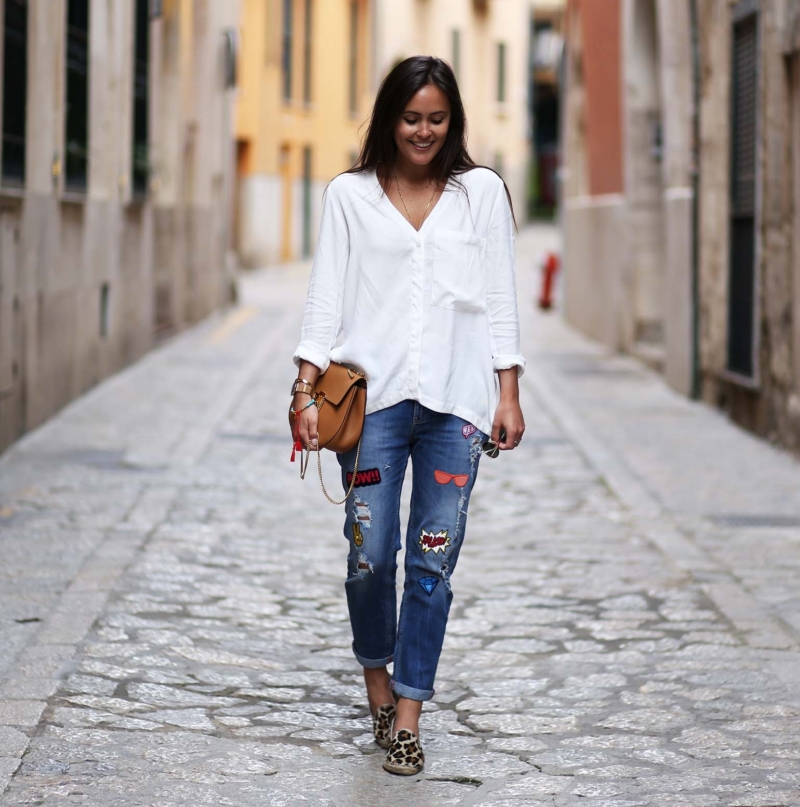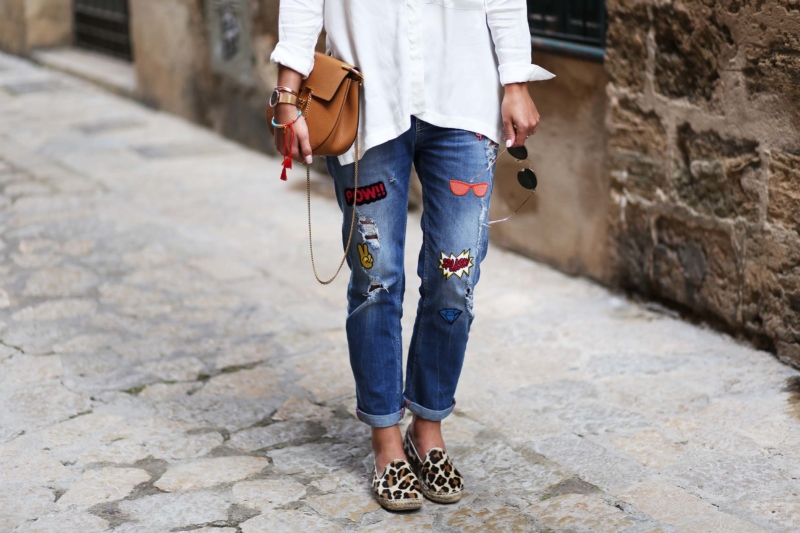 Shop my Look
Pants: Kocca
Blouse: Topshop*
Sunglasses: Ray Ban
Bag: Chloé
Shoes: Alsen*
(*similar | Photocredit: Aylin König)
Die 3 Looks waren aber auch wunderschön und jedes einzelne Individuell für sich <3 Ich glaube jedoch, dass das Outfit mit der gepatchten Jeans und der weißen Bluse mein absoluter Favorit ist.

Liebe Grüße
Luise | http://www.just-myself.com

designdschungel

Ohh das freut mich aber! Ich liiiebe den Look auch so, weil er einfach super locker und lässig ist:)

xx Deine Laura

Mein absoluter Favorite ist immer noch Look 2 aus Paris! Elegant aber trotzdem lässig und die Aussicht ist einfach nur toll!

Liebe Grüße,
Janine | http://www.florafallue.com

designdschungel

Daaankeschön! Ich mag an dem Look, dass er so bequem und lässig ist:)

xx Deine Laura

Das sind alles einfach super tolle Looks und die Bilder sind der Hammer.
Liebe Grüße Lisa <3
http://hellobeautifulstyle.blogspot.de/
https://www.youtube.com/channel/UCPoU_ebFxQsjhAwy8bjlPiA

designdschungel

Danke liebe Lisa! Das ist so lieb von dir!

xx Deine Laura

Mein Favourit ist auch Look 2 aus Paris <33 Die perfekte Mischung aus elegant und casual

xx Tschok | http://www.thedetsornfactory.com

designdschungel

Vielen, vielen Dank liebe Tschok!

xx Deine Laura

Ich glaube ich habe mich verliebt. Diese Hose ist ja so toll! ?
Und so, wie du sie kombiniert hast, ist einfach traumhaft ??
Liebe Grüße
Anna

designdschungel

Das ist so super lieb von dir!

xx Deine Laura

Alle 3 Looks sind der Wahnsinn, aber am allerliebsten gefällt mir der Pasches Look!
Ich liiere das schlichte in Kombination mit den verspielt bunten Patches <3

Liebst,
Vicky

designdschungel

Vieelen Dank liebe Vicky!

xx Deine Laura

Hallo liebe Laura! 🙂

Die Outfits sind so schön! Vor allem die Hose mit Patches habe ich auch schon seit Wochen im Auge, allerdings tragen sie einfach sooo viele im Moment dass ich mich irgendwie weiter dem Trend nachzugehen.. 😀

Love,
Xx,
Bianca
http://www.laviejoliee.de

designdschungel

haha ich weiß genau, was du meinst!! Aber die Patches sind auch einfach toll! Ich hab mich hinreißen lassen 😀

xx Deine Laura

Hammer schöne outfits und besonders die location am eiffelturm kann sich aus sehr sehen lassen 🙂
liebe grüße,
laura von http://www.thegoldensideoflife.com