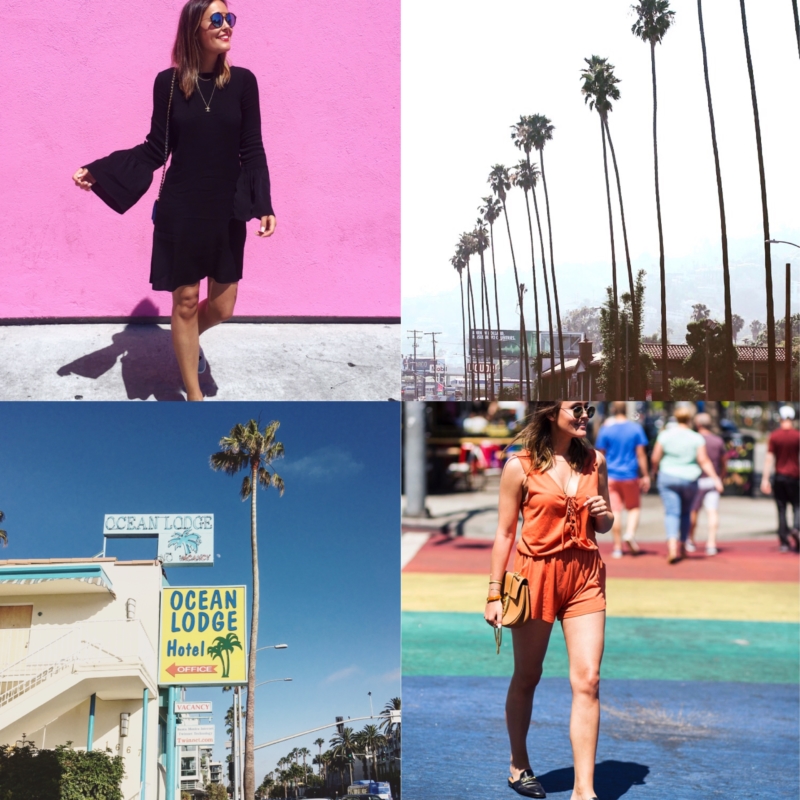 WHERE AT?
LOS ANGELES. SANTA MONICA. GLENDALE
DONE
I had a pretty exciting week. We drove around Los Angeles, found some really nice spots to take photos, strolled through Melrose Avenue, strolled through Hollywood, went hiking in Griffith Park, went to Santa Monica, to have dinner at the wonderful Via Veneto, a little Italien place on Mainstreet. Ohh what a wonderful city. I definitely have to come back.
Then I went to the Magic Castle. What a great, great experience! I just loved everything about it. You are only allowed to go in with a member, then in the lobby, you see a wall with lots of books, where a little owl is sitting on. You have to say "Open Sesamy", the door opens and you are in the castle. Down there, there are lots of small rooms, where you can see magicians doing their tricks, there are a couple of bars, where you can get drinks and you can have dinner, if you want to. It was just a great night!
Then, we tried out some new restaurants, went to Glendale to a mexican restaurant called Freda. If you are ever there, you have to try it! After that, we had drinks with a friend at "Ysabel" on Fairfax Avenue. This place is beyond!
LOVED
Loved meeting so many people the last couple of days and that they are super supportive and nice. I really like, how easy you can meet new people and smalltalk with them.
Love, that Nordstrom has SALE now! You definitely should check it out.
Loved, that so many of you asked about my Gina Tricot Jumpsuit. I found a really similar one here.
Love, that you love my LA blogposts so much and that you guys are so super supportive and only spread nice and helping words. Thank you so much!
ANNOYED
We got in a little car accident last week. Nothing really serious, nobody got hurt nor was it our fault. But it was still a annoying and I really was scared.



GEWESEN
LOS ANGELES. SANTA MONICA. GLENDALE
GETAN
Ich hatte wirklich eine aufregende Woche. Wir fuhren durch Los Angeles, fanden hier und dort wirklich ein paar sehr coole Spots für Fotos, schlenderten durch die Melrose Avenue, schlenderten durch Hollywood, gingen wandern in Griffith Park, fuhren für ein Dinner bei Via Veneto nach Santa Monica. Was für ein schönes kleines Italienisches Restaurant. Wir hatten eine tolle Zeit.
Am Freitag ging es für uns ins Magic Castle. Was für eine unglaubliche Erfahrung! Ich mochte einfach alles dort. Man darf nur mit einem Mitglied des Magician Clubs in das Schloss gehen. Schon in der Lobby sah alles wie Harry Potter in klein aus, Wände voller Bücher, etc. Auf diesen Büchern stand eine Eule. Zu dieser Eule musste man "Sesam öffne" dich sagen und schon öffnete sich die besagte Bücherwand und man konnte eintreten: Es gab verschiedenste Räume, wo man Magier sehen konnte, Spieltische, Bars, Restaurants. Alles war wie im Film. Wir hatten so einen tollen Abend!
Am Sonntag fuhren wir nach Glendale in ein mexikanisches Restaurant namens Freda. Wenn ihr einmal in Glendale seid, dann solltet ihr dort auf jeden Fall einen kleinen Stop einlegen. Es lohnt sich. Vor allem die Guacamole! Abends ging es noch mit einer Bekannten ins "Ysabel" auf der Fairfax Avenue. Dieses Restaurant ist einfach unglaublich toll!
GELIEBT
Geliebt, dass ich so viele Leute die letzten Tage getroffen habe und diese so super unterstützend und nett waren. Ich mag es, dass man hier so viele nette Leute treffen kann und mit ihnen direkt ins Gespräch kommt.
Geliebt, dass Nordstrom endlich SALE hat! Das solltet ihr euch also wirklich nicht entgehen lassen!
Geliebt, dass euch mein Look mit dem Gina Tricot Jumpsuit so gut gefallen hat! Ich habe einen ganz ähnlichen Jumpsuit HIER gefunden.
Geliebt, dass meine LA Blogposts bei euch so gut ankommen, ihr mich so unglaublich unterstützt und immer nur nette und helfende Kommentare schreibt. Danke euch <3
GEÄRGERT
… dass wir einen kleinen Unfall letzte Woche hatten. Uns ist nichts passiert, es ist alles gut, es war auch nicht unsere Schuld. Trotzdem war es natürlich super ärgerlich.