ADVERTISEMENT
Today I'm going to show you a New York City street style look. I'm so charmed about this city, that it was so hard to say goodbye. Every single picture of this blogpost was made by my HUAWEI P10 Plus. This smartphone is absolutely perfect for street style pictures. During the shooting we noticed, that even pictures among the shades are exceptional and it reflects really nice colors. But I'm not only going to talk about the HUAWEI P10 Plus, I actually want to tell you more about the bokeh mode.
A light and convenient companion: The HUAWEI P10 Plus
I often get questions from you, how does the background in my pictures gets so blurry? It's called "bokeh" and it comes from the japanese language. It means blurred/out of focus and also referred to as quality of the blurry area. For one I make the pictures with a prime lense of my reflex camera, on the other hand with my HUAWEI P10 Plus. But more often we take the smartphone, because it has a big benefit: It's the handiness and the weight. Our reflex camera weighs with the lens more than one kilogram, which is quite heavy after some long walks. That's why we often take just the smartphone and we get also hugely satisfying results.
Pictures in Bokeh Mode
I took some pictures in a normal mode and some, for comparison, in bokeh mode, that you can see the difference immediately. If you take the pictures with the HUAWEI P10 Plus, a lot functions can adjusted manually, that you just need to try everything out to see what you like most. There is a setup on the smartphone for the bokeh mode. You can see a lot of functions in a list above. On the left side you will find the flashlight, right next to it,it shows a round symbol for the big aperture. If you click on that symbol, you are going to activate the bokeh mode. Once the mode is activated, you can select a lense at the right bottom corner, where you can modify the intensity of the blurry background. The scale goes from 0,95 to 16, the lower the number, the more blurry your background gets. You can focus an object, when you click with your finger on the screen and focus the object, which has to be sharp. What I like most about the P10 Plus, that you can manually modify the lens, or the focus, afterwards. So it's really not a big deal, if you want to modify the focus afterwards.
For today's outfit post I am combining a patterned silk dress with pansy print by Philosophie di Lorenzo with my velvet Gucci Marmont Bag and my new pink pointed-toe slippers. I shot this look at Lower Eastside, one of my absolute favorite districts in New York. I hope, you like today's look? xx Laura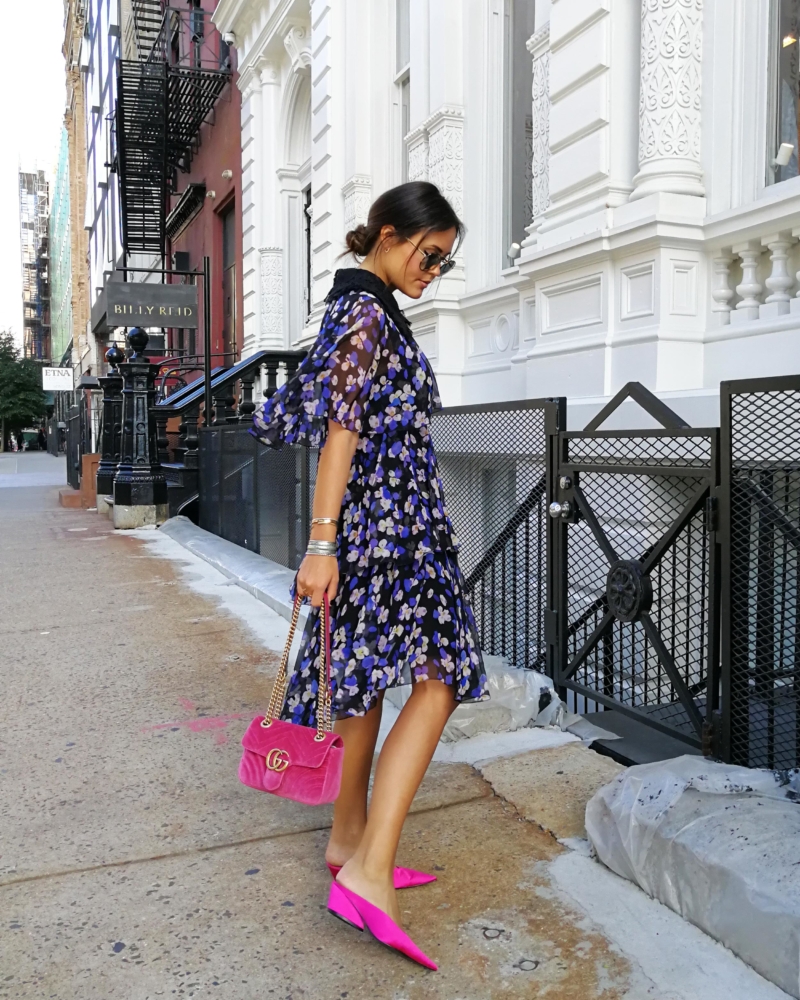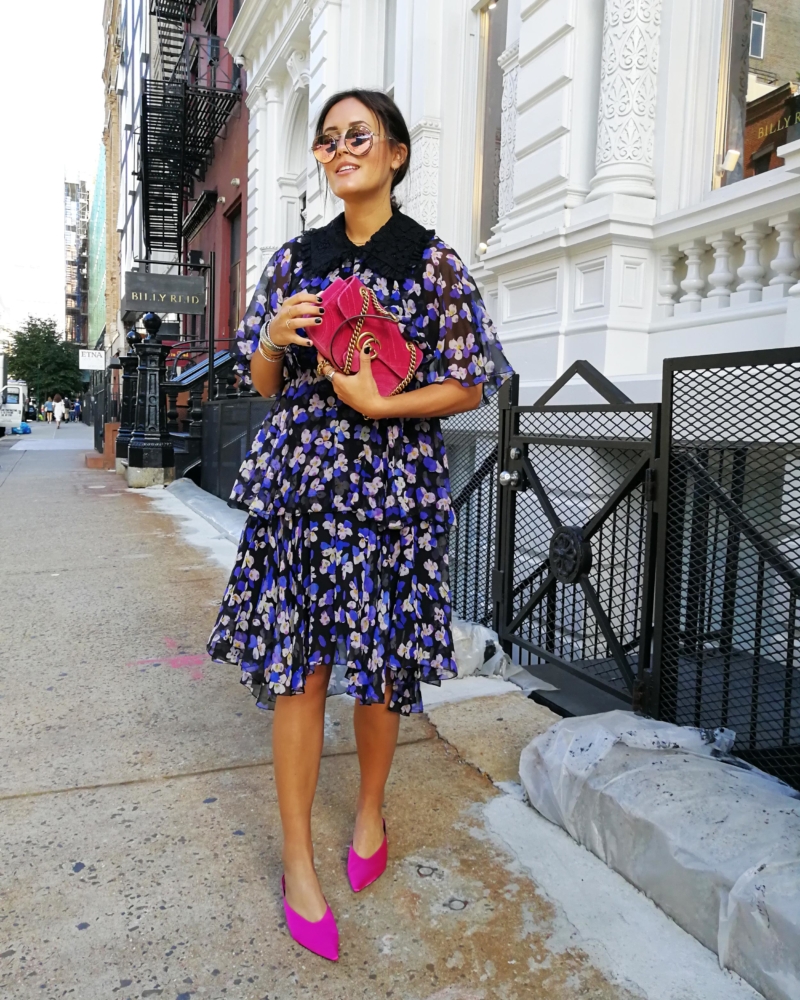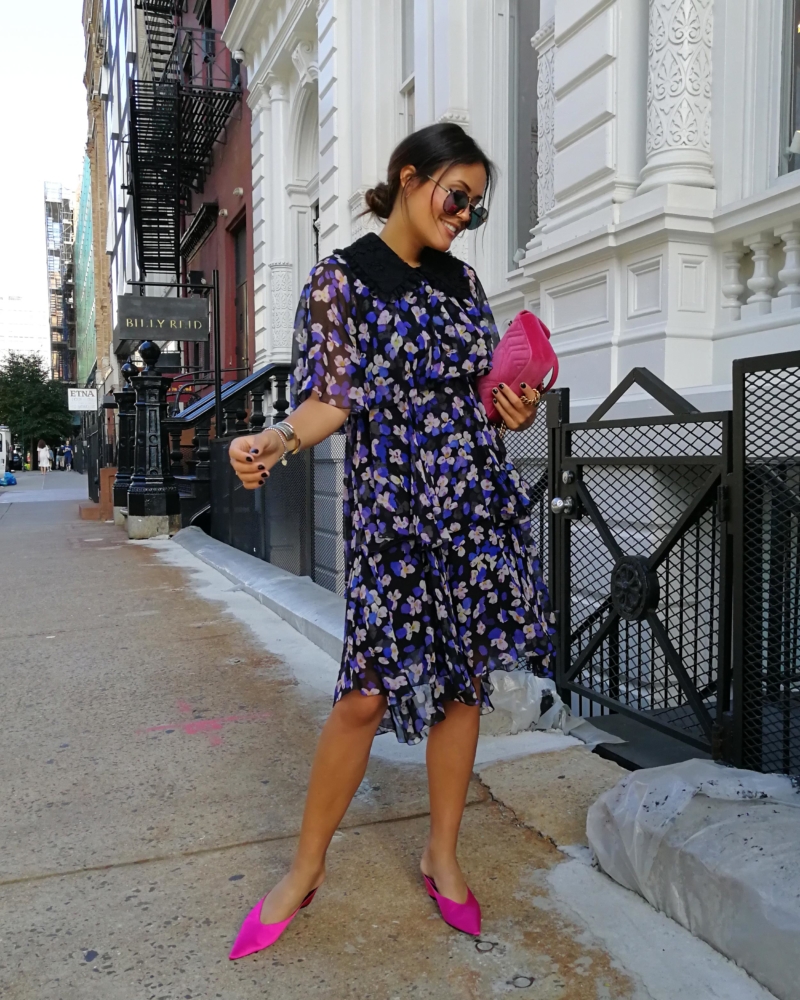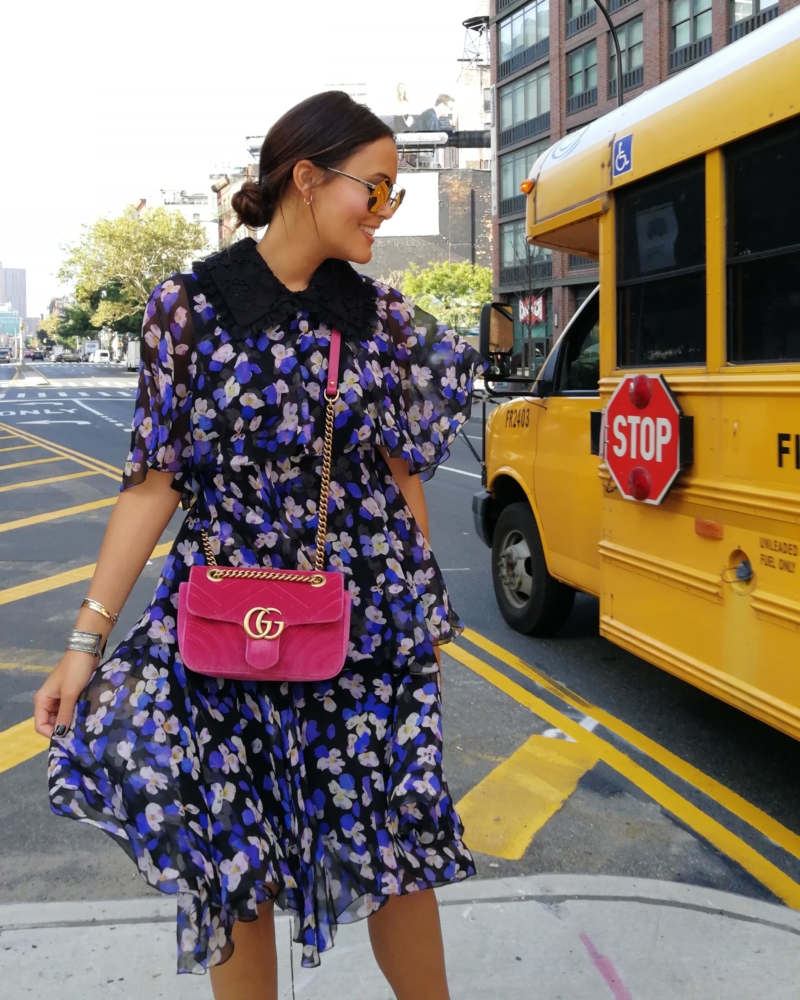 (Photocredit: Julian Pabel | In Cooperation with HUAWEI)