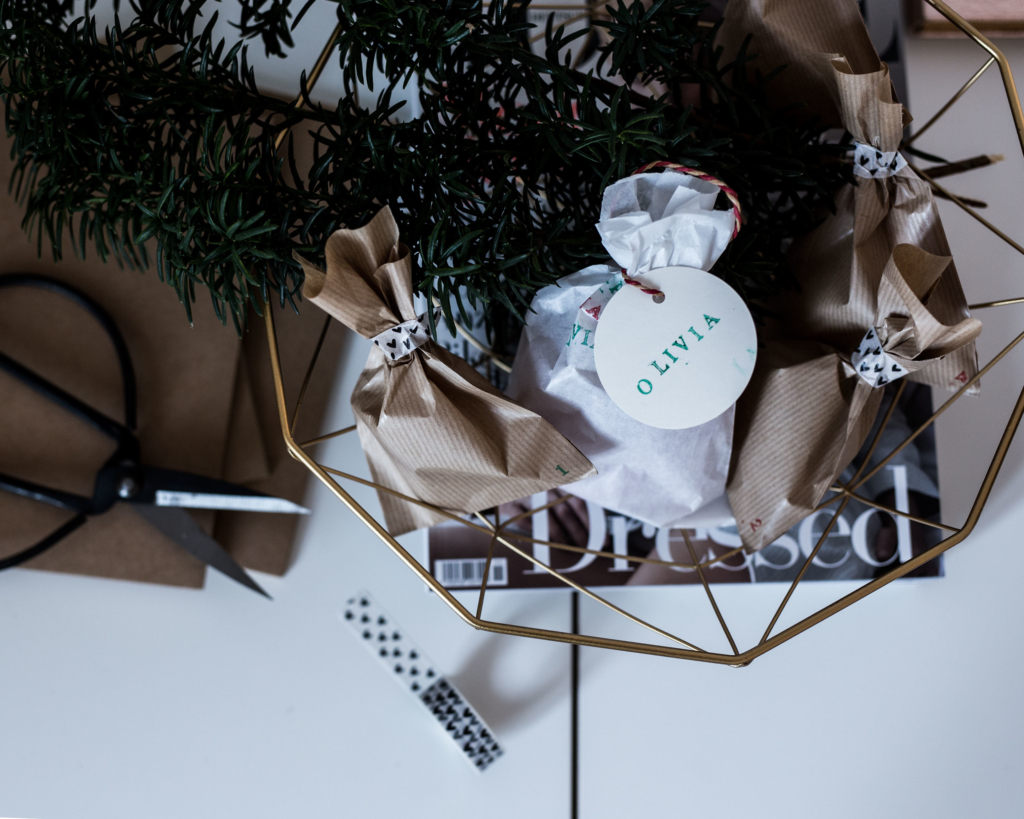 DE| Schon wieder ist ein Jahr vorbei und es heißt "Weihnachtszeit Olé". Jedes Jahr zur gleichen Zeit machen wir uns Gedanken, was wir unseren liebsten am besten schenken könnten. Auch wenn Weihnachten sich meiner Meinung nach nicht nur um Geschenke drehen sollte, habe ich meiner Kreativität freien Lauf gelassen und ein paar tolle Ideen gesammelt, die auch mit nicht so viel Budget einen bleibenden Eindruck hinterlassen. Ich habe mich gefragt, worüber man sich wirklich freut, wenn es um ein Geschenk geht! Hier habe ich verschieden Ideen mit einfließen lassen und die unterschiedlichsten Geschenke mit Etsy entwickelt. Etsy kenne ich schon lange und war seitdem immer ein Fan. Hier findet man die unterschiedlichsten Sachen, handgefertigte Teile, Vintage Stücke, Werkzeug, Hochzeits Karten, Dekorationen und vieles mehr. Was mir dieses Jahr ganz besonders ins Auge gesprungen ist, war ein Stempel Set bestehend aus dem Alphabet in klein und groß, sowie Zahlen und Satzzeichen. "Da kann man doch toll was draus machen" dachte ich mir und bestellte es mit passenden bunten Stempelkissen, kleinen braunen, weißen und pink-gestreiften Papiertütchen, einem Washi Tape mit Herzen und braunen simplen Notizbüchern. Meine Idee: Ich wollte die Stempel dafür nutzen, um Geschenke zu individualisieren. Außerdem wollte ich einen Adventskalender aus den kleinen Tütchen basteln. Gesagt, Getan…

EN| It is already the end of the year! Meaning: Christmas Season is about to start! Every year we are asking ourselves the same question: Which presents to get? Even though, Christmas is not only about the presents, I have been creative and gathered some great ideas, with which you can impress your friends and family because of something individual. I asked myself, which gifts I always liked the most: The DIY ones! I looked through Etsy and found some great items, with which you easily make you friends and family happy, even if you have not the biggest budget at all. On Etsy you can find the most different items like vintage items, wedding stuff, decoration stuff, handmade things and so much more. I decided to get a stamp set with the alphabet in normal and bold letters, numbers and many more things. Together with that I ordered colored inkpads, small brown, white and pink paperbags and Washi tape with hearts on it. Ohh and some plain scrapbooks in brown. My idea: Using the stamps to personalize gifts, books, bags and notes. Also, I wanted to make a "Advents Calendar" with the small bags. Here we go…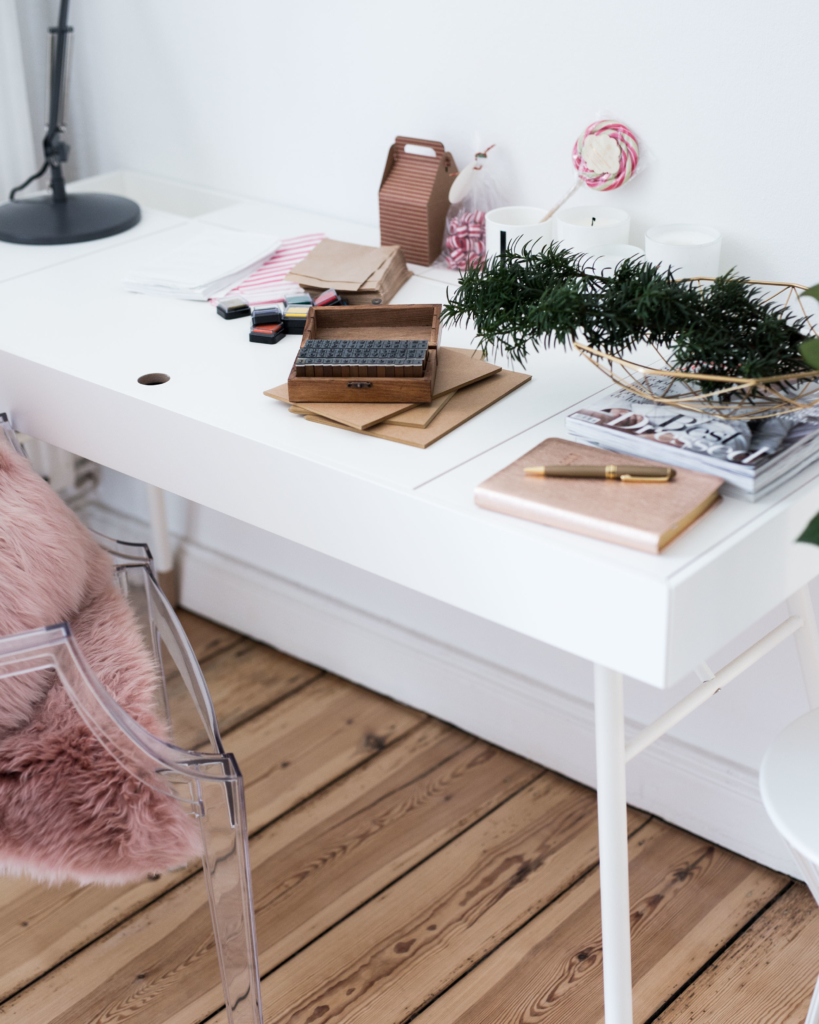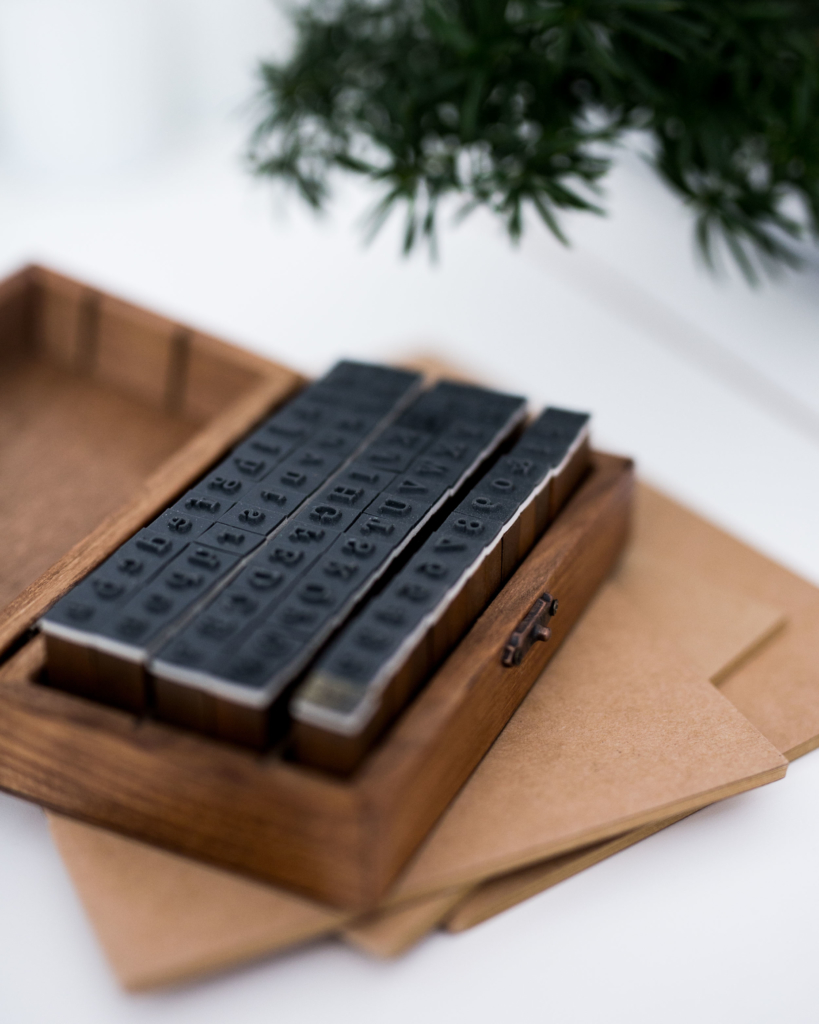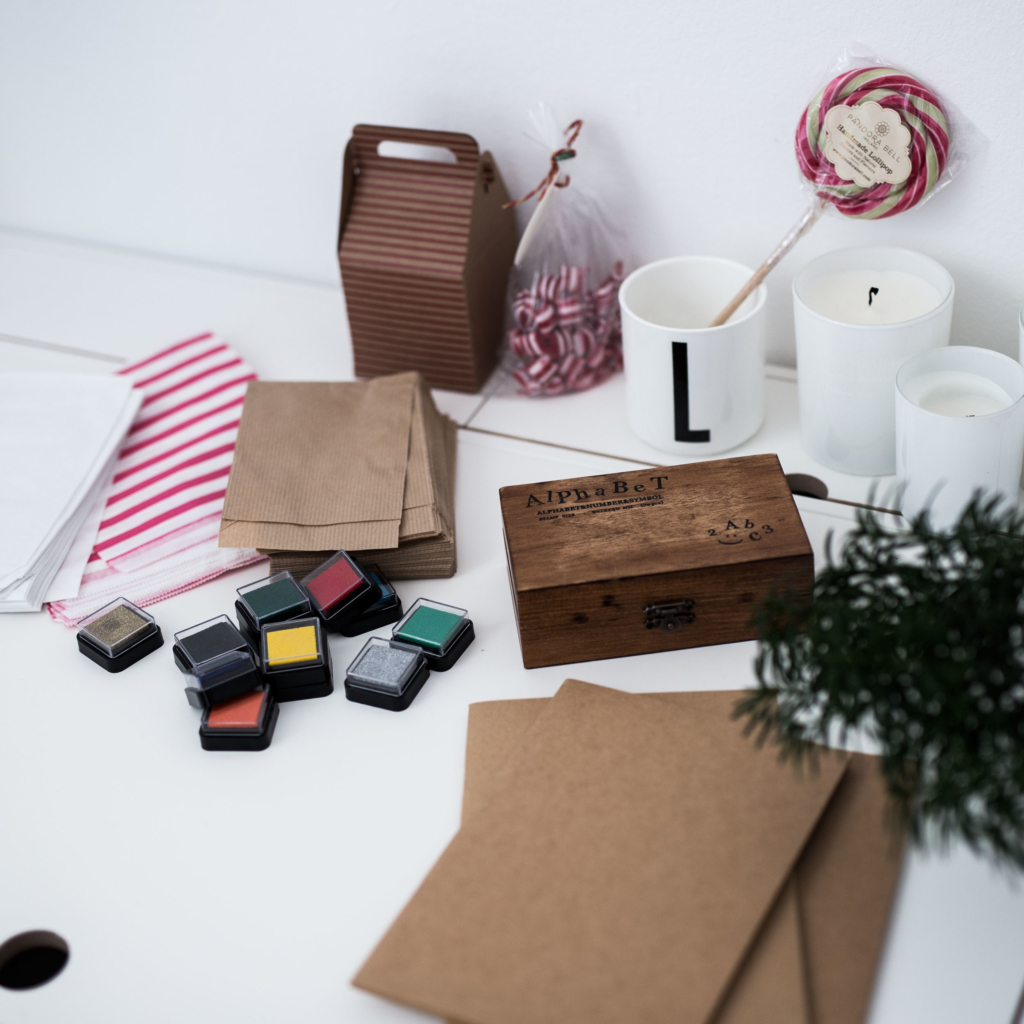 1. Ein minimalistischer, selbstgemachter Adventskalender
Hierfür habe ich die kleinen braunen Tütchen mit verschiedenfarbigen Nummern mit dem Stempel versehen. Hinterher können die Tütchen beliebig (mit Schokolade, Kosmetik, etc.) gefüllt werden und mit dem Washi Tape geschlossen werden. Ich habe sie in einen goldenen Drahtkorb gelegt, ein paar Tannenzweige dazwischengesteckt und fertig war der minimalistische, selbstgemachte Adventskalender
1. A minimalistic DIY Advents Calendar
I used the small brown paper bags for the Advents Calendar. Herefor, I used the stamps and stamped some numbers on the small bags. After that, you can fill the bags with everything you want (Chocolate and so on) and close it with the Washi Tape. I put all bags (1 – 24) in a golden wired bowl and put some fir branch inbetween. Your simple, minimalistic DIY Advents Calendar is ready for the 1st of December!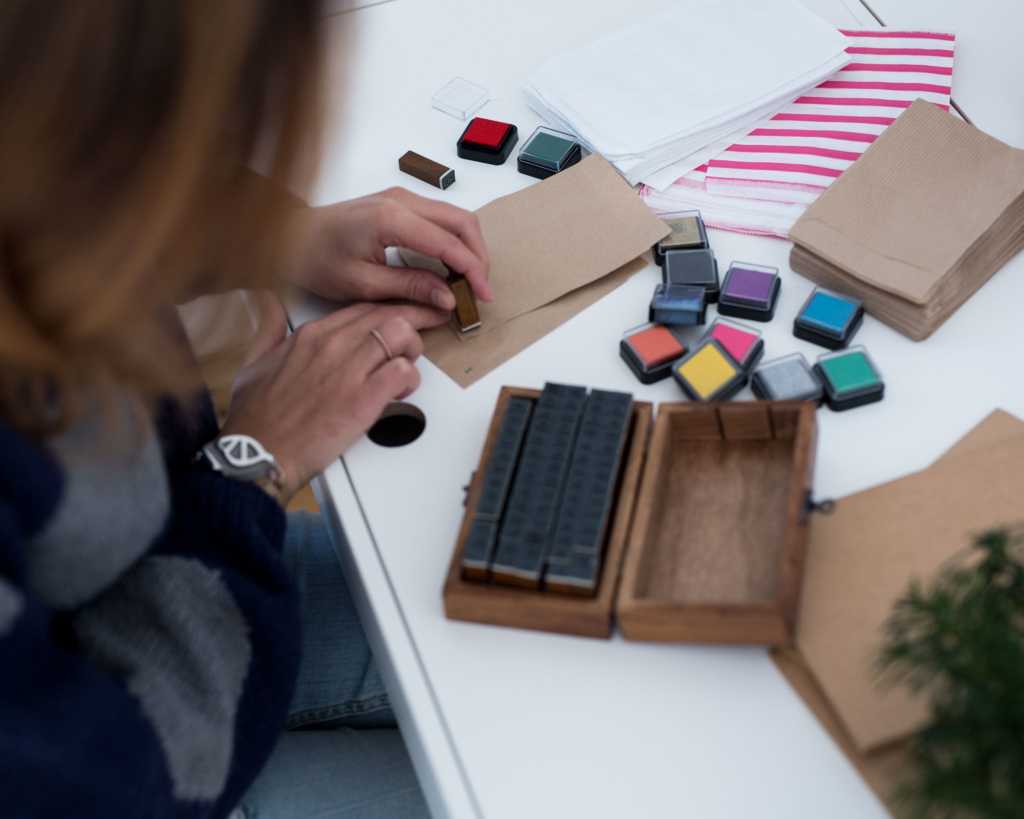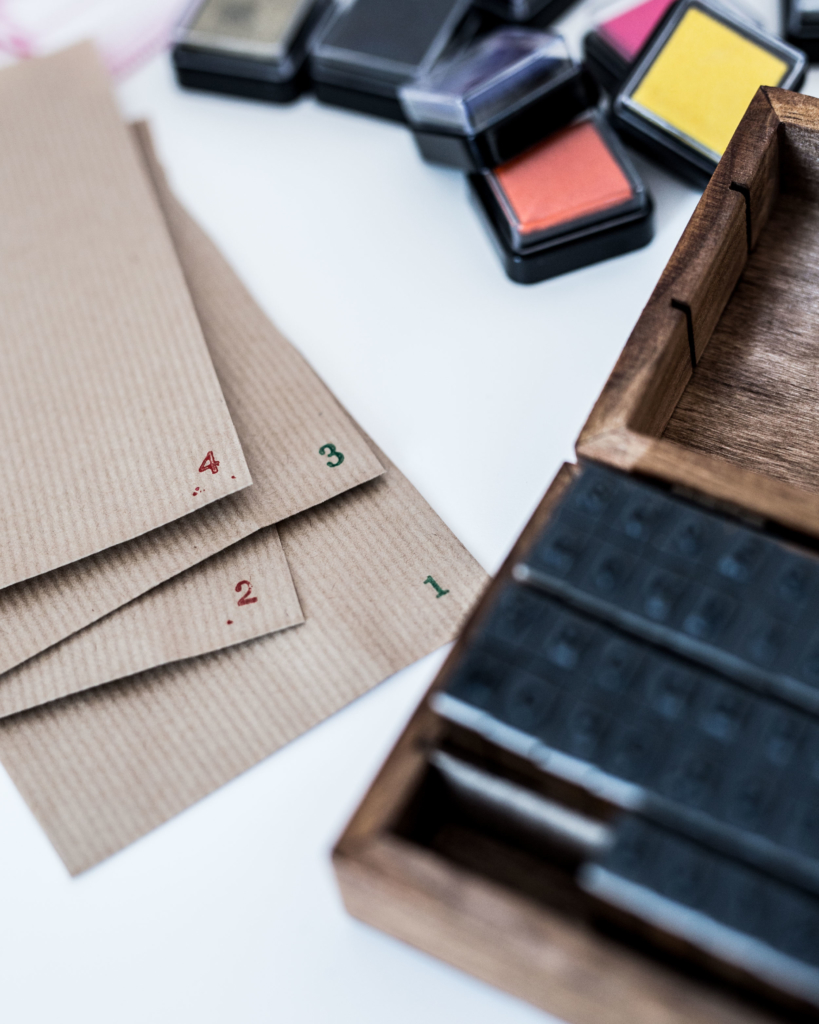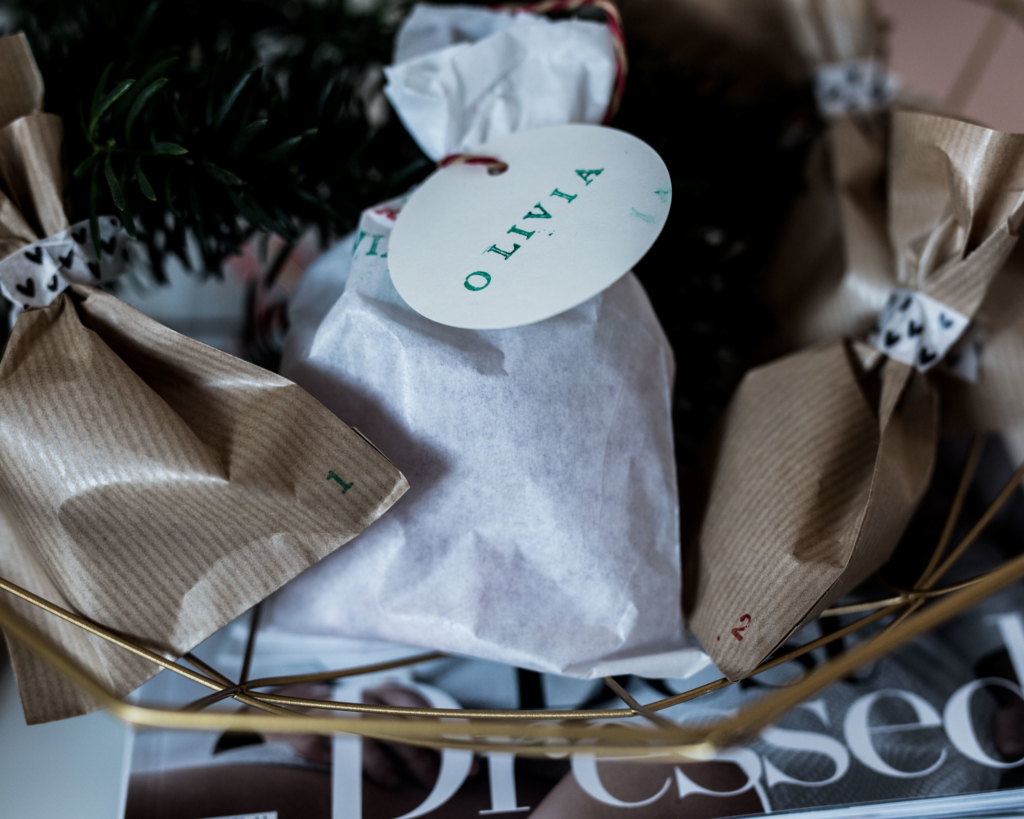 2. Ein individualisiertes Teelicht
Hierfür habe ich die pink-weiß gestreifte Papiertüte genommen und einen Spruch drauf gestempelt. Ich habe mich für "Loved by you" und "Happy with you" entschieden. Eurer Kreativität sind hier natürlich keine Grenzen gesetzt. Ihr könnt auch nur die Initialen von euren Liebsten oder einzelne Wörter wählen.
2. An individual Table Light
For the table light, I used the pink and white striped paper bags and stamped a sentence on it. I decided to write "Loved by you" and "Happy with you", but you can write whatever you want to. You can also only write the initials or some single words on it.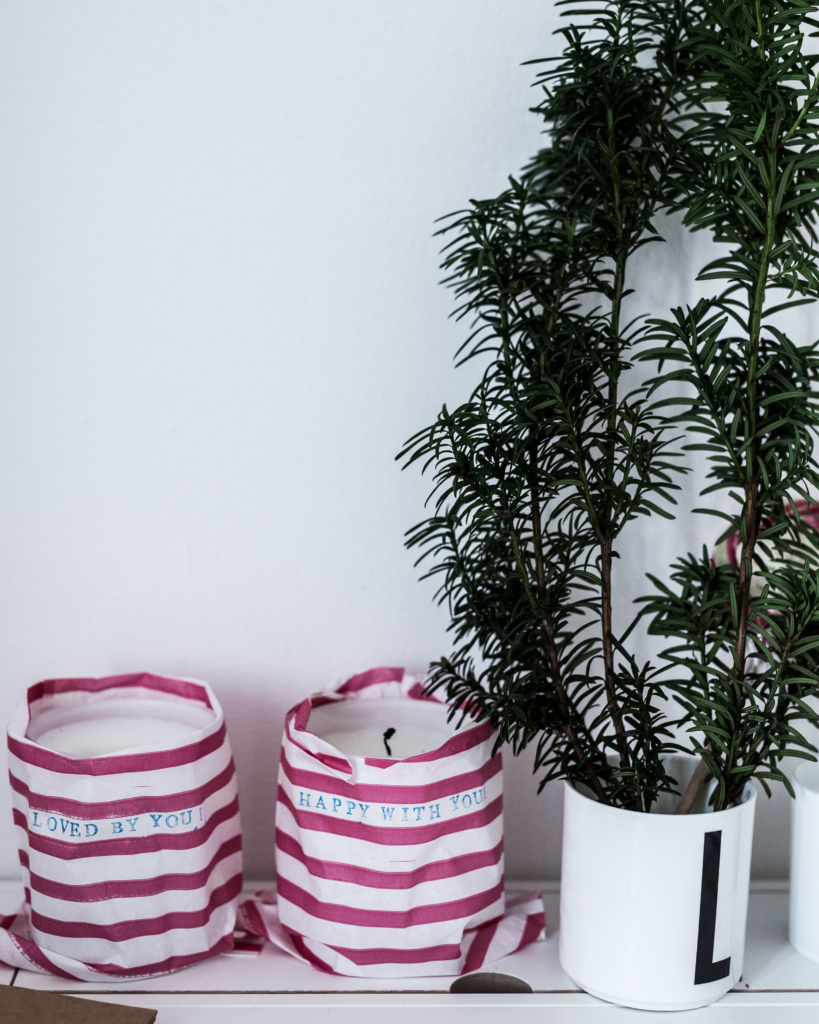 3. Ein personalisiertes Notizbuch
Hierfür habe ich mir kleine Heftchen bei Etsy bestellt. Mit dem Stempel habe ich ein Wort wie "Love" und die Initialen meiner Schwester Olivia "O.N." gestempelt. Ich finde die Idee besonders schön, weil man mit einer kleinen Geste ein ganz tolles kleines Geschenk erstellen kann, worüber sich jeder unglaublich freut. Eine Schleife drum und fertig ist das kleine Mitbringsel.
Ihr könnt die Stempel natürlich auch dafür verwenden, dass ihr zu Weihnachten kleine Namenskarten an die Geschenke hängt. Ich habe hier zum Beispiel eine kleine Papiertüte mit "Merry X-Mas" versehen und als Namenskarte "Olivia" gestempelt. Sowas ist immer irgendwie süß und macht das Geschenk ohne großen Aufwand noch etwas mehr besonders.
3. A personalized Notebook
For the personalized notebook I used the small brown notebooks, which I got from Etsy. I used the stamps and stamped words like "Love" or the initials from my sister Olivia on it. I really love the idea of making such a small thing with such a great meaning. Just wrap a bow around it and top it with some fir branches and it is the perfect small gift.
You can also use the stamps to make small name cards, which you can hang on your presents. I, for example, wrote "Merry X-Mas" on a small paperbag and put a namecard with "Olivia" on it. Something like that is always super cute and it doesn´t take a lot of time, but is still super special.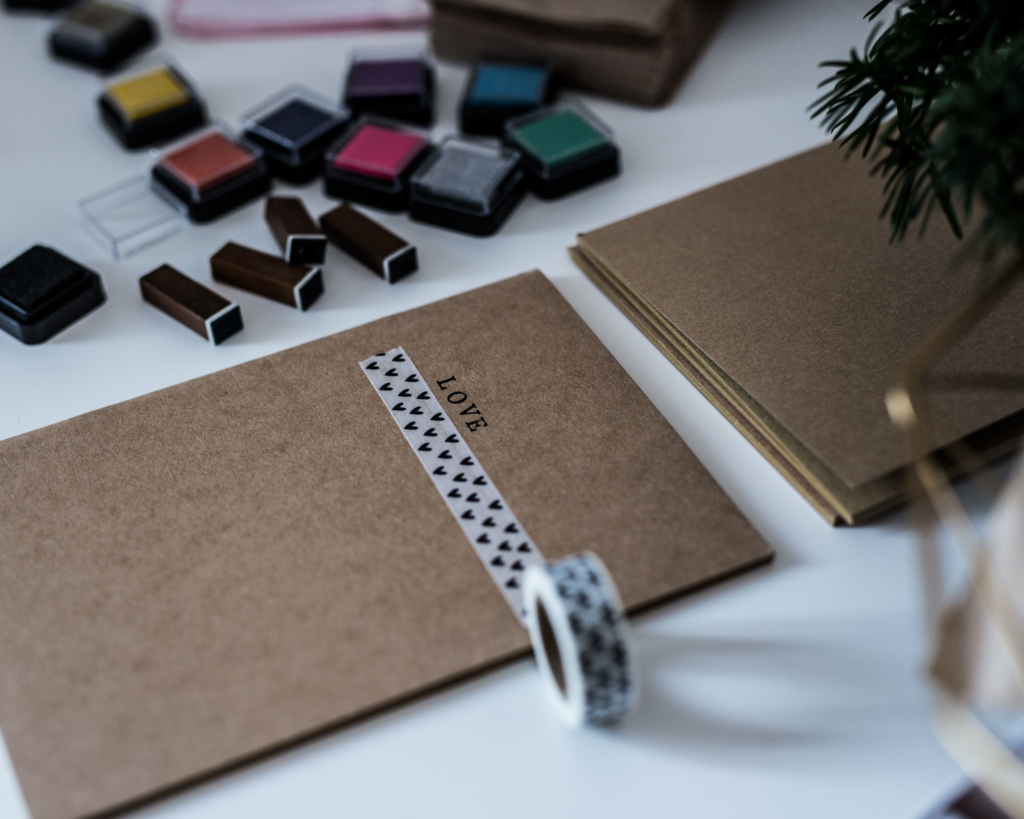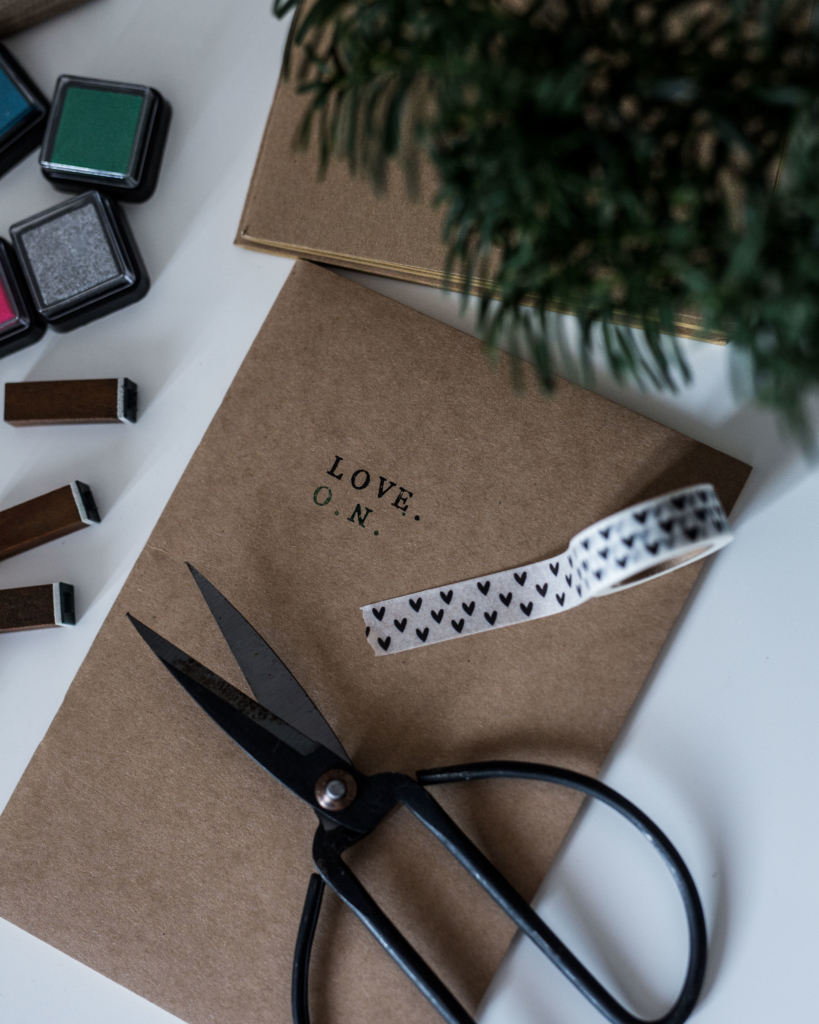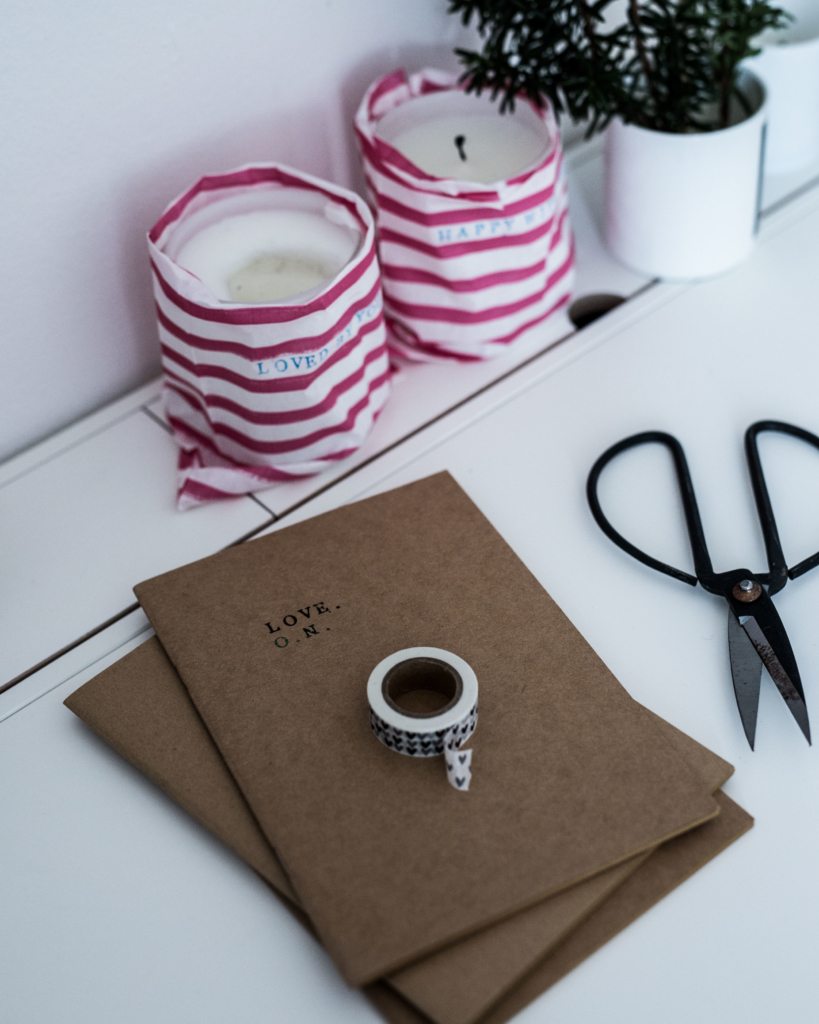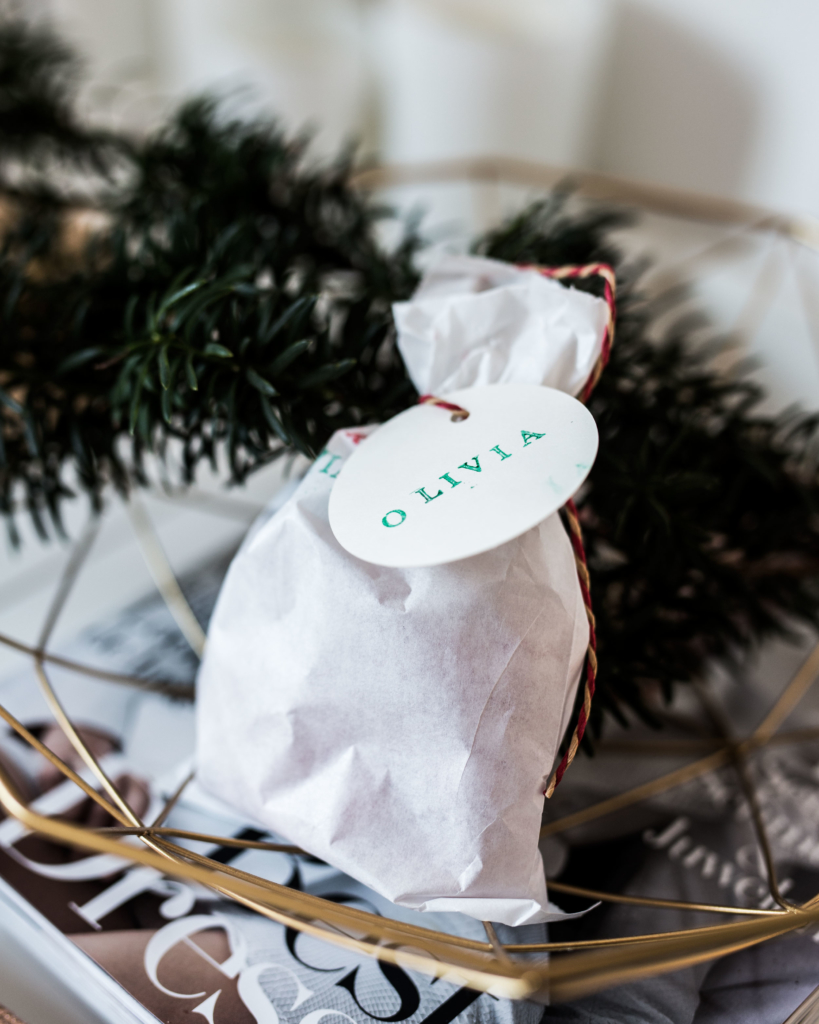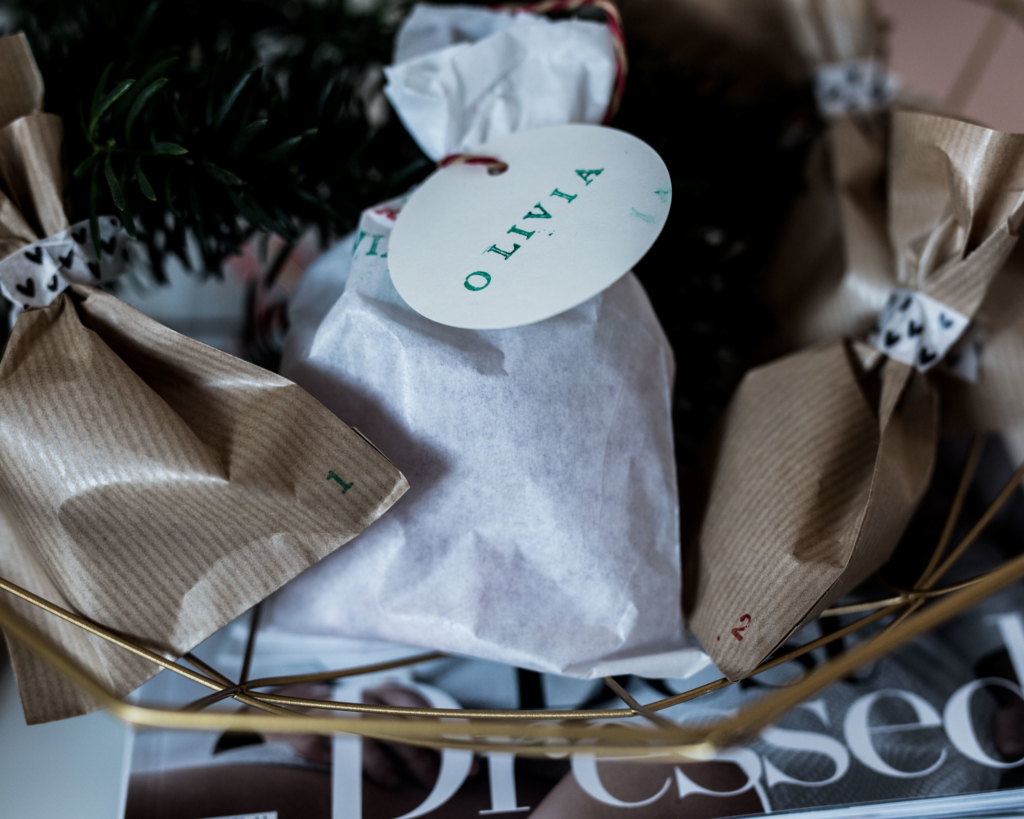 DE| Ich wünsche euch ganz viel Spaß beim Geschenke individualisieren und stempeln und hoffe, dass ich euch mit meiner kleinen Idee etwas inspiriert habe. xx Eure Laura
EN| I wish you lots of fun while personalizing your gifts and hope, that you liked my idea and got inspired. xx Laura
Shop the items
Stempel Alphabet
Stempelkissen
braune Papiertüten
weiße Papiertüten
pink-weiße Papiertüten
Herz Washi Tape
Notizbücher