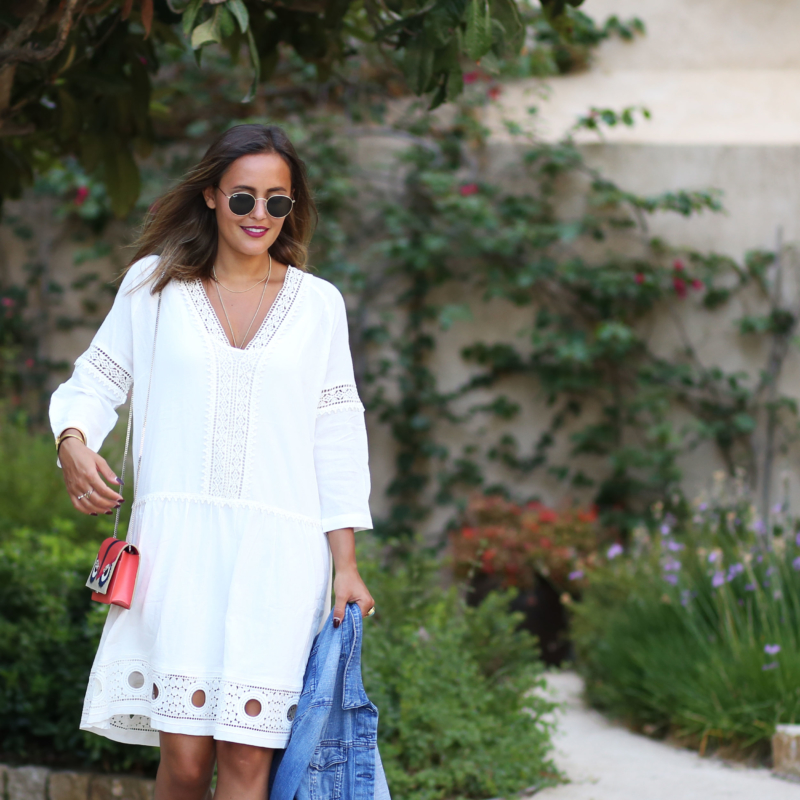 EN| For our summer trip with some of my girls to Mallorca, we stayed at the wonderful hotel called "Castell son Claret". What a wonderful place! I decided to take my outfitpost for you guys there. Normally, I am not a fan of taking outfit pictures at a hotel, but this one was just too stunning, to not use it as an outfitpost background:)
For todays "easy summer look", I am combining a white dress with black leather mules and a casual denim jacket. Denim jackets are always great for summer evenings and when it gets a little bit colder during a day. Those kind of dresses are just the perfect compagnon for summer days and nights, because they are super casual, but you can also wear them a little bit more chic with some heels and a nice bag. Together with this rather casual look, I am combining my one and only eyecatcher bag: the little Fendi monster in pink and blue. What do you think about this summer look? Are you into white flattering dresses, just like me? xx L.

DE| Für unser kleines Sommer Getaway mit ein paar meiner Mädels und OnTimePR nach Mallorca, übernachteten wir im wunderschönen Hotel Castell son Claret, im Landesinneren, inmitten einer atemberaubenden Berglandschaft. Was für ein unglaublich schöner Flecken Erde! Ich habe mich dazu entschieden, die Fotos für meinen Outfitpost in diesem Hotel zu machen, weil es einfach so unglaublich viele fotogene Orte bot, die zu schade waren, als dass man sie nicht als Hintergrund für einen Outfitpost nutzte. Normalerweise bin ich gar kein Fan von "Hotelfotos", bzw. von Fotos, die in Hotel Arealen gemacht werden. Mir ist dies einfach zu kitschig. In diesem Fall machte ich eine große Ausnahme.
Für den heutigen lässigen Sommerlook kombiniere ich ein weißes Sommerkleid mit kleinen Verzierungen und schwarze Leder Mules mit einer klassischen Jeansjacke. Jeansjacken sind sowieso immer ein super "Add on" für euer Sommeroutfit.
Vor allem, wenn es sich Abends etwas abkühlt. Diese Art von Kleidern kann ich euch auch ganz besonders ans Herz legen, da sie super schlicht mit lässigen flachen Schuhen oder aber auch etwas schicker mit Heels kombiniert werden können und sich dadurch als wahre Allrounder zeigen. Zusammen mit diesem eher lässigen Look kombiniere ich meinen heimlichen Eyecatcher schlechthin: Meine Fendi Monster Bag in pink/blau. Was haltet ihr von diesem Sommerlook und seid ihr auch so verliebt in diese weißen leichten Kleider? Xx eure Laura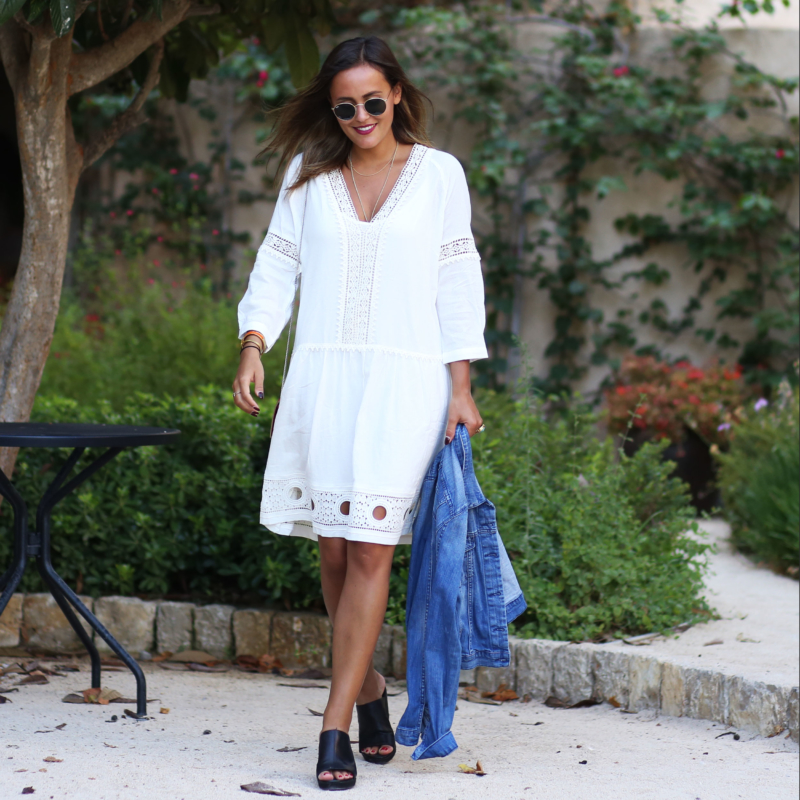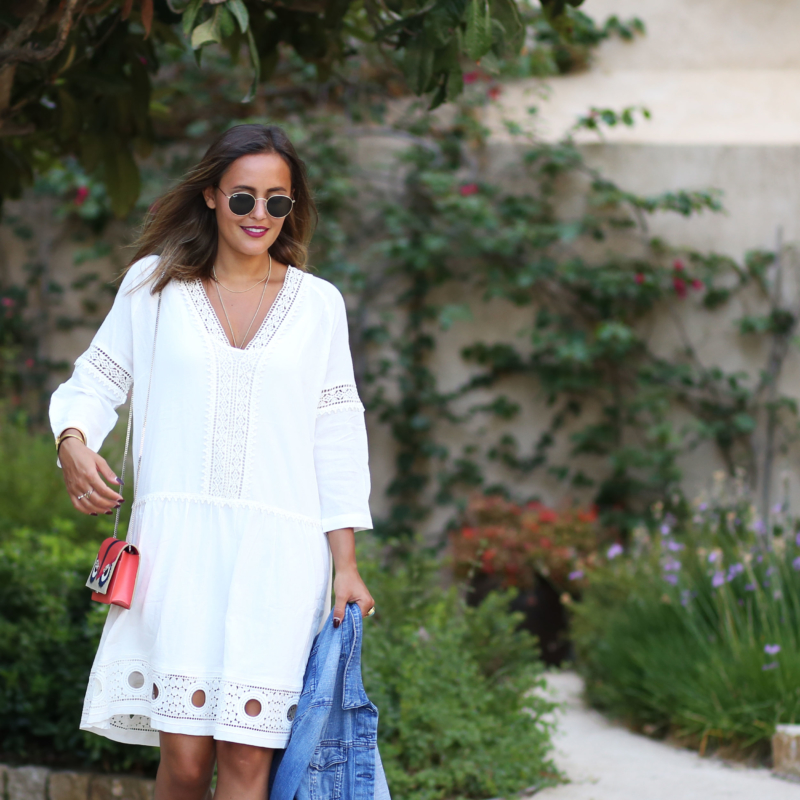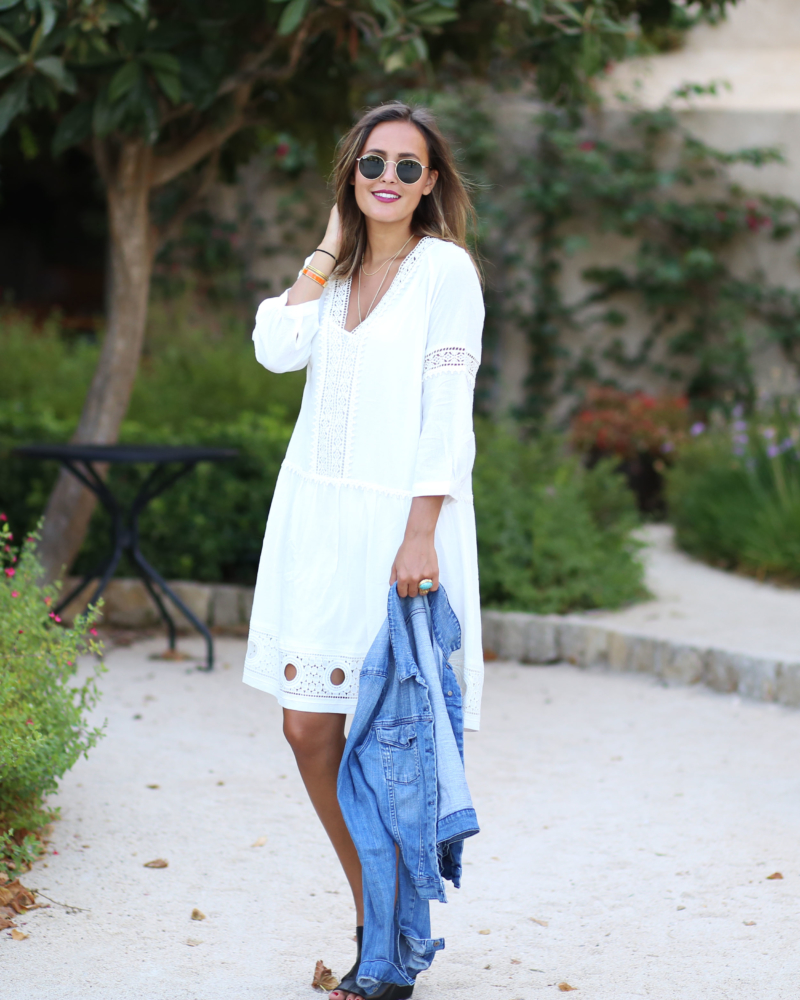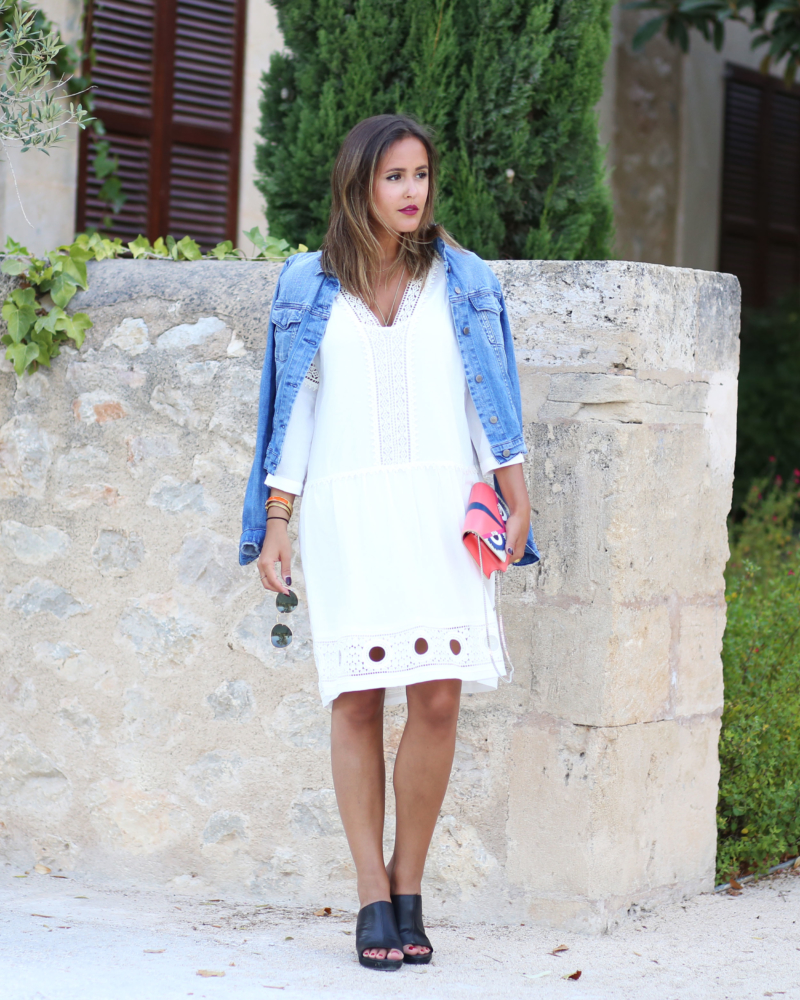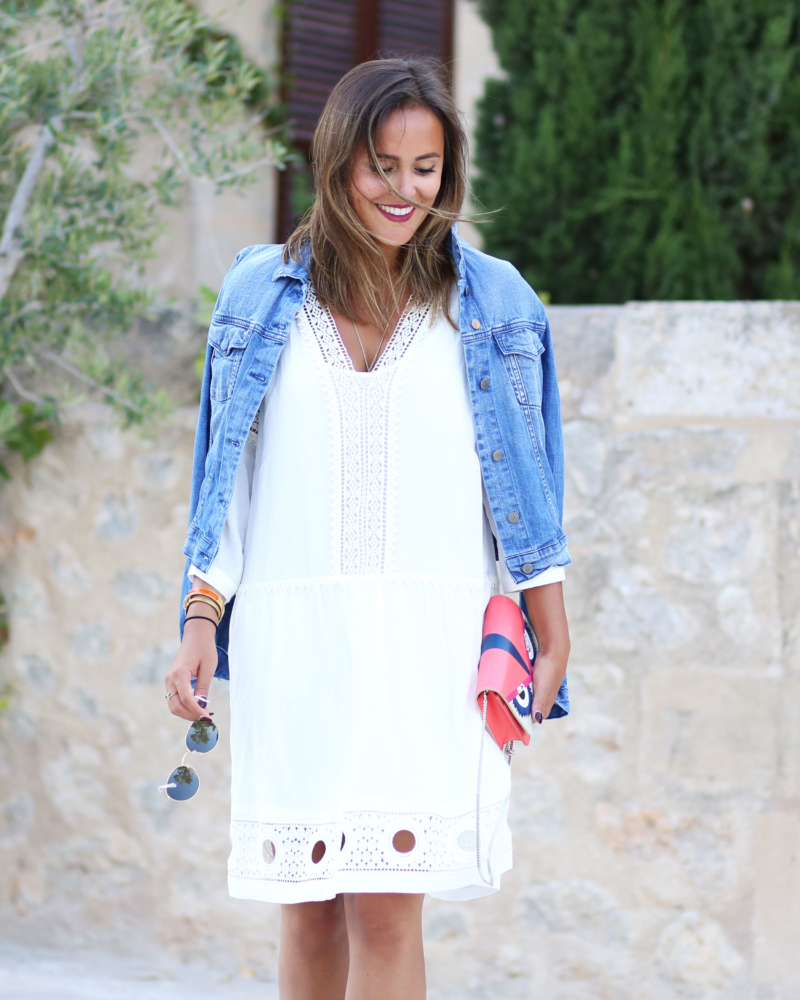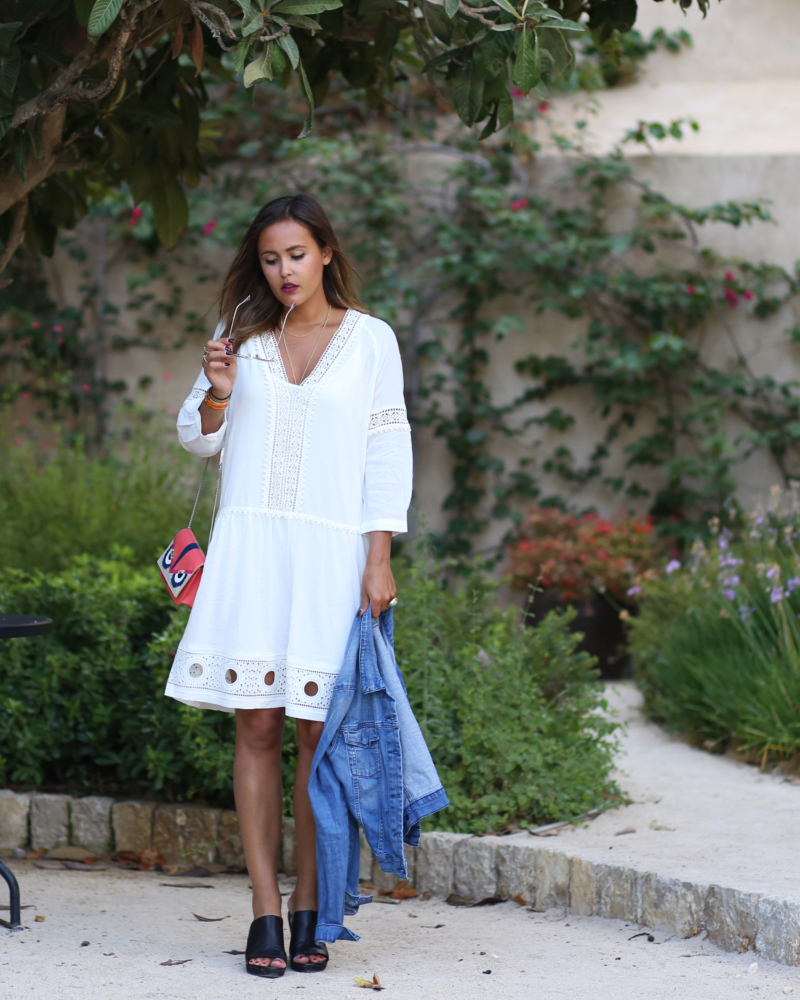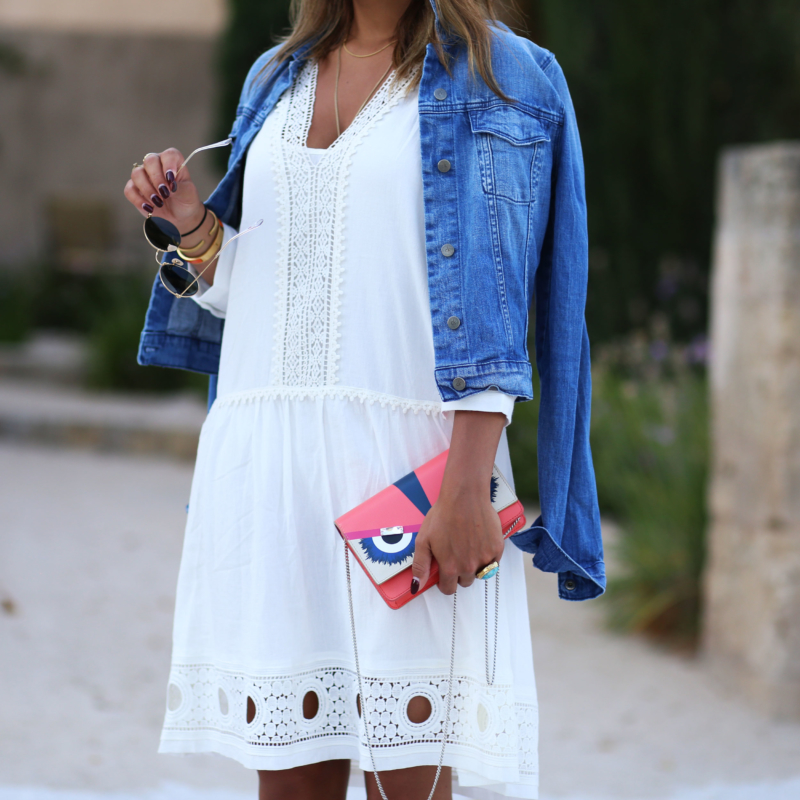 Shop my Look
Dress: Edited
Shoes: Vagabond*
Denimjacket: Calvin Klein*
Bag: Fendi
Sunglasses: Ray Ban

(*similar | Photocredit: Aylin Koenig)
Ich mag wirklich die weiße Kleidung im Sommer, ich in der Regel eine Vielzahl von weißes Hemd, T-Shirt oder Rock wählen. Weiß macht Sie im Sommer erfrischend fühlen. Das ist wirklich wie Ihr weißes Kleid, Schönheit.

Glücklicherweise empfehle ich diesen Rock sehen
http://www.newfrog.com/p/sexy-lace-long-chiffon-bridesmaid-evening-formal-party-cocktail-dress-153947.html

jenny

Wooaaa deine Tasche!! Mega *_*

Liebste Grüße aus Hamburg,
Jenny

Das Kleid sieht richtig toll aus und steht dir so gut.
Liebe Grüße Lisa <3
http://hellobeautifulstyle.blogspot.de/

Das weiße Kleid steht dir hervorragend! Finde vor allem die süßen Verzierungen total toll, so wirkt das Kleid nicht ganz so schlicht und genau richtig für einen Strandtag.

Oh das gefällt mir wirklich sehr gut!! Die Kombi zu den schwarzen Schuhen funktioniert überraschend gut, was ich mich selbst wahrscheinlich nicht getraut hätte, da schwarz und weiß meiner Meinung nach im Sommer ein arg harter Kontrast sind. 🙂
Allerdings bin ich richtig schockverliebt in dieses tolle Kleid. So schön sommerlich und einfach nur hippiechic! <3

Viele Grüße aus München,
Susa