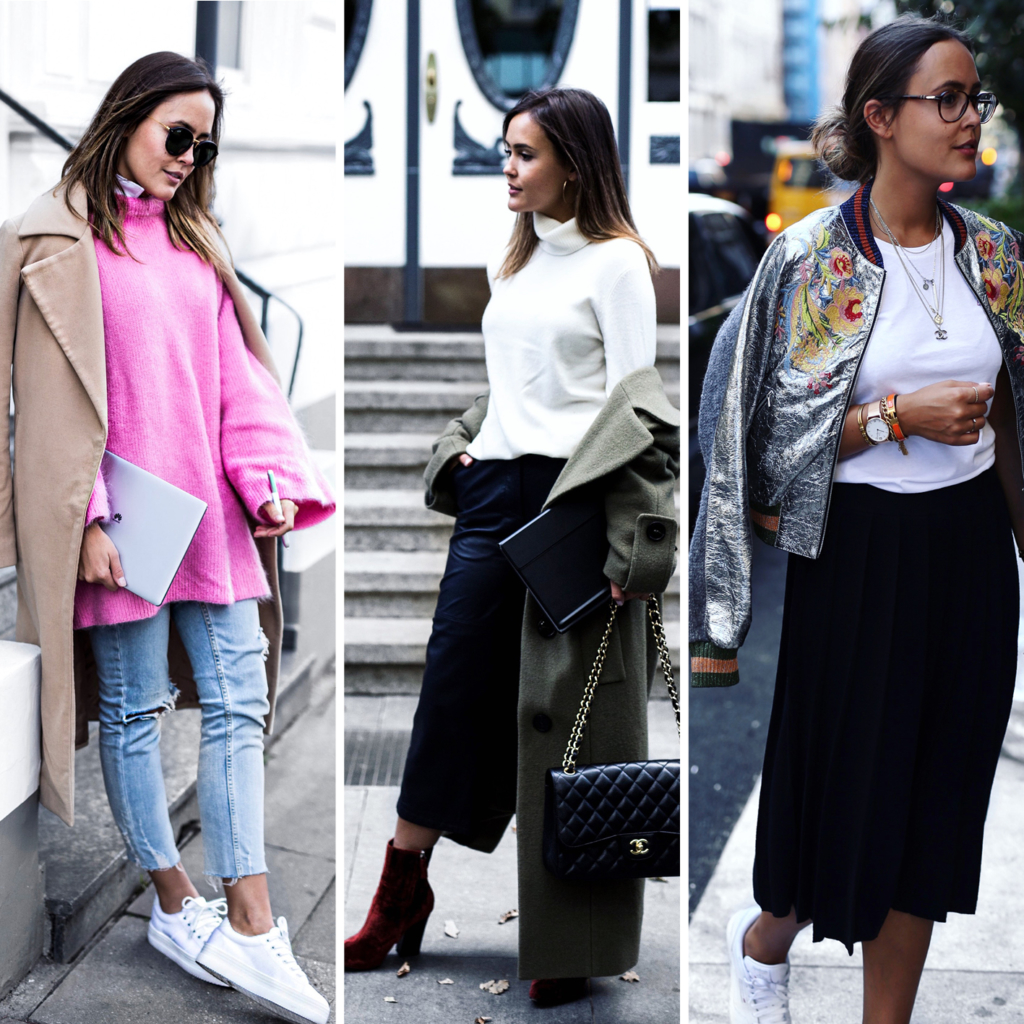 DE| Wie auch letzten Monat freue ich mich immer sehr, wenn euch meine Looks gefallen, ihr kommentiert und mir dadurch ein super Feedback gebt. Deshalb habe ich wieder eure Top 3 Looks des Monats Oktober zusammengesucht, um euch einen kleinen Refresh der Looks zu geben. Hier kommen sie! Viel Spaß beim Lesen. xx Eure Laura
EN| Just like last month, it is always great to see, which blogposts you like to see, where you comment and where you show me your feedback. That is why I chose your three most favorite looks of the month Oktober to show them to you again and give you a little refreshment on my outfits. Here we go! Have fun. xx Laura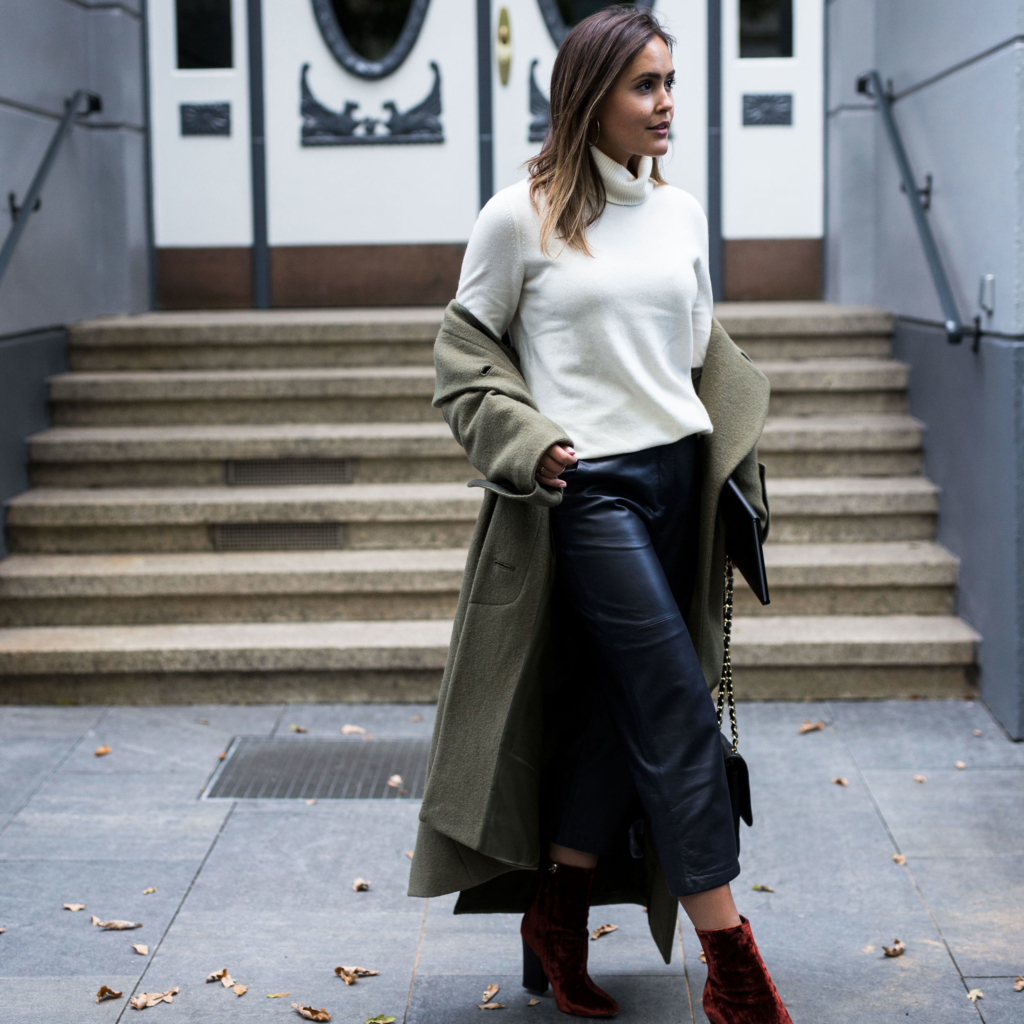 DE| Meinen heutigen Look würde ich so am liebsten jeden Tag in Hamburg anziehen. Ich kombiniere dunkle Leder Coulottes mit einem hellen Cashmere Pullover mit dunklem Saum. Dazu trage ich einen langen, olivgrünen Mantel, der den Look etwas aufbricht. Als Eyecatcher trage ich rostrote Samtboots, goldene Creolen und meine schwarze Chanel Tasche.
Dieser Look ist absolut für den gesamten Tag geeignet. In Hamburg kann das Wetter vor allem im Herbst oder Winter schon einmal so richtig kalt und grau werden. Da ist es immer gut, einen Mantel bei sich zu haben. Hamburg ist eine eher schicke Stadt, trotzdem kann man sich anziehen wie man will, was mir total wichtig ist. Je nach Stadtteil sind die meisten Menschen eher ein bisschen schicker oder lässiger gekleidet. Die Fotos aus dem heutigen Post wurden in Winterhude gemacht. Vor allem, wenn man zum Lunchen oder zu einem Event tagsüber eingeladen ist, passt dieser Look perfekt. Mit einem paar Sneakers wird aus diesem Look ganz schnell eine eher abgewandelte lässige Variante.
Ich hoffe, euch gefällt meine kleine Reihe, in der ich euch meine verschiedenen Looks vorstelle, die ich so in meinem Blogger Alltag in Hamburg anziehe. xx Eure Laura

EN| I would love to wear todays look every day! It is just such a "Laura" look, I would say. I am combining dark blue leather coulottes with a light cashmere knit. Together with that, I am wearing an olivgreen coat, which makes the look a little bit more "day like". My velvet boots are the eyecatcher of the whole outfit. As accessoires, I am wearing gold creoles and my black Chanel bag.
This look is perfect for the whole day and especially for Hamburg, the city, where I am living. Hamburg is a pretty chic, but still casual city. It depends on which area you are in, where people dress a little more chic or casual. Those pictures were taken in Winterhude. On the other hand, Hamburg is a grey and windy city. It is always good, especially in winter or fall, to have a coat with you, because it is windy all the time. If you are having a lunch date: Go for it! You have an invitation for an event? Perfect! If you want to wear this look a little bit more casual, just change the boots and wear white sneakers.
I hope, you like my new series about three everyday looks as a blogger. xx Laura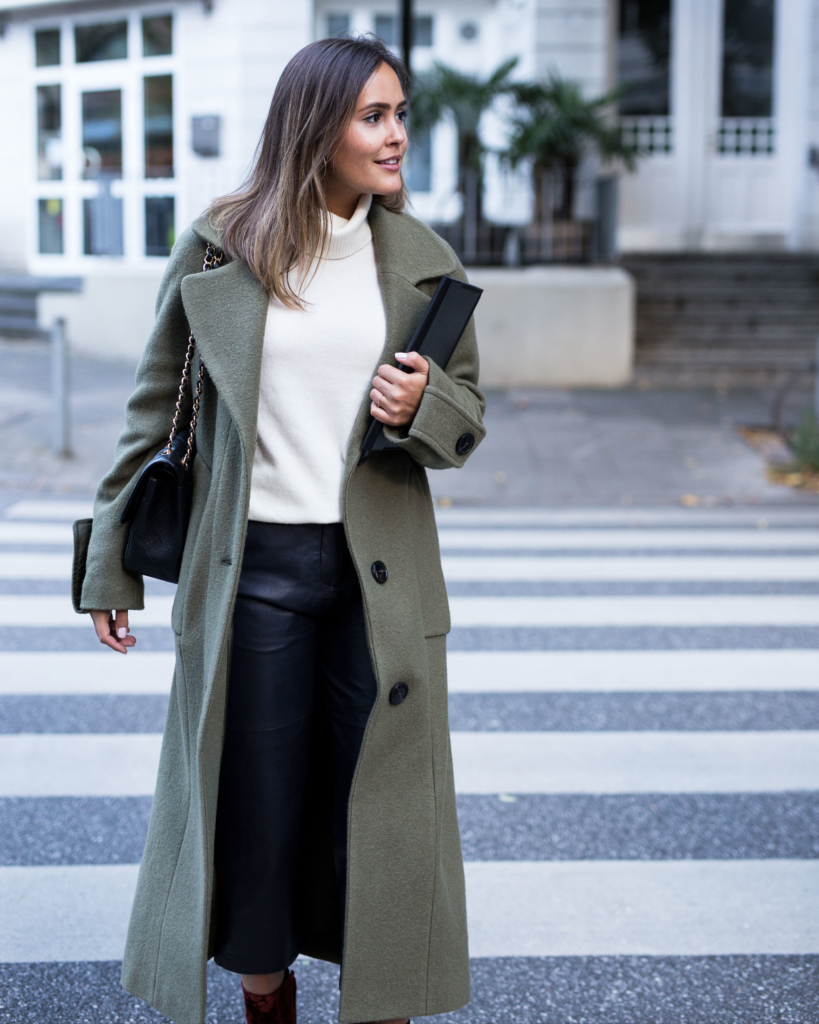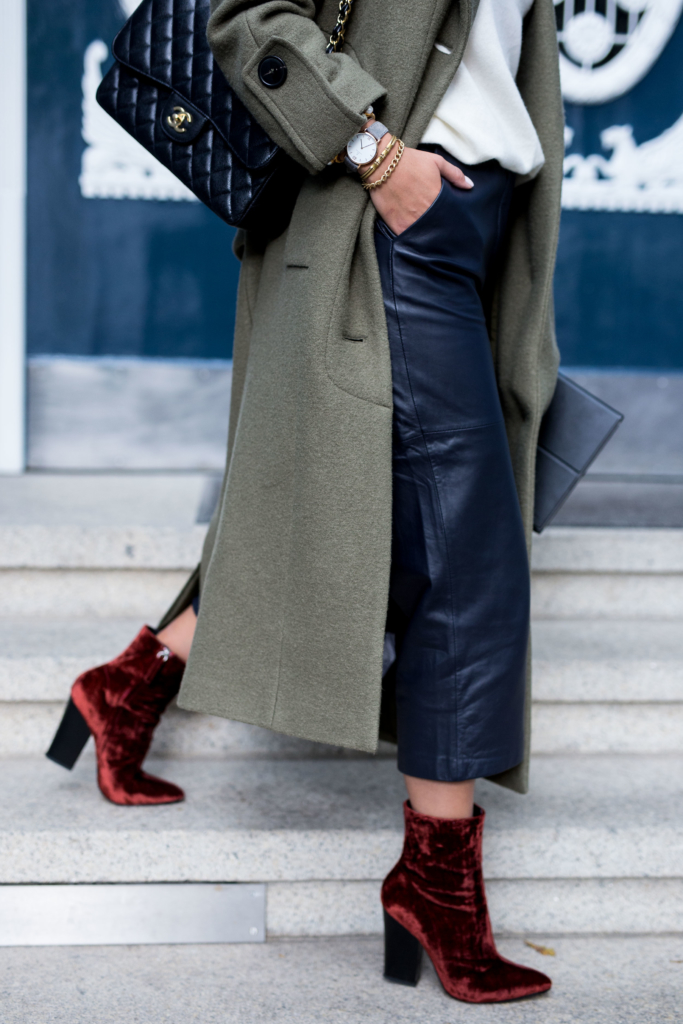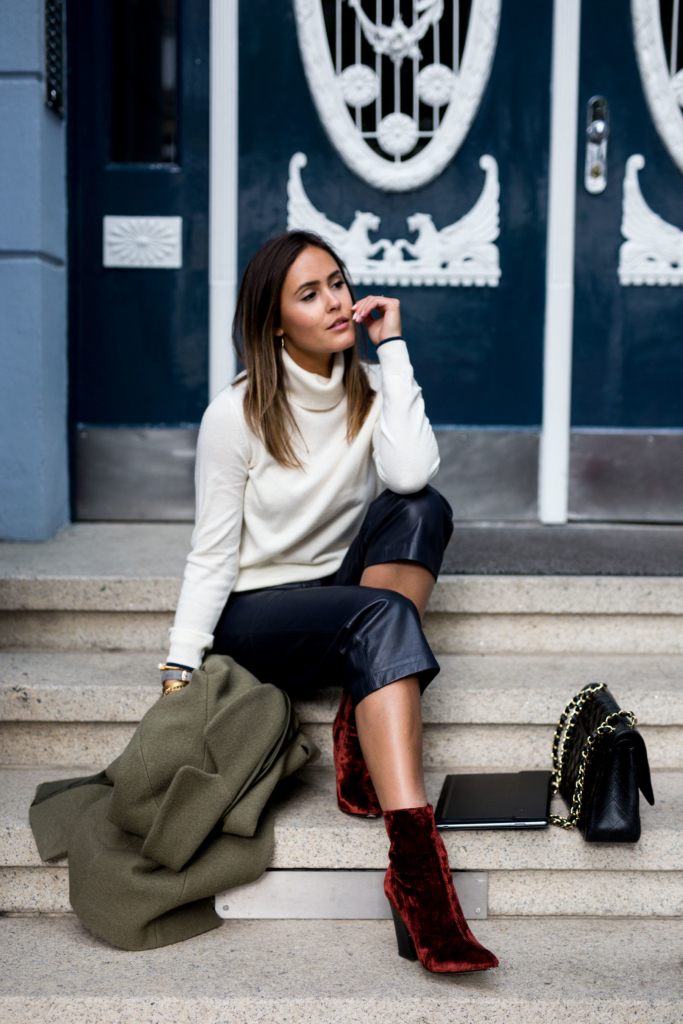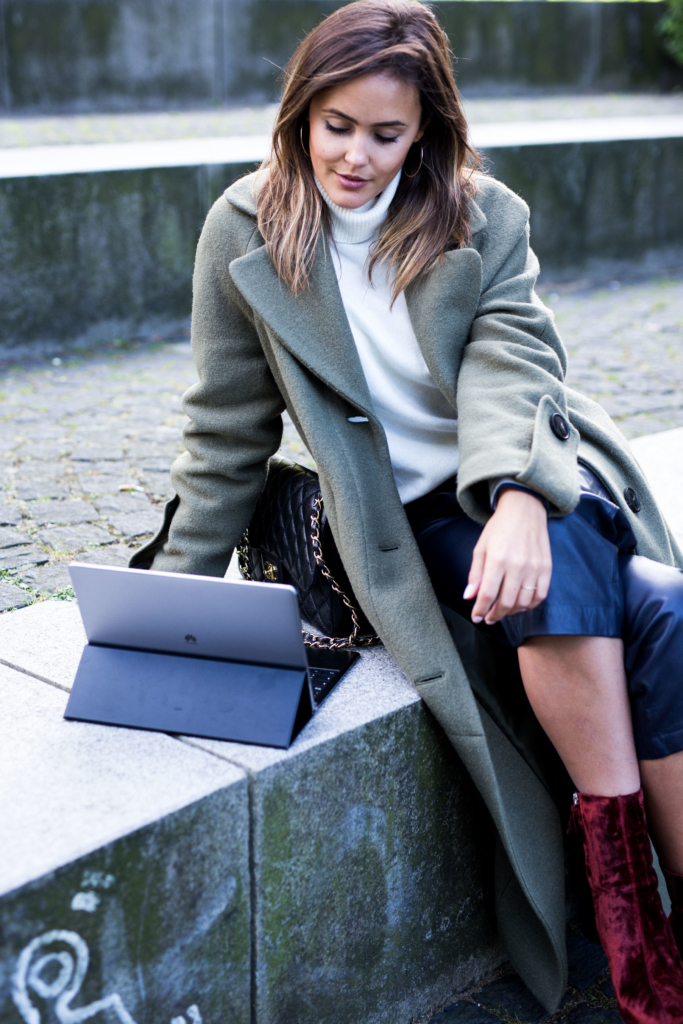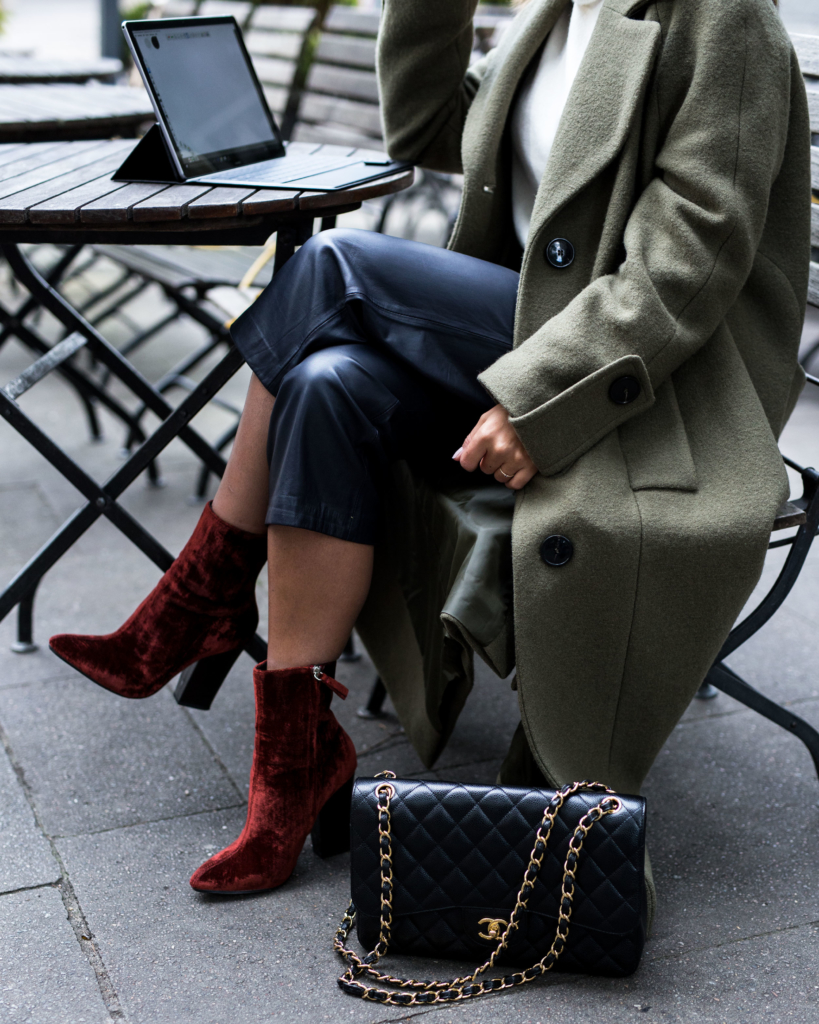 SHOP MY LOOK
Leatherpants: Edited
Cashmere Knit: Uniqlo*
Coat: Edited
Shoes: Zara*
Bag: Chanel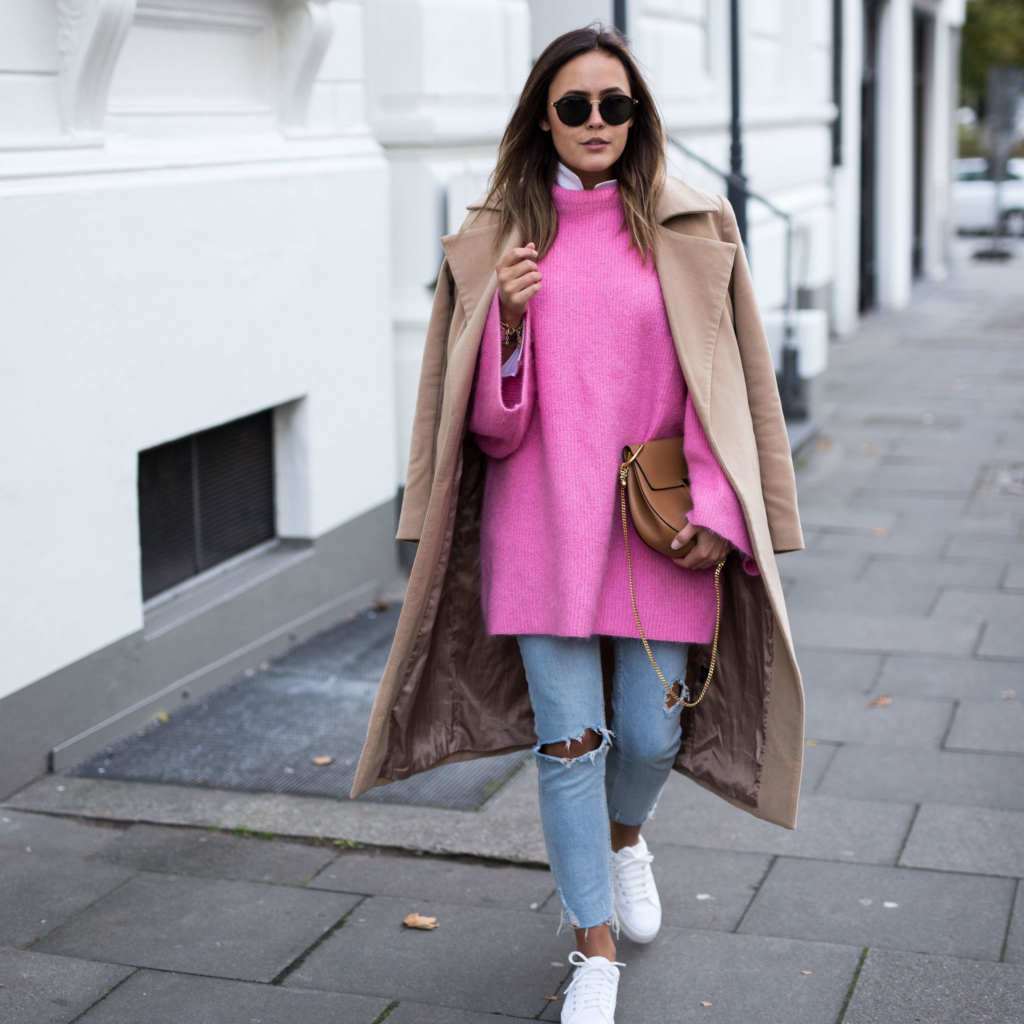 DE| Für mein heutiges Outfit für die Reihe "1 BUSINESS – 3 LOOKS" (den ersten Look findet ihr HIER) habe ich mich für einen lässigen Look entschieden, weil er mich als Person einfach gut widerspiegelt. Ich liebe es im Alltag auch mal zu einer schlichten Jeans, einem Oversize Pullover und Sneakers zu greifen. In einem solchen Outfit fühle ich mich wohl und kann mich voll und ganz auf meine Arbeit konzentrieren. Durch den doch sehr auffälligen pinken Pullover in Kombination mit dem langen beigen Mantel ist der Look aber dennoch stylisch und modern, was mir natürlich auch sehr wichtig ist bei meinen Outfits. Ich hoffe, euch gefällt dieser lässige Everyday Look! xx Eure Laura

EN| For todays look for "1 BUSINESS – 3 LOOKS", I decided to show you a super casual and easy going everyday look. This look is so me, because I love dressing casual. I am combining a huge oversize pink knit with casual jeans, white sneakers and a long caramel colored coat. I feel super comfortable in this look, but it still feels stylish enough to wear it for work, meetings, events and just everything. I hope, you like the look. xx Laura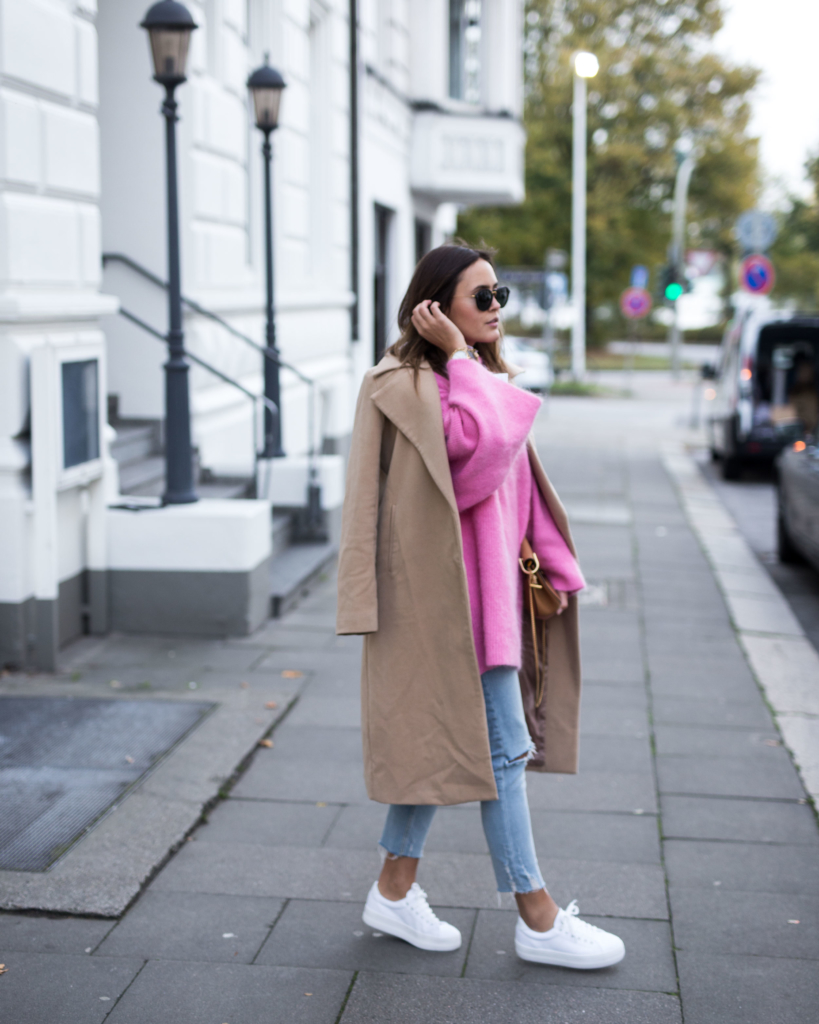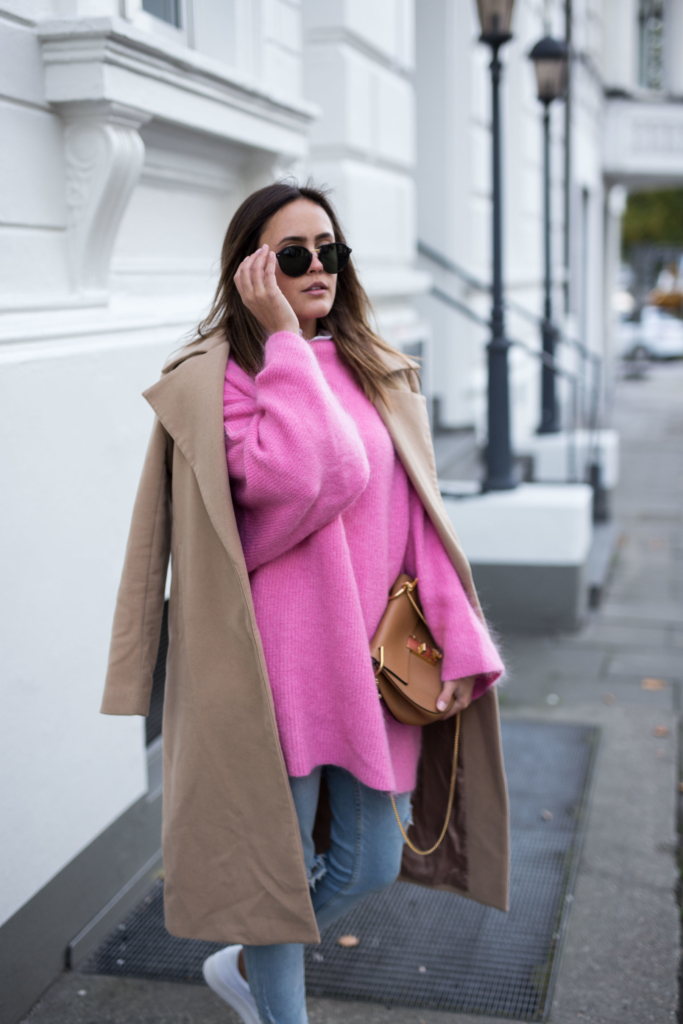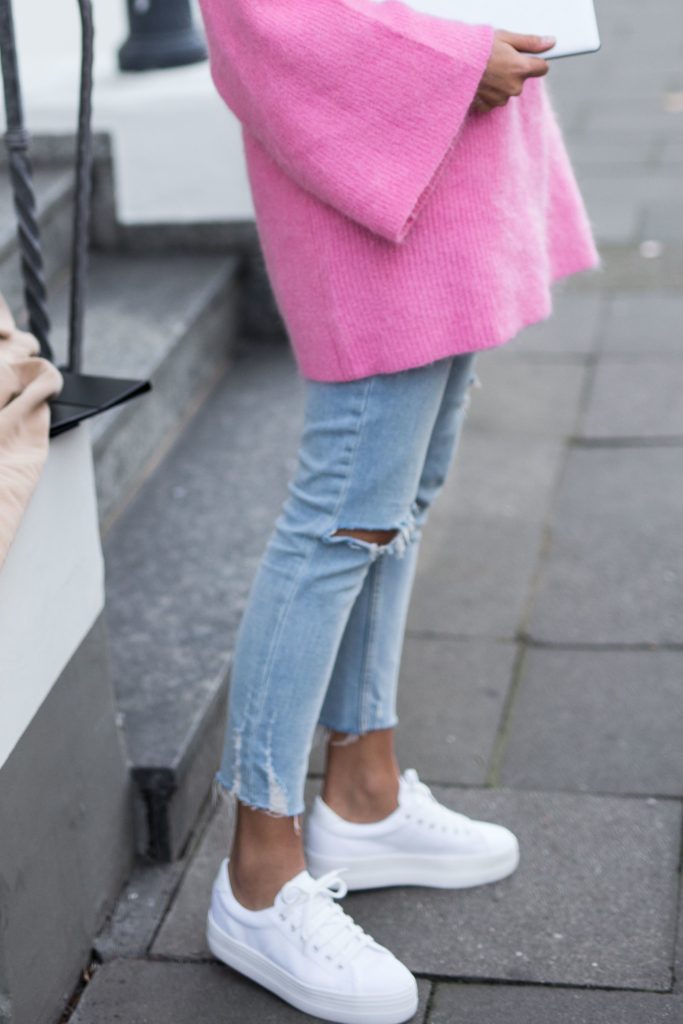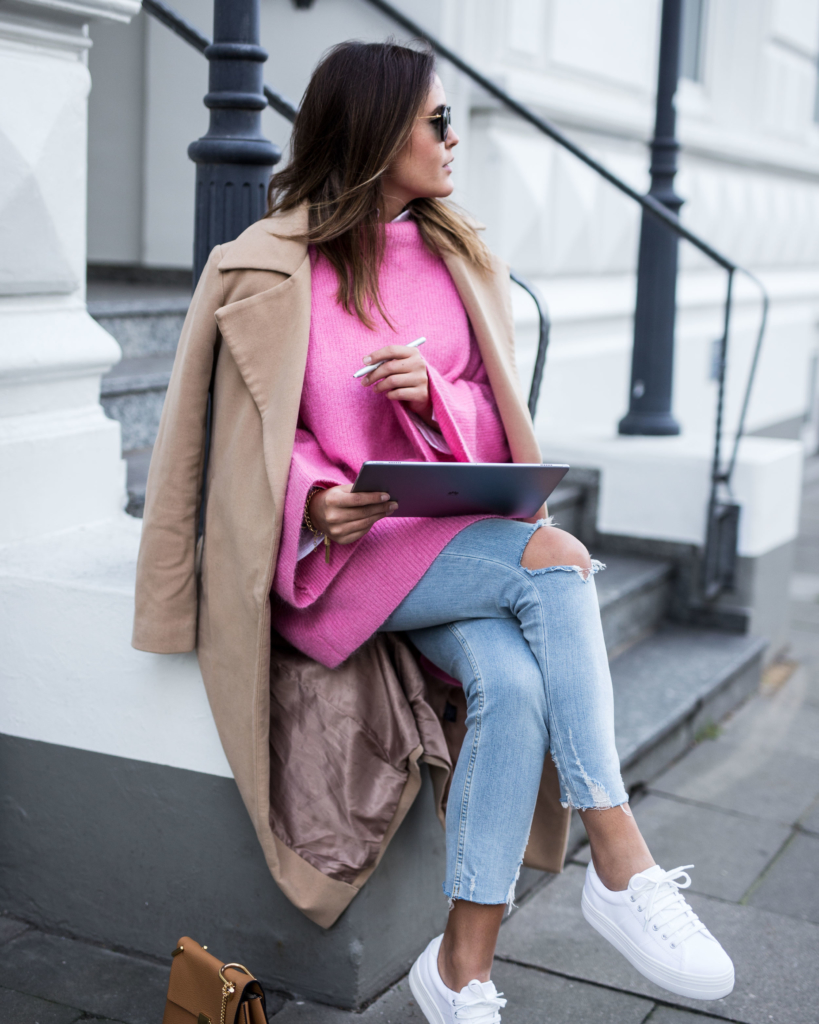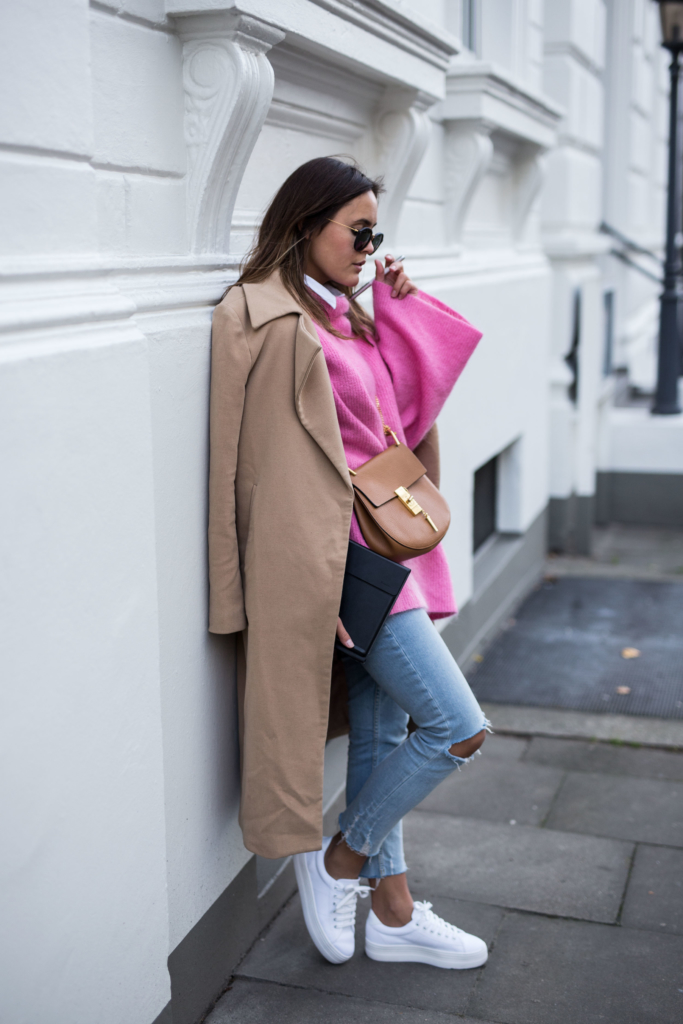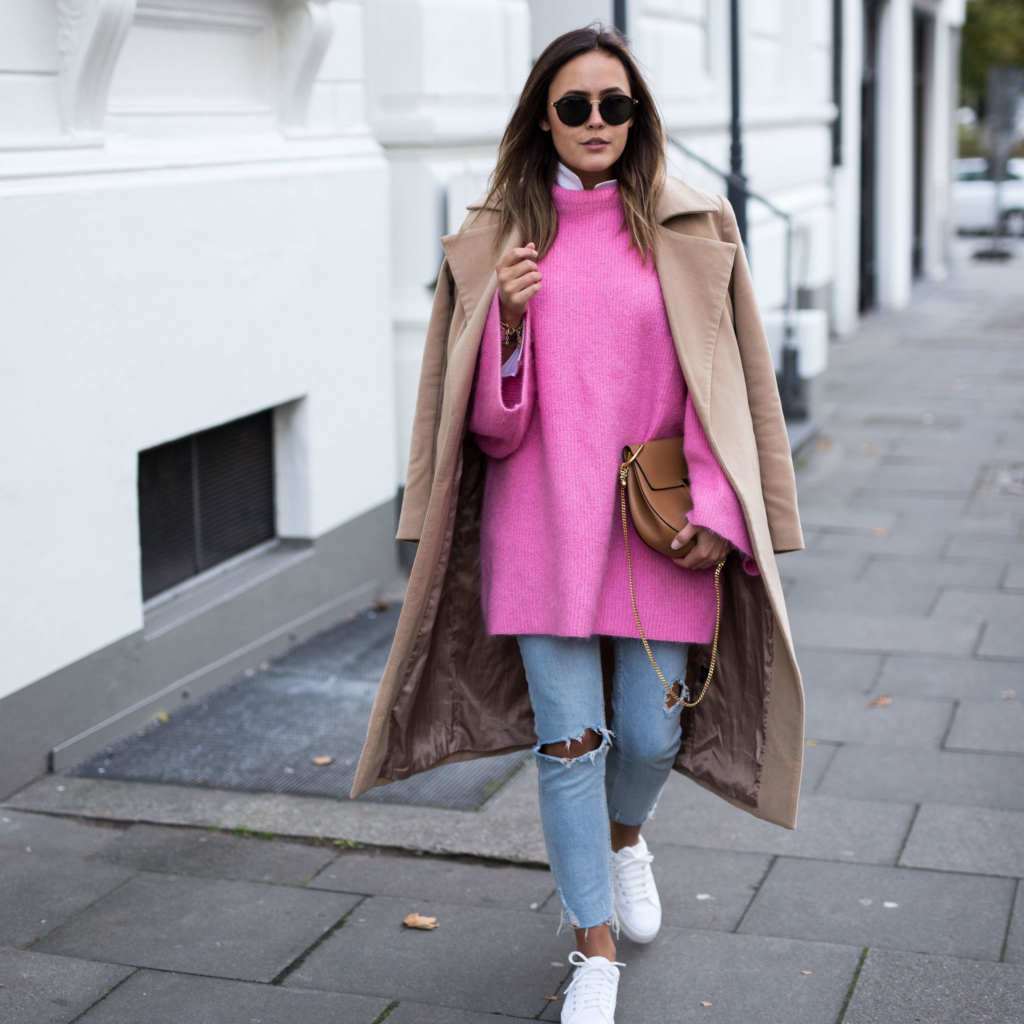 SHOP MY LOOK
Pink Knit: H&M Trend*
Jeans: Zara*
Shoes: No Name
Coat: Missguided*
Bag: Chloé
Sunglasses: Kapten&Son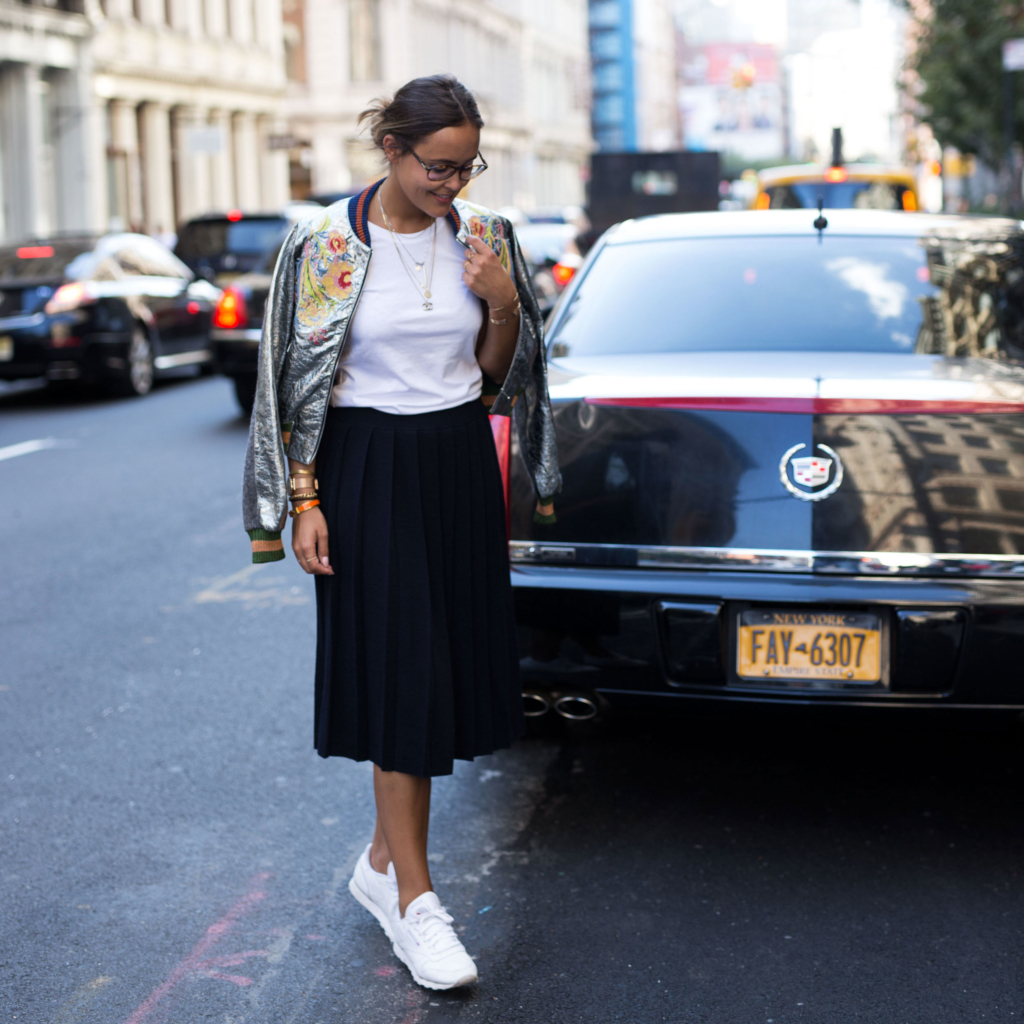 DE| Ich kombiniere einen Strick-Faltenrock mit meinen heiß geliebten Reebok Classic. Dazu trage ich ein schlichtes, weißes T-Shirt und meine metallic Bomberjacke mit Verzierungen. Meine Persol Brille gibt dem gesamten Look noch einmal etwas bodenständiges finde ich irgendwie. Der Look ist perfekt für jeden Tag geeignet und lässt sich durch die Bomberjacke up- oder downstylen. Wenn ihr es lieber etwas unauffälliger mögt, dann könnt ihr dazu natürlich ganz leicht eine etwas schlichtere Bomberjacke kombinieren und schon wirkt der ganze Look etwas unaufgeregter. Ich hoffe, euch gefällt mein Herbst Outfit! xx Eure Laura

EN| I combine my knitted pleated skirt together with my beloved Reebok Classic sneakers. Together with that, I am wearing a plain white T-Shirt and my metallic bomberjacket with flowers. My Persol glasses give the whole look something down to earth, I think. This look is perfect for every day and if you want to have a more downgraded look, you can always switch your metallic bomberjacket into a normal covered color one. I hope, you like my fall look! xx Laura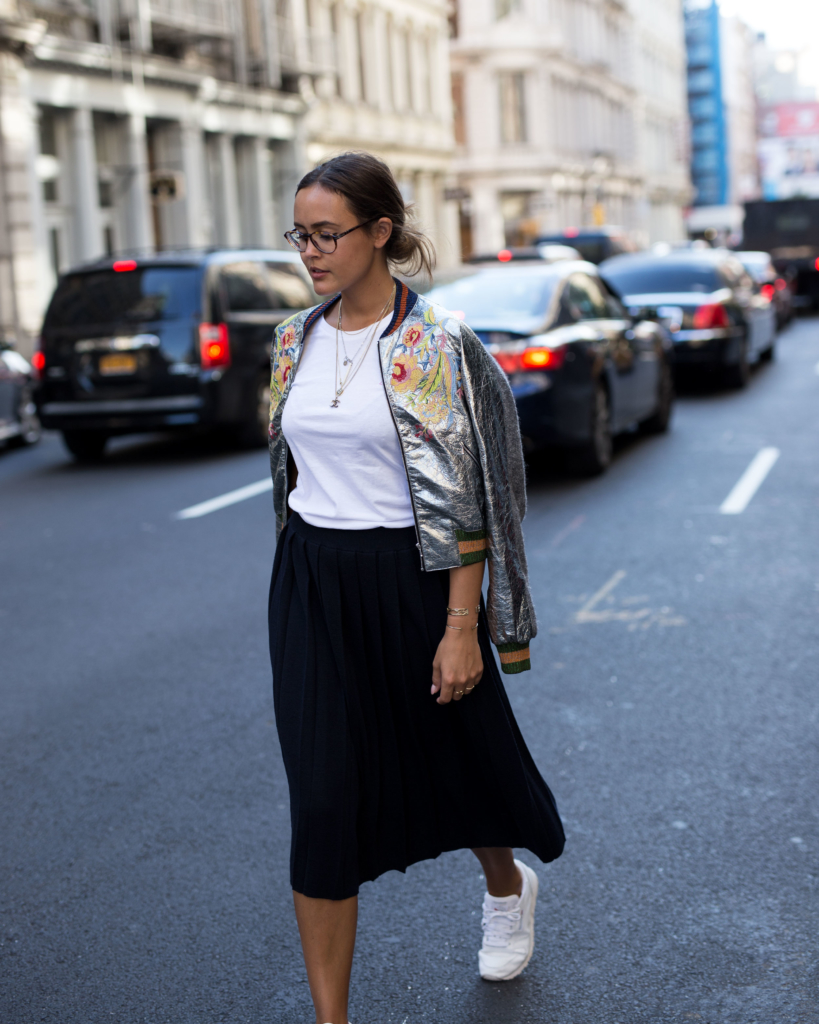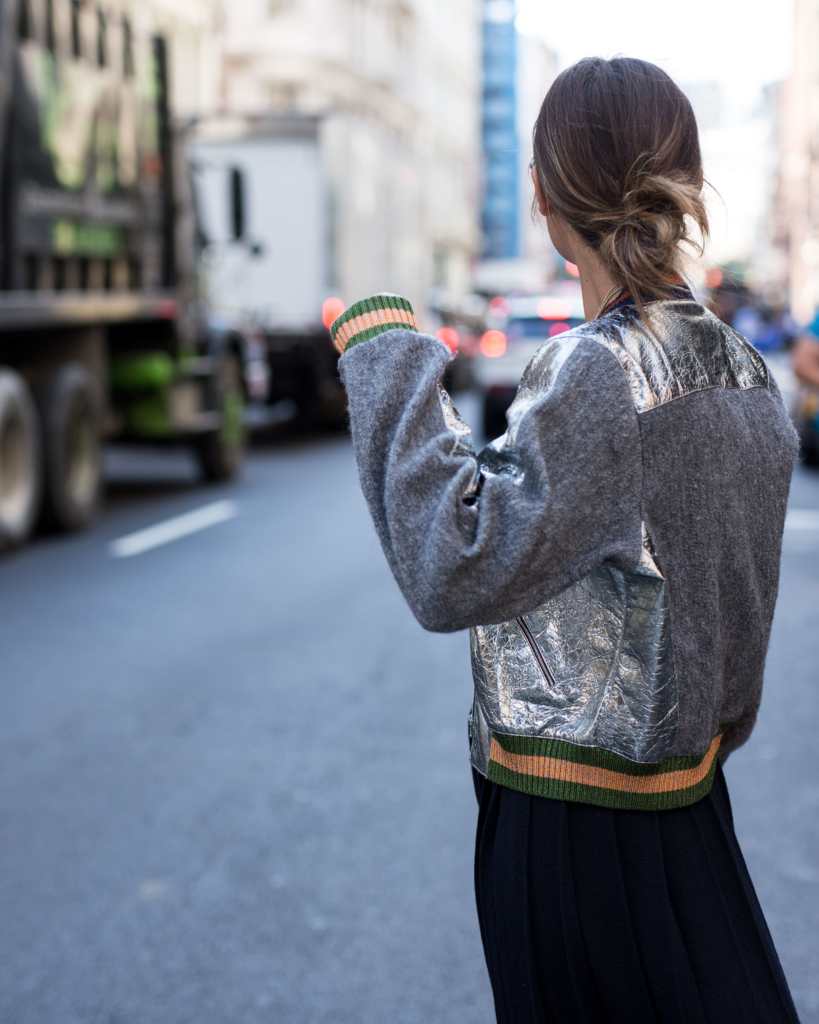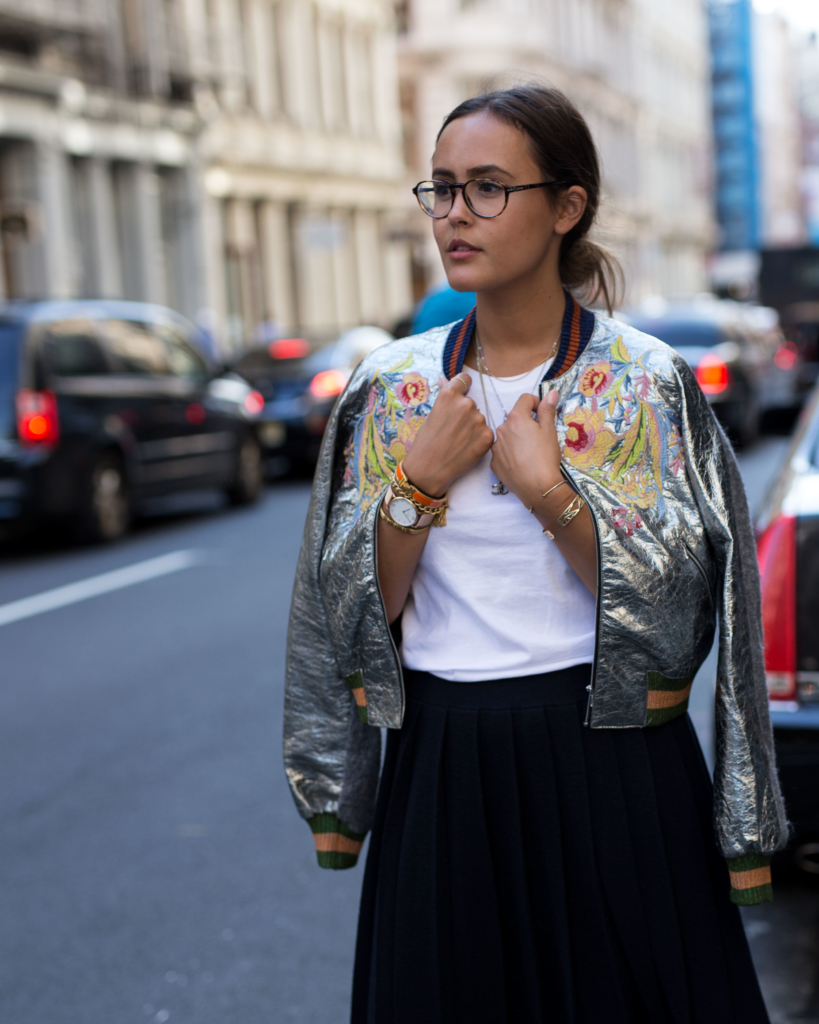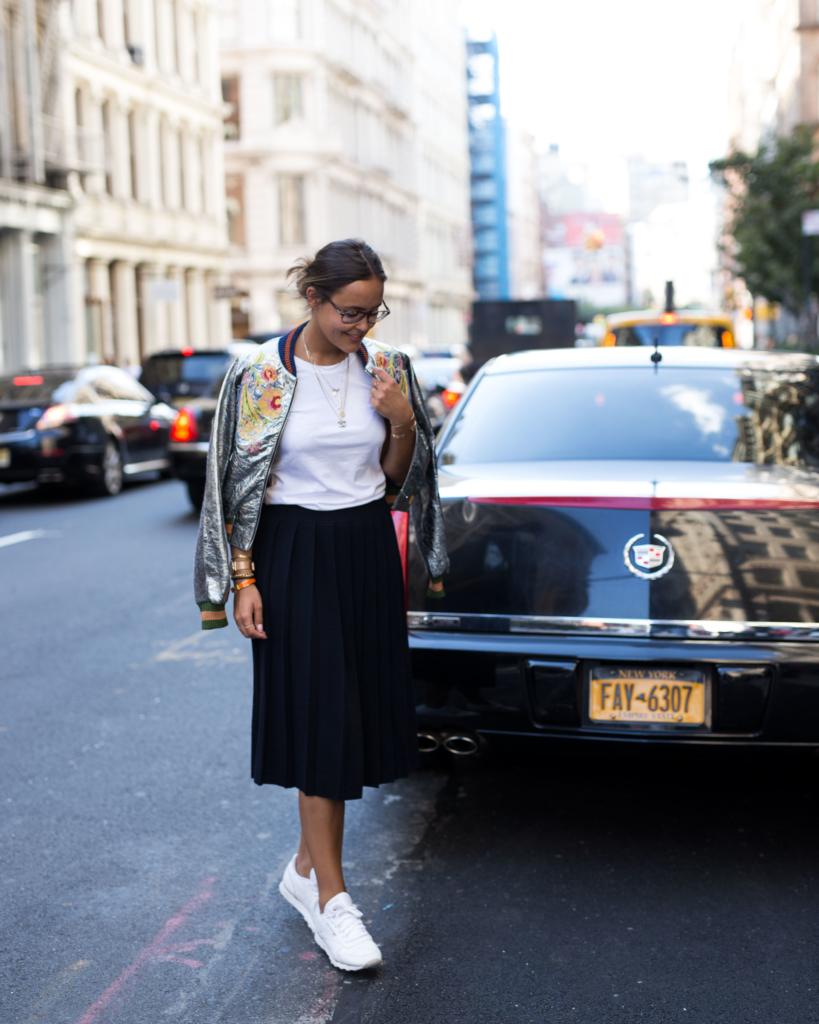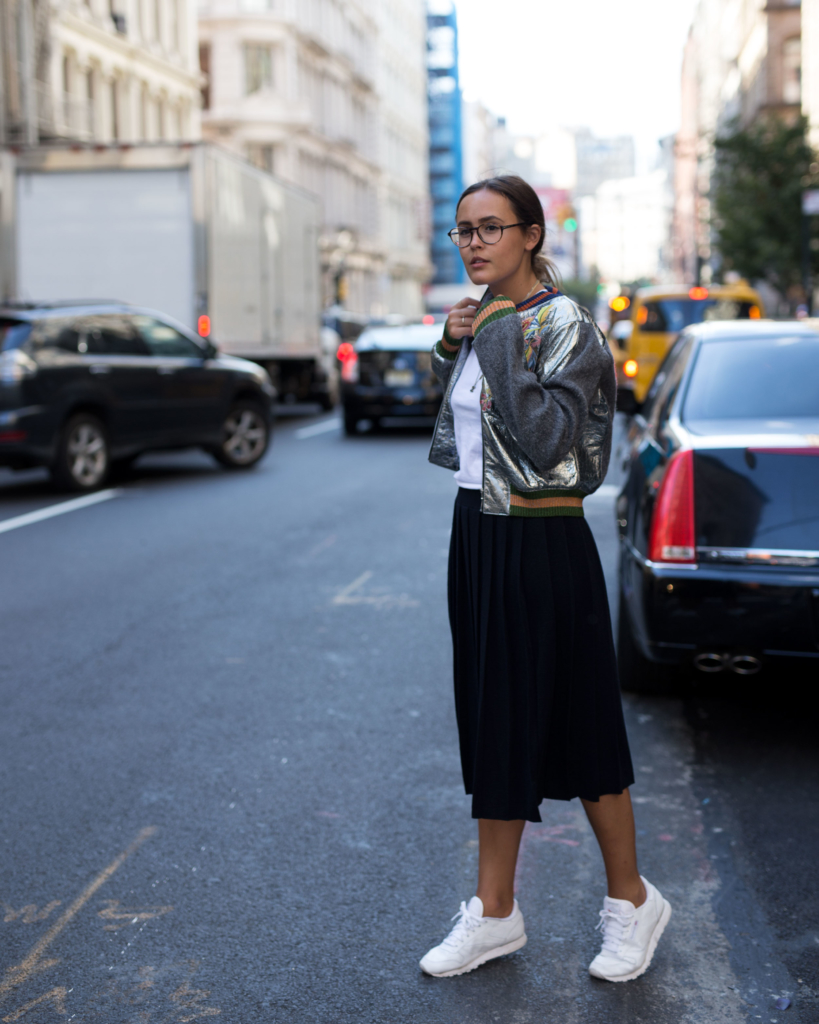 SHOP MY LOOK
Bomberjacket: Avenue32
Skirt: Uniqlo*
T-Shirt: Lookabe*
Sneakers: Reebok
Glasses: Persol

Liebe Laura,
also der grüne Mantel kombiniert mit den Velvet-Boots ist mein absoluter Favorit!!
So inspirierend 🙂
Liebe Grüße aus Hamburg,
Lara <3 https://travelwithlari.wordpress.com/

Oh ich mag alle 3 Outfits supergerne – mein Favorit ist aber auch das erste mit dem wunderschönen Khaki-Mantel und den Velvet-Booties <3

xxx
Tina

Hallo Laura,

der Look mit dem rosa Pulli gefällt mir am Besten :-*

viele liebe Grüße
Melanie / http://www.goldzeitblog.blogspot.de

Alle Looks sind wirklich sehr sehr schön. Toll kombiniert und es sind wirklich richtig schöne Kleidungsstücke dabei. Ich wünsche dir einen schönen Abend.

Liebe Grüße

Charlotte von http://www.importantpart.de

nathalie

alle looks sind toll :))
LG*

Nathalie von Fashion Passion Love ♥

Ich finde alle Looks einfach so toll. Und sie stehen dir alle super gut.
Wünsche dir einen schönen Tag.
Liebe Grüße Lisa <3
http://hellobeautifulstyle.blogspot.de/